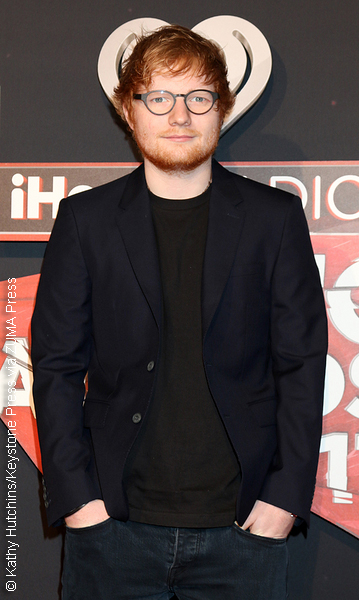 It's been an exciting, telling few days for Game of Thrones fans. Late last week, a slew of details regarding season seven were revealed — a teaser trailer dropped, the premiere date was announced, and a new poster for the season was unveiled.
Now, it's been shared that Westeros will get a dash of Grammy-winning flavor in the form of Ed Sheeran.
Entertainment Weekly reports that showrunners of the successful HBO fantasy series — David Benioff and Dan Weiss — disclosed Ed's involvement while at the South by Southwest Film Festival in Austin, Texas on Sunday (March 12). They said the British singer-songwriter is one of star Maisie Williams' favorites, so they sought him out for a guest role to surprise her.
David said, "For years we were trying to get Ed Sheeran on the show to surprise Maisie and this year we finally did it."
The 26-year-old "Shape of You" performer isn't the first artist to visit GoT territory. Mastodon, Gary Lightbody of Snow Patrol, Will Champion of Coldplay, and Jónsi Birgisson of Sigur Rós have appeared on the 38-time Emmy-winning series in the past.
While addressing Jónsi's time on the show, the producers shared an anecdote. They said Jónsi wanted to leave following his season 3 close-up at Joffrey's wedding, but was unaware that he was required to hang around as a background actor for days afterwards. Although the news came as a surprise to the singer, Dan said, "He was a super good sport about it."
Dan also said the Sigur Rós lead singer's approach wasn't entirely unique. He shared, "A lot of [music artists] say they would like to [be on the show], and then we tell them [shooting a scene] is so boring. You're gonna hate this — you're going to be sitting around three days for 12 hours a day."
That doesn't sound so bad to us.
The seventh season of GoT hits screens July 16.
How would you like to see Ed incorporated into the drama? What sort of role is he best suited for? ~Matthew Pariselli