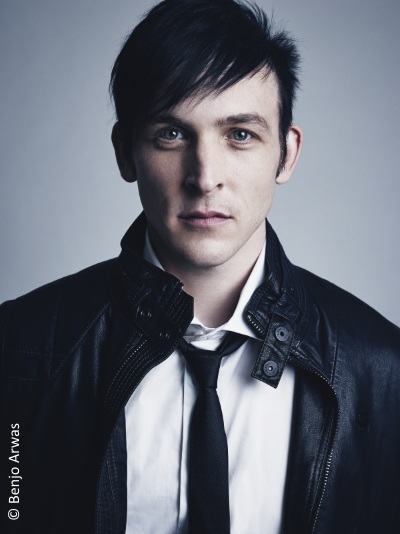 Comic book fans have been geeking out over the immensely popular Fox show, Gotham, which made its series debut in September last year. The show focuses on the prequel that centers on rising detective Jim Gordon and the early years of super villains like Penguin, the Riddler, the Joker and more in Gotham city.
We recently chatted with Robin Lord Taylor who plays master manipulator, power-hungry Oswald Cobblepot, a.k.a. Penguin. Robin has been praised by critics for adding a new spin to the character, making him a serious contender for breakout star of the year.
He tells us about the inner workings of one of the most notorious super villains in Gotham City. He also dishes on his favorites scenes, working with Ben McKenzie and Cory Michael Smith and what fans can expect in the final four episodes of the season. The first of the final four episodes airs on April 13.
What's it like playing the vicious villain Penguin?
It was just an incredible experience. The most incredible thing about it is just the freedom we had to illuminate parts of the character's personality that people haven't really seen before. So just the freedom to create him in a more three-dimensional way and show parts of him that people haven't really seen because it's the prequel. There are parts of the story that haven't been told yet and so to be able to bring that out and show him before he was this super-villain that we all have known and grown up with, that was just an amazing opportunity to have and it was just so fun to do.
He is one of the most popular villains and with such a huge fan following, every episode is watched and judged by fans. Did you feel any pressure?
A little bit. Yeah, I mean, I think every human being in those circumstances would feel that way, would feel pressure. Batman has been around for 76 years, I think Penguin has been around for 74 of those 76 years and so it's a huge undertaking. Also, to follow in the footsteps of the incredible Danny Devito, it's a lot of pressure and I know how seriously people take the Batman world and how they feel their own ownership over these characters. You know, that's a lot to take on, especially when it was my first series regular job. I'd never been a series regular on another show before. So, all that together, yes, I definitely felt some pressure, but at the same time I felt, ever since reading the very first pilot script, I just knew that the world that Bruno Heller has created was so rich and so well defined that I knew I was in good hands, so I wasn't worried in the traditional sense.
Penguin is kind of a slightly twisted, ambitious character, but at the same time you've made him vulnerable and a bit sympathetic. How did you get into the skin of Penguin, a.k.a. Oswald?
When I first got the job, I approached Geoff Johns, who is the head of DC and I asked him if there were any comics that I should be aware of that maybe addressed Penguin's childhood or more of his backstory. He actually sent me a couple – which was amazing – and then going back and reading, I read that a lot of the source of his pain was the fact that he was a bullied kid when he was in high school. He was bullied mercilessly for his appearance and for his interests and that was something that I immediately identified with and understood and that got me under his skin. Once I knew that and I knew what he had gone through as a child, it was very easy for me to understand why he is the way he is, why he is so ambitious and also so manipulative to the people around him. It's really his survival technique. It's how he has learned to get along in the world. In a world where you're treated as less than a person because of things that are out of your control, one thing that you immediately learn to do is you learn to understand the people around you and understand what motivates them and hopefully ingratiate yourself to them so you'll then be able to manipulate them to do what you need to do and also to not hurt you or harm you in any way and I feel like a lot of that goes into the psychology of Oswald, his ambition is fed by his desire to not be that powerless kid anymore.
I actually see him in a much different light now that the show is on, than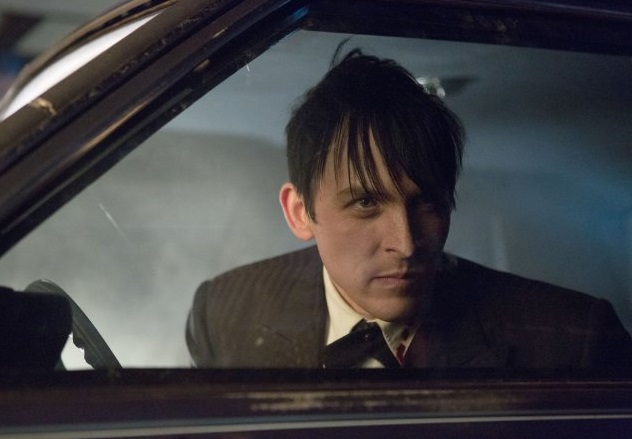 in the movie. What was the biggest challenge in portraying Penguin?
The biggest challenge I would say would be to not have him end up being any sort of a caricature. Even though we are playing in a comic book world and this is Batman and we are playing these incredibly giant personalities, there was part of me that wanted people to see him in a realistic way as if he could almost step into our world and you would understand and he wouldn't just be a stereotypical villain. He would actually be a human being and that was really the hardest thing and yet the most rewarding thing that I set out to do when portraying the character and the fact that people have said to me that they have some sympathy for him was really validating because it means that I did what I set out to do.
That was really great! Do you share any characteristics with him?
I guess I do, in a certain way. I mean I understand what it feels like to be the outsider. I grew up in a very small town in the Midwest and I was an artistic kid as opposed to, I didn't play sports or was centred around sports, so I knew what it felt like to be different and also to be teased because of it and I was never bullied to the extent that he was, but I did understand what it felt like to be different and also because of that, that sort of fed into my ambition to do big things with my life. I didn't want to be discounted anymore for my interests or for how I looked. That is sort of how I identify with him and, again, how I was able to get into his skin. I do understand what that feels like. However, I don't go about things exactly the same way that he does. I do have much more of a respect for human life than he does, but at the same time I understand coming from a place where you feel like you're an outsider. I understand why that would make someone want to just never want to feel that way again.
My favorite scene was when Oswald meets Edward. That was hilarious!
It was one of my favorites as well. I am such a huge fan and friend of Cory Michael Smith and when I get to play with other actors that are so brilliant, they inspire me. I mean, having a scene with him, I was inspired to bring so much after that small scene. Just the fact that we got to work together, I was just so excited. I'm always just so impressed with what he does with the character. To be able to share the same space with him is such a dream come true. And, also, on top of it, to be playing these two classic Batman villains and to be able to illuminate the first time that they ever meet each other, it was just such a big moment, not just for me, but for the fans, people who follow the comics and for people who follow the television show. It was such a really amazing day.
I couldn't agree more. It definitely came across on screen. Other than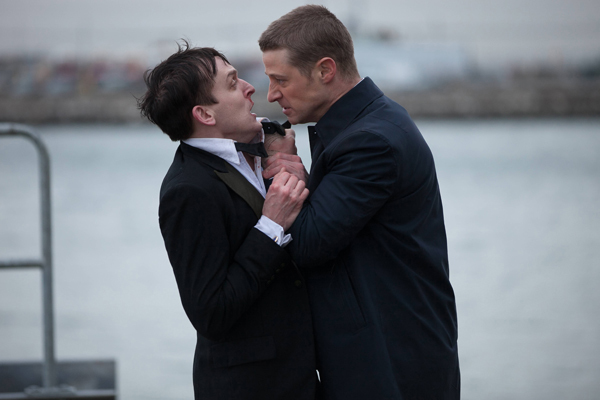 that, what has been your favorite scene so far?
One of my favorite scenes would be the scene in the pilot on the pier where Ben McKenzie playing Jim Gordon is walking Oswald down the pier to push him off. It was just such an epic scene and it was so important in the show because it established the hard choices that Jim Gordon is going to be faced with if he's going to survive in Gotham City. Also, it showed so much about Oswald in terms of how he's going to need to manipulate certain situations in order to get what he wants, yet at the same time, it showed how their two lives are forever intertwined because of that decision that he made, so there are so many different layers going on in that moment. Also, it was in the pilot and it was just such an epic shoot, we're sitting on the water with these giant boats and it's raining and he's just such an amazing actor to work with. His energy fed into mine. It was one of my most favorite days of the show, so far, absolutely.
I just read that Milo Ventimiglia will be playing serial killer Jason Lennon, are there any other actors you'd like to work with? 
Oh man. Milo is absolutely fantastic. It would be a dream to work with him in any capacity. Even if it was on a stupid cooking show, I don't know, whatever, he's just such an amazing talent and also just an amazing presence that it kind of takes your breath away when you're standing across from him, talking to him, because he couldn't be nicer, but it's just very disarming and brilliant. He's absolutely incredible. Aside from him, the other actor that I would be really excited to work with would be Nick D'Agosto who plays Harvey Dent. I think that he brings such ferocity to his portrayal and that energy, to play off of that as Oswald, would be extremely exciting. And it goes without saying that I just want so much more stuff with Cory Michael Smith, with the Riddler. My favorite thing about that scene in particular was just the fact that both he and Oswald are such oddballs and they're so strange, but in such different ways. They go about it in such different ways that I think there is a weird chemistry there. There's an electricity there between the two of them.
What can fans expect to see in the last four episodes of the season?
I knew this going into it, Bruno had told me a lot of the season would be focused on the rise of the Penguin and, so in these last four episodes people are going to see it's finally Oswald's moment to make his big move, to really assert himself as a power player in Gotham City. Of course, he's coming at it from a place of low status, so in order to do that he sets a lot of things in motion that affect not just him and the people that are in his way to achieve what he wants, it affects everybody in Gotham City. That's what you can expect, is that major things happen, a lot of it because of Oswald's manipulating and plotting and his ambition to become a powerful person. That whole thing just ramps up to level 10 in the next four episodes. It's really exciting.
I can't wait to watch it.
It's gonna be good.
If you could play a villain in any other show, which one would it be?
If I could play a villain in any other show… oh man, what would it be… let me think… Maybe because I've appeared on it before, but I would love to be a zombie on The Walking Dead. (Laughs) That would be a dream come true, just because I love those people so much and I think it would be such an iconic moment. Who doesn't want to be one of the walkers, get stabbed in the head by Andrew Lincoln. That would be an amazing dream come true.
That's hilarious! What's the craziest interaction you've had with a fan?
Oh man, what is the craziest interaction… I would say, nothing crazy in a bad way. There was one point where just a couple day ago – and this has happened a couple times, where I'll be sitting on the subway and I'll look up and I'll see someone trying to take a photo of me, like just sitting there, from across the train. So, I saw this guy doing this and I wasn't in the mood for that, so I kind of just turned to the side and ruined his shot and we both ended up getting off at the same station and he came up to me and he was like, "Hey, are you the guy who plays the Penguin on Gotham?" I said, "Yes! We're you just trying to take my photo on the subway?" And he said, "I was." And I was like, "Dude, look, here's the thing, like just come up and ask and talk to me. Don't try and take my photo like you're some creepy guy. I'm a nice person, like come up." And he was like, "Okay, okay, I totally will. Can we get a photo together?" I was like, "Absolutely! Let's do that." People feel like they don't want to upset you, but no, it's not upsetting at all. It's so much better than to see that someone took some weird shot of me sitting there staring off into space on the subway. Come over and say hello and we'll take a photo together like normal people do.
That's funny.  What's next for you other than season two of Gotham?
I'm doing a lot of traveling in the hiatus. I'm going to Australia for a couple weeks, I'm going to China for the first ever ComiCon in China, which I'm really, really excited about. Just a lot of traveling. I'm keeping myself open to any other opportunity – I would love to get back into, if there's a part in an independent film that comes along, I would love to do that. I just never want to stop working. That's the thing. I went for so long without working that I never want to go back to that place. I'm addicted to it. It's probably not going to happen on this hiatus, but eventually down the road I would love to get back on stage again because I really do miss that immediacy of performance that you can only get by doing live theatre.
Thank you so much for chatting with us, Robin.
Thank you so much! I'm so glad we got to connect, finally.
~Marriska Fernandes
Catch Gotham on Monday, April 13, at 8/7C On CTV. Watch the TV spot teasing the final countdown.