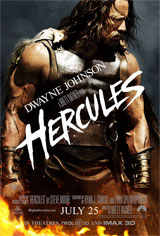 Some big name stars and one-name characters are hitting theaters this weekend. Just don't call them by their last name. In the case of Hercules, I'm not sure the legendary strongman had a full name. Nevertheless, former wrestler "The Rock" does, and he's playing the titular Greek hero in Hollywood's second film this year to feature the mythical demigod. In director Brett Ratner's sword-and-sandal adaptation of Steve Moore's graphic novel, The Thracian Wars, Dwayne Johnson's Hercules is a muscle-for-hire who must take on a despotic warlord. Click here for showtimes.
Audiences can get to know Lucy on a one-name basis, but keep in mind, she kicks serious butt. In Luc Besson's new action-thriller, Scarlett Johansson plays a revenge-seeking drug mule who gains superpowers after a mysterious drug enhances her mental capacity. (Morgan Freeman co-stars as a brainy Professor, intended for exposition scenes no doubt.) The premise sounds similar to Limitless, starring Bradley Cooper, but Scarlett's version will undoubtedly differ. You can check out showtimes here.
For the older crowd, Rob Reiner's new romantic comedy, And So It Goes, may prove to be the warm and feel-good movie of the weekend. Michael Douglas stars as a cranky real estate agent who enlists his neighbor, an aspiring lounge singer played by Diane Keaton, to help take care of his granddaughter. For showtimes to this rare example of some lighter cinematic fare, click here.
Last but not least is A Most Wanted Man. Anton Corbijn's adaptation of the John le Carré novel stars the late Philip Seymour Hoffman as Gunter Bachmann, a German spy and the leader of a covert counter-terrorism team investigating an escaped jihadist living in Germany. The film also features Willem Dafoe, Rachel McAdams and Robin Wright. To find out if Hoffman deserves a posthumous Oscar for his role, check to see where the film is playing near you by clicking here. ~Daniel Horowitz