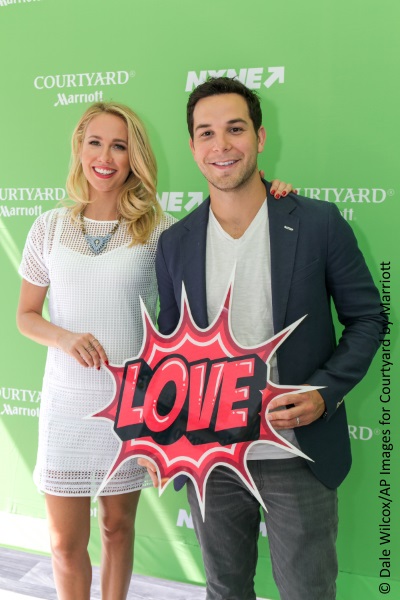 Pitch Perfect's star couple Anna Camp and Skylar Astin, who recently got engaged, have been dating since they met on the set of Pitch Perfect. They reprised their roles in the sequel and will be tying the knot this year.
They were recently in Toronto for the North by North East Music Festival where they judged an a capella competition, a music-meets-movie experience hosted by Courtyard. I sat down with the actors to discuss their upcoming wedding and of course, Pitch Perfect.
Is this your first time judging an a capella competition? What are you most looking forward to?
Skylar: Yes, it is! I'm looking forward to being surprised by something. We both are going on zero expectations and hoping to pick our favorite. We get to sit back, enjoy and not have to perform.
Anna: I'm excited to be on the other side of table because usually I'm the one being judged. So I'm going to be very loving and supportive. I know how hard it is to get up there and perform in front of a lot of people.
What are three main qualities to be a successful a capella champ?
Anna: One of them is to be an excellent listener because you have to listen to the other people and to find your note.
Skylar: The other quality is the ability to pick your spots. To know when you're supposed to fade into the background and when to come forward.
Anna & Skylar: And have fun!
This is a Pitch Perfect-inspired competition. How does it feel to have the film elevated to such success?
Anna: It feels so good because we didn't know when shooting the film it would be so well liked. So to see everybody who knows the movie and who knows a capella and to bond over it, it's such a wonderful feeling in the world right now where bringing joy to people I feel is really necessary and a capella can do that.
What do you think it is about the Pitch Perfect movies that propelled them to such fame?
Skylar: I think it was in on its own joke and that in turn made people embrace it and something people enjoy liking.
Congrats on your engagement! What can you spill about the wedding?
Skylar: We don't have a wedding date but we know it's going to be in the fall. It's going to be romantic and classic and fun. We do have a wedding song, which is private for now.
Would you guys consider working together on another film in the future?
Anna: Always! I love working with him.
Anna: Always. We are very similar workers and we complement each other. We did a reading of a play not too long ago. She inspired some of the best work in the small little studio space. I know she would bring out the best in me again.
What's the most romantic thing Skylar has ever done for you?
Anna: Man, there's so many. It's the little things he does every day that I love though. Like opening doors, telling me I'm beautiful, massaging my feet because I wear high heels all the time. All these small things really add up to make him the most loving and thoughtful man I've ever known.
What's the secret for keeping your relationship grounded?
Anna: Doing normal things like going for a hike with your dog and having a good family around you that can talk to you. We like to stay in a lot. We are not Hollywood partiers. We watch Game of Thrones and…
Skylar: Bachelorette!
Is there a Pitch Perfect 3 for you guys?
Anna: We don't know anything yet. We'll see.

Of course, I have to ask you what's your favorite movie?
Anna/Skylar: Mulholland Dr. and Stealing Beauty.
Skylar: The dude in me loves Goodfellas. I always watch it when it's on.
What's next for you?
Anna: I'm working on a show right now called Good Girls Revolt that will be streaming on Amazon in November. It's a period piece in 1969 about the first women's sexual discrimination lawsuit.
Skylar: I have a TV show called Graves. It's about a former president who is removed from the White House, who's having an existential crisis and I find him in a drug-induced state. It's a weird, fun, dark political comedy.
Thank you so much for chatting with us and congratulations on the upcoming wedding!
Anna and Skylar: Thank you!