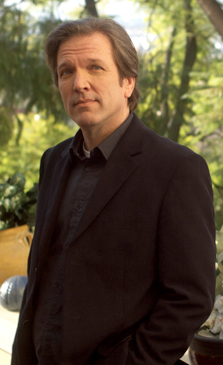 Collaborator is the first film written by, directed and starring actor Martin Donovan. Set in Los Angeles, it centers on a mentally disturbed neighbor who holds his childhood acquaintance captive. Bonnie Laufer from Tribute spoke with Martin on the phone from his home in Vancouver to talk about working on this intense drama.
Martin, congratulations on the film. It's very intense but mixed with a little humor. Where did the idea come from?
MD: Well, it depends on how much time you have, because this could turn into a therapy session. (Laughs) Honestly where did it come from, no one knows. I think it came from deep within my subconscious. I've been trying to understand the world my whole life but I guess I have to tell you I am a sensitive guy and I was a little kid in the '60s and all of that turmoil in the U.S. with the war going on, it was just so intense. I have a sister who is ten years older and she was in the thick of the war. The kid who lived next door to me was killed in Vietnam and I went to his funeral in sixth grade and it left a huge impact. All of this has been brewing in me as I've grown and matured and tried to understand the world and the nature of power.  This, combined with the fact that I really have wanted to write since I was a kid, it just finally came together around the idea of putting two guys in a room, these two polar opposites to see what they would say to each other.
David Morse plays Gus, who holds your character hostage.  He can be an intimidating presence on screen but still brings a vulnerability to the characters he plays. Was this one of the main reasons you cast him?
MD: That was exactly why I wanted him. He has the potential for violence but he also can be so vulnerable. I had no idea how adorable he was going to make Gus, he really made him his own. Even though the character beat a man to death, we still feel for him. David brings this humanity to it, and he also had a lot of fun playing the comic aspects and was a joy to work with.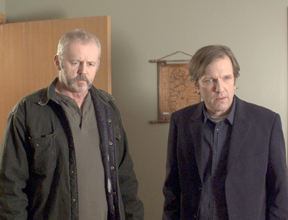 Is it true you didn't know him before you cast him?
MD: No, we'd never met. I was working on Weeds with Mary-Louise Parker and she recommended him to me.  She had worked with him off Broadway and couldn't say enough good things about him. She said he was a genius and knew that he and I would hit it off and work well together.  That really helped me decide.
You took on quite the challenge with Collaborator. You wrote it, starred in it and directed it. Were you a bit nervous taking  this on all at once?
MD: Yes, I was but there was no going back. Once you commit to this line of work you just throw yourself into it. You almost don't think about it as being a choice, it's an act of survival really. I felt so committed to the project and it was like a life raft for me. I felt like if I didn't do it, I was going to die in some spiritual way. I absolutely was nervous but I was also ready.
Any fears at all?
MD: My biggest fear was losing the confidence and the trust of my actors. They were amazing, they stuck with me all the way through and it really made my life a lot easier.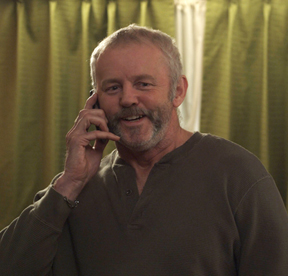 Was there anything that surprised you taking on the role of director? Anything you didn't anticipate happening?
MD:  I say this with love, but what none of my director friends told me was that when you're a director you also have to play mediator. You have to mediate various personalities on a film (laughs) and no one told me that one.  I thought I'd prepared for everything the best I could, but then I realized so-and-so really hates so-and-so and then they come to you and you have to smooth the waters and make it work. That was the part I wasn't ready for. I had a great crew and they were very supportive and I loved them, but we're all human beings and this is something that will happen when you get a group of people together.
Was it difficult as a director to watch your own performance?
MD: It used to be unbearable when I was starting out, but over the decades I have learned to be kinder to myself. It doesn't help me to hate my work, you know. I went from being all cold and clammy and wanting to vomit when I was young when I had to watch myself but now I can pretty much say without too much pain, "That was good" or "I can do better." I'm able to be more critical, but it's a much healthier way to look at it. It doesn't help to be so critical or scared; I am tired of beating myself up.
I would think too that having an extensive background as an actor made a huge difference on your directing style.
MD: I would think so. I think I understand actors and their problems, especially being one. I have compassion for actors and I understand what they go through. I just recently wrote a piece for Indiewire and they asked me to write about the process of directing. I ended up writing a love letter to actors.  I do love actors, there's something so incredibly moving and generous about actors who want to give their soul to the director. It doesn't always happen that way, but when you see it, it's a gift and an act of love actually. I have that love and respect and empathy for them when they are suffering or feel like they are in trouble on the set, or stuck in a scene and I just want to help. In my case on Collaborator, I had great actors and I really didn't have to do a whole lot. I just tried to create a space where they could do their best work.
You have been in so many productions over the years – I was wondering if there was a director  who made a great impact on you and your directing style?
MD: It's hard to say. There are a whole lot of people who have influenced me and so it's not always easy to determine which one was the biggest influence. There are certain aspects to filmmaking that I have picked up on. For example, Hal Hartley taught me about precision. Having done six films with him, he has precision and intense preparation in his work and that had a huge impact on me. Jane Campion, her approach was deeply psychological and she was very much interested in going as deep as possible with the soul and psychology of the character and she insisted that you go deeper and deeper.  So I really appreciated working with her in that regard. The rest of it, I have worked with some greats who no doubt have rubbed off on me. Christopher Nolan and others who I know I picked up things from over the years that are serious about the work.
Christopher Nolan is brilliant, it amazes me how that man keeps stepping it up with every film he makes.
MD: The thing about Christopher Nolan is that he makes these massive films but he still manages to make them feel like indie films. I worked on Insomnia with him and that was an indie film. It was a much bigger budget but it just felt like an indie.
You are American, but you've chosen to live in Canada. Is there any particular reason for that?
MD: I'm American through and through. I originally came to Vancouver to shoot an American television series called Pasadena ten years ago and we were living in New York at the time. I am originally from Los Angeles, but my kids were born in New York and we had been living there for about 18 years and that's where the core of my working education was. But when I came to Vancouver we found a school that we liked for our kids and it really came down to staying in a place that we liked for them and it was closer to L.A. Both my wife's and my family lived in California and we wanted to be closer to them too. It just felt like the right thing to do at the time and we've been happy there ever since. In the end, my Canadian status helped me get Collaborator made.
You have a few acting projects coming up, including Silent Hill: Revelation 3D and a film directed by Mira Nair. How was that experience?
MD: I shot that last fall and I went to New Delhi to do that. What an incredible experience that was, I had never been to India. I was only there a couple of weeks and it was thrilling. Mira wrote me a lovely letter and asked me to do the part. It wasn't a difficult role, but it was just thrilling to be in it and getting a chance to work with her. It's called The Reluctant Fundamentalist and it stars Kate Hudson, Kiefer Sutherland and Liev Schreiber.