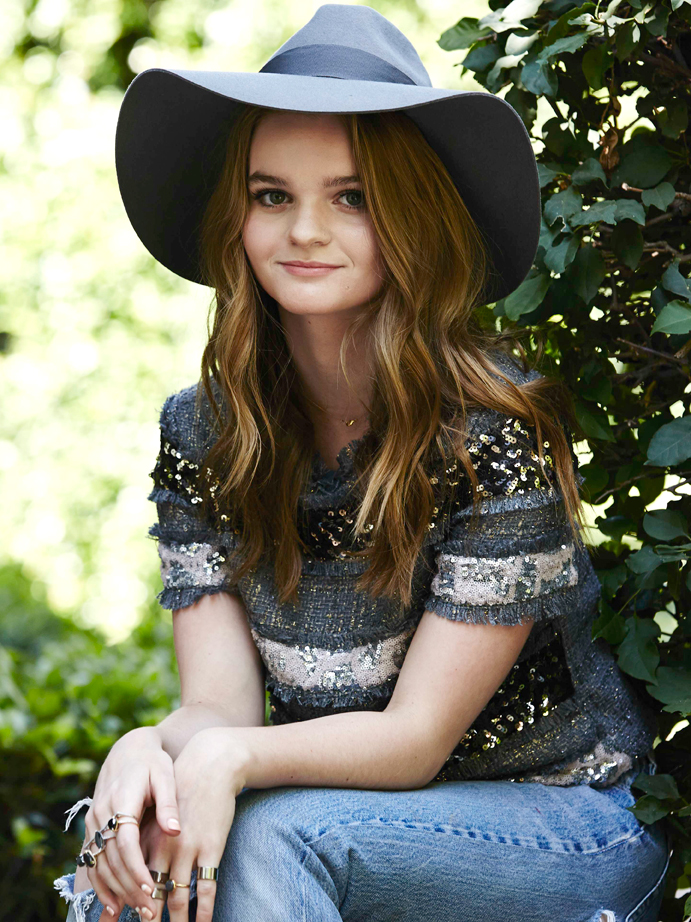 Audiences know Kerris Dorsey best as Paige Whedon from the TV series Brothers and Sisters and as Brad Pitt's daughter in the Academy Award-nominated film Moneyball.
In her latest film, Alexander and the Terrible, Horrible, No Good, Very Bad Day, Kerris plays the older "theatre diva" sister, Emily Cooper. Along with her sister, Justine, Kerris also wrote and performed a song for the film's soundtrack, titled "Best Worst Day Ever."
We had a chat with the talented young actress by phone today to talk about her role in the film!
The actors in this film had great chemistry, I felt like I was watching a real family. Was it the same on set?
It definitely was. We started with rehearsals and got to know to know each other while learning the script and going through the actions and really from the first day that we all met each other it just felt really close and fun and had a family environment and that just continued throughout the shoot.
You were great as the "theatre diva." Were you involved in school plays growing up?
Yes, that's how I started out. I started in theatre and that took me into to film and television. So I was that girl that Emily is in the movie. I was a little bit younger, but I was so into theatre and acting. I was very dramatic. I did my first play around four or five. I can't remember the first one but I did Annie when I was five. I never did play Peter Pan on stage so I was excited to play that in the movie.
What was it like to play Peter in a Disney film?
It was pretty amazing. I always wanted to play Peter in a production, but never expected to play him in a Disney film, let alone while drunk on cough syrup. I loved it but I totally wanted to burn the tights by the end because I wore them so much.
Did you do the actual flying on stage in the film?
I did! I used to do gymnastics and dance so I was really excited to get  into the harness and I worked with the stunt coordinator and we did a day of stunt training. Once I got up there it was really fun. I loved it and wanted them to do more shots of that scene.
Speaking of the cough syrup scenes, how did you prepare for that?
I actually watched videos. Surprisingly enough you can find anything on YouTube. There was this one video of a person who drank a large dose of cough syrup and filmed themselves talking so I watched that a few times.
Did you do the same for the sick scenes? You pulled them off very well.
I have always been kind of really good at faking the sick voice and I never really realized it because I would never use that power for evil. (Laughs) I have just been able to do a congested voice easily. I watched the scene in When Harry Met Sally when Meg Ryan has a sick voice from crying so I watched that scene over and over.
The party scene looked like so much fun with all the animals running around. How long did it take to shoot?
We filmed the party scene over four nights and it was actually quite fun. There was one night where my family came, my dad came, my mom was already there, my sister was there too and it was like a big party. It was so much fun, there was music and dancing. There was one scene where Steve and Jen were talking to their bosses and you can see me and Dylan, who plays my brother Anthony in the film, in the background dancing away. I don't think we even knew we were being filmed.
You wrote a song for the film with your sister Justine. How did that come about?
Well, I've always played and wrote music and Miguel Arteta, the director, knew that and wanted me to be involved as much as I can, because he is the kindest person in the entire world and said, "Do you want to write a song by yourself or with your sister?" So I went to my sister and said, "Hey let's write a song for the film." I was so excited that he would even ask me. We only had five days to do it and we thought about what captured the spirit of the movie and wrote lyrics that tied into the movie and they used it in the credits. It was so cool. I loved that whole process.
So there is more songwriting in your future?
Oh yes, definitely. It's a fun hobby to have and I definitely want to continue.
Besides singing, acting and songwriting do you have any other hobbies or passions?
I love dance, that's a big part of my life, like ballet specifically. I love writing also, not just music, but just writing. I guess anything artistic is what I enjoy doing. Even reading – I know that's kind of a boring hobby (laughs) but I love it.
No, it's not! I love reading too. Thank you for talking to us today and have a great weekend!
Thank you so much. You too and Happy Valentine's Day!
You can see Kerris in Disney's  Alexander and the Terrible, Horrible, No Good, Very Bad Day, which is currently available on DVD and Blu-ray, and on the Showtime Network's crime drama series Ray Donovan, in which she plays Liev Schrieber's daughter. ~Suzanne Coolen