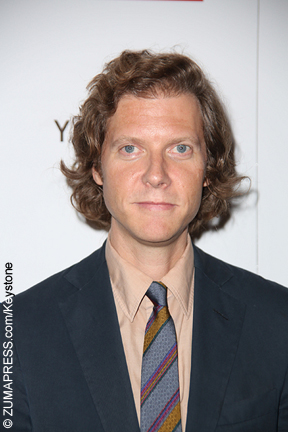 Director/screenwriter Jake Paltrow is the brains behind the sci-fi film Young Ones. Jake hails from Hollywood's Paltrow family – his sister Gwyneth starred in Jake's feature film directorial debut, The Good Night, and his mother is actress Blythe Danner. Jake returns to the big screen with this thriller, set in a world where water has become a scarce resource. The film stars Nicholas Hoult, Elle Fanning, Michael Shannon and Kodi Smit-McPhee. We spoke with Jake by phone about the sci-fi aspects of the film and how Young Ones came to be. Jake also revealed how his family lineage assisted in the filming process.
What inspired you to write this film?
Well, there were a few things. I reread the S.E. Hinton books — Rumblefish, The Outsiders and Tex — I loved them as a kid and I felt like I hadn't seen anything with that sort of voice, during the experience of youth in distress. I was interested in telling a tale that way. That was one thing. Another was, I wanted to tell a sort of love story between the father and son. I was very interested in that and that's where I started with Young Ones, just learning what it would feel like, writing the scenes between them, and I got kind of excited about it. And then I was reading about some of the drought issues outside of North America at the time, specifically in Yemen and Chile. So this was really my main inspiration for it.
How difficult was it shooting the film in South Africa?
It was a very challenging environment — you're at the height of the South African sunlit desert near the Namibian border and the first few days of filming were 115 degrees Fahrenheit, so just physically getting through it was difficult. You couldn't move the normal speed of life; everything was slowed down a bit. It was so taxing that there was a point where I think everybody felt like, if it's like this for the whole movie we may be in danger of not being able to complete it. It cooled down a little bit but the average was probably 100 degrees. Very, very challenging shoot.
Apart from the tough environment, did you face any other challenges?
There were things that I hadn't experienced on a movie set because of the remote nature of the location. We had a few generator and light issues and when that happened you had to stop shooting. We had a couple of night scenes in the house with no electricity, it's all artificial. On two separate occasions the lights blew and a generator went, and there was nothing you could do, it was pitch black in the middle of the desert. Only by the headlights of the car were we able to wrap the location and go home.
When you're shooting anywhere that is accustomed to film production, there's a sort of backup network of people at the rental houses who will quickly substitute lights. Here it was a seven-hour drive to Cape Town to dump the old generator, get the new one, then drive seven hours back. It took a whole day to get something like that resolved. There were days when props were left in town – it's an hour and 15 minutes in each direction just to get to the set. We were scrambling around trying to shoot all the shots we could without these props. It was really just a time thing.
Tell us about the CGI effects, because they were fantastic. I heard the robot wasn't real?
The robot's not real. It's based on Big Dog, which was built by a company in Massachusetts called Boston Dynamics. I got to spend time with them. The way we ultimately did it for the film is I had the torso of the robot built for the puppet tactically. I wanted that to always feel very real and that the actors could put their hands on it and not be acting against foreground CGI element. What we had were these two performers underneath in grey leotards, hunched over, hiking through the mountains with this sled on their back. Then we digitally removed them and added the legs. There are certain things that are animated and added, but it's half practical.
Flem is a villain, but at the same time I could see where he was coming from. Was that how you envisioned Flem when you wrote his character?
I think Flem was originally written in a much more arch way. I think a lot of the reason that that character is complex and successful in its complexity is because of Nicholas Hoult. Nick plays the natural humanity to that character that maybe wasn't fully there on the page, makes it all feel a bit enigmatic and emotional in his own strange way.
What inspired you to cast Nicholas and Elle as the leads?
Really, from their previous work. I really liked Nick in A Single Man, and I like that you couldn't really tell who he was in the movie until the end. Is he a hustler, is he an angel? You can't really get your finger on this kid. Is he intelligent, is he a moron? There's a great enigmatic nature to him in that movie. Elle is just so gifted. The movie deals with a future of regression, I also wanted to explore those more frontier-like [films]. She had an incredible American quality and I wanted Mary to feel quite young and I think she's the best actor of this age group.
Does coming from a famous Hollywood family aid the filmmaking process in terms of connections for getting a film made?
I think early on it definitely helps, because when you're interested in doing this, the first positions you're going to get are in assistant capacities or apprenticeships. So being from a family that has access to other people that do this, you know if you're not being hired directly by your family, in those early jobs. I think in most fields you get your first exposure through a family friend or through somebody you know, so it works in much the same way. I don't think I would have had those early experiences without my family being in this business.
What was the most challenging scene for you to shoot?
The most challenging scene to shoot was when Flem sells Robbie's baby. It was a short night and that was all done in about seven or eight hours, so it was a shoot out, two-page scene with a lot of action, storyboarded in a specific way. I think we ended up doing 40 set-ups a night and in the end we really were just racing sun and it was very, very challenging. There was a faulty special effect — one of the springs in the wall went off early and Nick got a little bit hurt. It was very difficult and luckily for us it was towards the end of the shoot, I think it was the last night of shooting.
What's next for you?
I'm writing it now, it's another science fiction piece.
Young Ones opens October 31 in Toronto, Calgary, Vancouver and on VOD. ~Marriska Fernandes