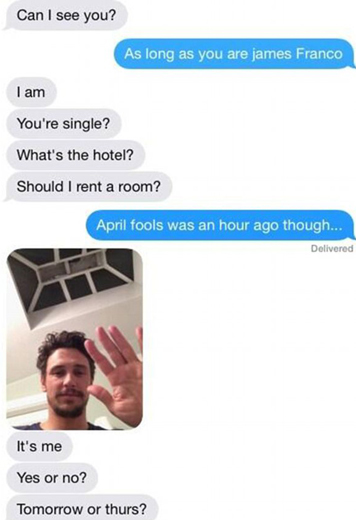 One teen tourist vising NYC got some personal attention from James Franco. According to 17-year-old Scottish tourist Lucy Clode, she first interacted with the star at his Broadway show Of Mice and Men (an early 18th birthday gift).
She took an Instagram video with Franco and he told her to tag him in it. Later that same night he began flirting with her over the social media site and the leaked screenshots have since flooded the internet.
The teen twice asked Franco to send photographic proof that it was really him, and he did. The 35-year-old apparently wanted to meet up with the teen in a hotel room according to the chats.
The Instagram chat moved onto texting, with Franco asking her, "You're single?" then "What's the hotel" and "Should I rent a room."
It's not clear whether Franco was aware that Clode was less than half his age, but at any rate, she decided not to actually meet up with him. ~Tarah Bleier