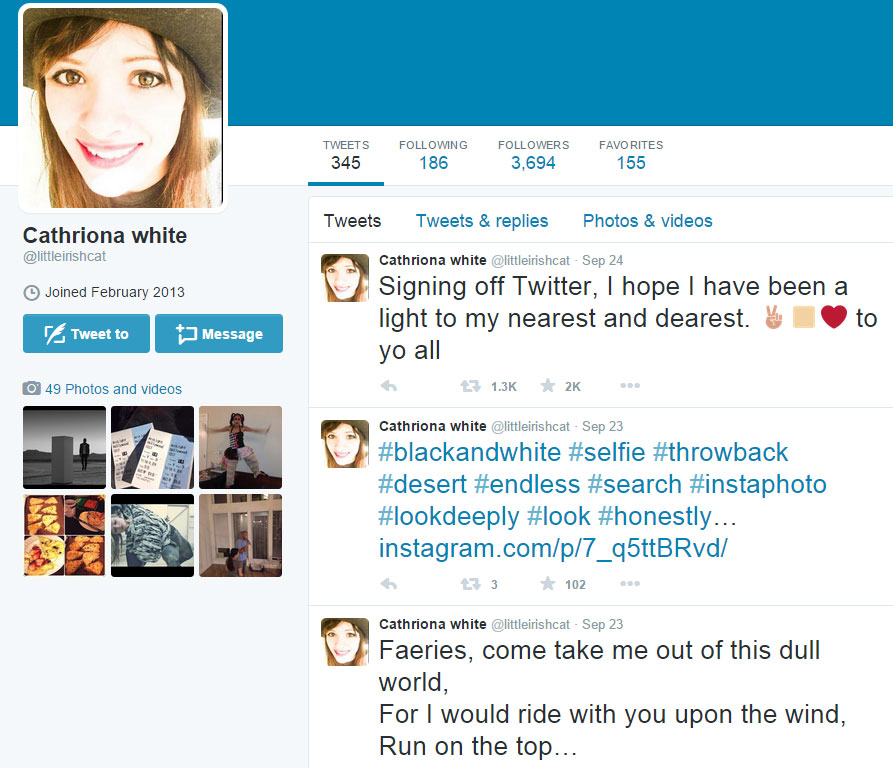 Jim Carrey's girlfriend, makeup artist Cathriona White, was found dead at her home last night in Sherman Oaks.
A friend found her and called 911, but when paramedics arrived, she was unresponsive and was pronounced dead at the scene.
Police have confirmed a suicide note addressed to Carrey was found at the scene and that pills were found near her body. It's believed she took an intentional overdose of drugs.
Last Thursday, she wrote her last tweet on Twitter, which read, "Signing off Twitter, I hope I have been a light to my nearest and dearest."
Carrey, 53, and White, 30, met on a film set in 2012 and dated for several months before breaking up. They were back together in May of this year, but it's believed they broke up again recently.
An autopsy is expected to be performed.
Carrey has released a statement that reads: "I am shocked and deeply saddened by the passing of my sweet Cathriona. She was a truly kind and delicate Irish flower, too sensitive for this soil, to whom loving and being loved was all that sparkled. My heart goes out to her family and friends and to everyone who loved and cared about her. We have all been hit with a lightning bolt." ~Alexandra Heilbron