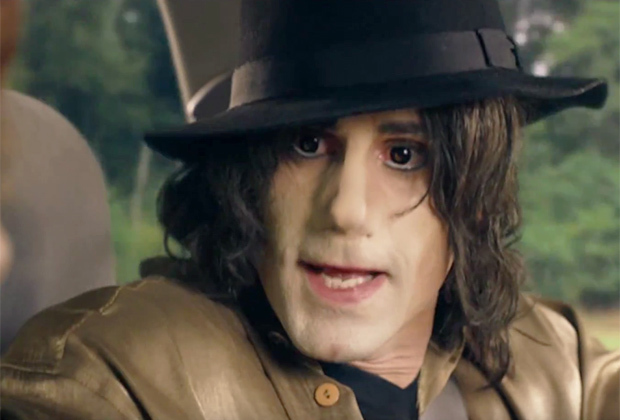 Amid massive outrage from all corners of social media, the upcoming Urban Myths episode about Michael Jackson has officially been cancelled.
"We have taken the decision not to broadcast Elizabeth, Michael and Marlon, a half-hour episode from the Sky Arts Urban Myths series, in light of the concerns expressed by Michael Jackson's immediate family," Sky Arts said in a statement.
Earlier this week, shocking photos of actor Joseph Fiennes as the late King of Pop (pictured left) hit the web, and needless to say, Michael's family was not pleased.
"Unfortunately this is what my family has to deal with. No words could express the blatant disrespect," the Thriller singer's nephew Taj tweeted on Wednesday (Jan. 11) of the then-upcoming episode.
Michael's daughter, Paris, also tweeted that she was "incredibly offended" by the show, and that it made her "want to vomit."
Elizabeth, Michael and Marlon, originally set to air on Jan. 19, reportedly depicts Michael's much-talked-about road trip from New York City to Los Angeles with close friends Elizabeth Taylor (played by Stockard Channing) and Marlon Brando (played by Brian Cox) post-9/11.
Sky Arts said they set out to "take a lighthearted look at reportedly true events and never intended to cause any offense."
Along with his family, the pop icon's fans were equally vocal about their distaste for Elizabeth, Michael and Marlon, with a petition to boycott the episode collecting more than 20,000 signatures.
This isn't the first time the project has drawn controversy. When the news broke last January that Joseph would play the famed artist, fans and critics were quick to question why Sky Arts would cast a white actor in the role.
Forbes film critic Scott Mendelsohn famously joked about the creative choice, tweeting, "Congratulations to noted African-American actor Joseph Fiennes on being cast as Michael Jackson…"
Joseph himself admitted to The Hollywood Reporter last year that he expected fans to be upset.
"The decision with the casting and the producers—I wrangled with it, I was confused and shocked at what might come my way," the Shakespeare in Love actor said. "And I knew the sensitivity, especially to Michael's fans and to Michael's family. It doesn't negate who he was."
In their statement, Sky Arts made sure to note that Joseph "fully supports" the decision. ~Shelby Morton
What do you think — was it the right choice to cancel the episode? Or are you disappointed that it won't air? Sound off below!
@soledadobrien Unfortunately this is what my family has to deal with. No words could express the blatant disrespect. https://t.co/WKCiwOqPpN

— Taj Jackson (@tajjackson3) January 11, 2017
@TheMJCast i'm so incredibly offended by it, as i'm sure plenty of people are as well, and it honestly makes me want to vomit.

— Paris-Michael K. J. (@ParisJackson) January 11, 2017