Jumanji: Welcome to the Jungle a crowd-pleasing hit
By Marriska Fernandes on March 21, 2018 | 3 Comments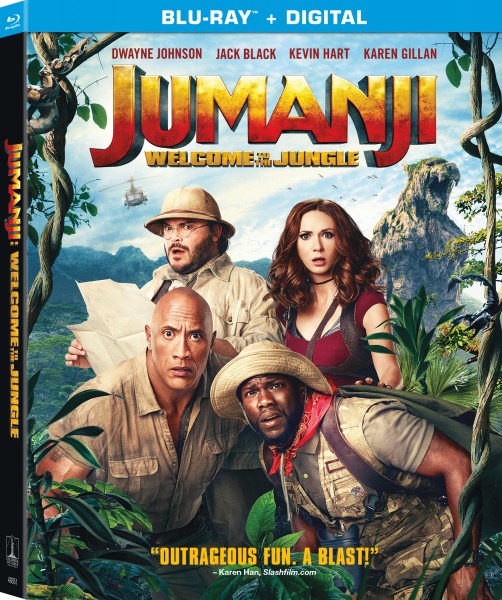 Jumanji: Welcome to the Jungle is a surprising comedy that I didn't see coming. It's riddled with hilarious dialogue, tremendous acting from the cast and a plot that takes you on an entertaining jungle ride.
The film follows four teenagers — high school football star "Fridge," nerd Spencer, selfie-obsessed popular girl Bethany and, Martha, a shy and awkward girl. These kids are stuck together in school for detention, so understandably, the only thing they can do to bond is to play the video game console that they discover in the detention room.
As soon as the kids choose their characters, they are pulled into the game. And… transformed into the avatars they chose. The shock (and comic relief) this scene provides can only be described best by social media-obsessed Bethany: #CantEven.
Spencer turns into the extremely good-looking muscle man, Dr. Smolder Bravestone (Dwayne Johnson) and yes, smoldering is his charm. Fridge turns into zoologist Franklin "Moose" Finbar (Kevin Hart), who is angered that he lost the other half of his body (a.k.a. his height).
Martha turns into "killer of men" Ruby Roundhouse (Karen Gillan), and hates that she has to wear inappropriate shorts and a crop top. The subtle dig at how women are objectified in video games is nicely done. And the best transformation of all: Insta-princess Bethany gets transformed into "curvy genius" Dr. Shelly Oberon (Jack Black), a.k.a. a dude. In her words: "I'm an overweight middle-aged man!"
The four of them soon realize that each time they get killed in the game, they come back with one life deducted. Afraid of what might happen if they lose all three of their lives, they tread carefully in the hopes of saving Jumanji and retuning home alive.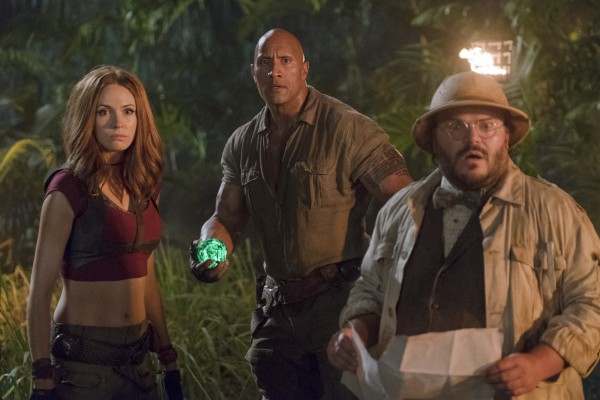 The movie is hilarious. For those who grew up watching the original Jumanji, you'll be impressed with how this one gives it its own unique spin. Dwayne Johnson and Kevin Hart have once again proven that they are a winning comedic duo. They make up most of the hilarious scenes and you end up wanting more of them.
Dwayne swaps personalities from "The Rock" to an insecure kid, an interesting spin that Dwayne explores with charm. Karen's role is a departure from her Dr. Who days and she dismisses any and all female stereotypes as she kicks ass in the jungle.
The most surprising actor to win me over was Jack Black as the shallow princess. Watching him squirm as a high-maintenance teen girl had me LOLing. But what Jack was able to do impressively was bring out her warmth and vulnerability — which I wasn't expecting. You end up actually liking Bethany once you get to see her in Jack Black's shoes, err… body.
Overall, the film had me in splits. I have seen the movie three times and each time it managed to give me kicks. It's the combination of the plot, the dialogue and the acting talent that makes this a success. This box office hit proves I'm not the only one who enjoyed this jungle ride. ~Marriska Fernandes
Blu-ray features include Gag Reel, Jumanji Music Video by Jack Black and Nick Jonas, and Five Featurettes: Journey Through The Jungle: The Making of Jumanji, Meet the Players: A Heroic Cast, Attack of the Rhinos!, Surviving the Jungle: Spectacular Stunts! and Book to Board Game to Big Screen & Beyond! Celebrating The Legacy of Jumanji.
If you have seen the film and would like to review it, click here.
---
---
---
---
Similar Articles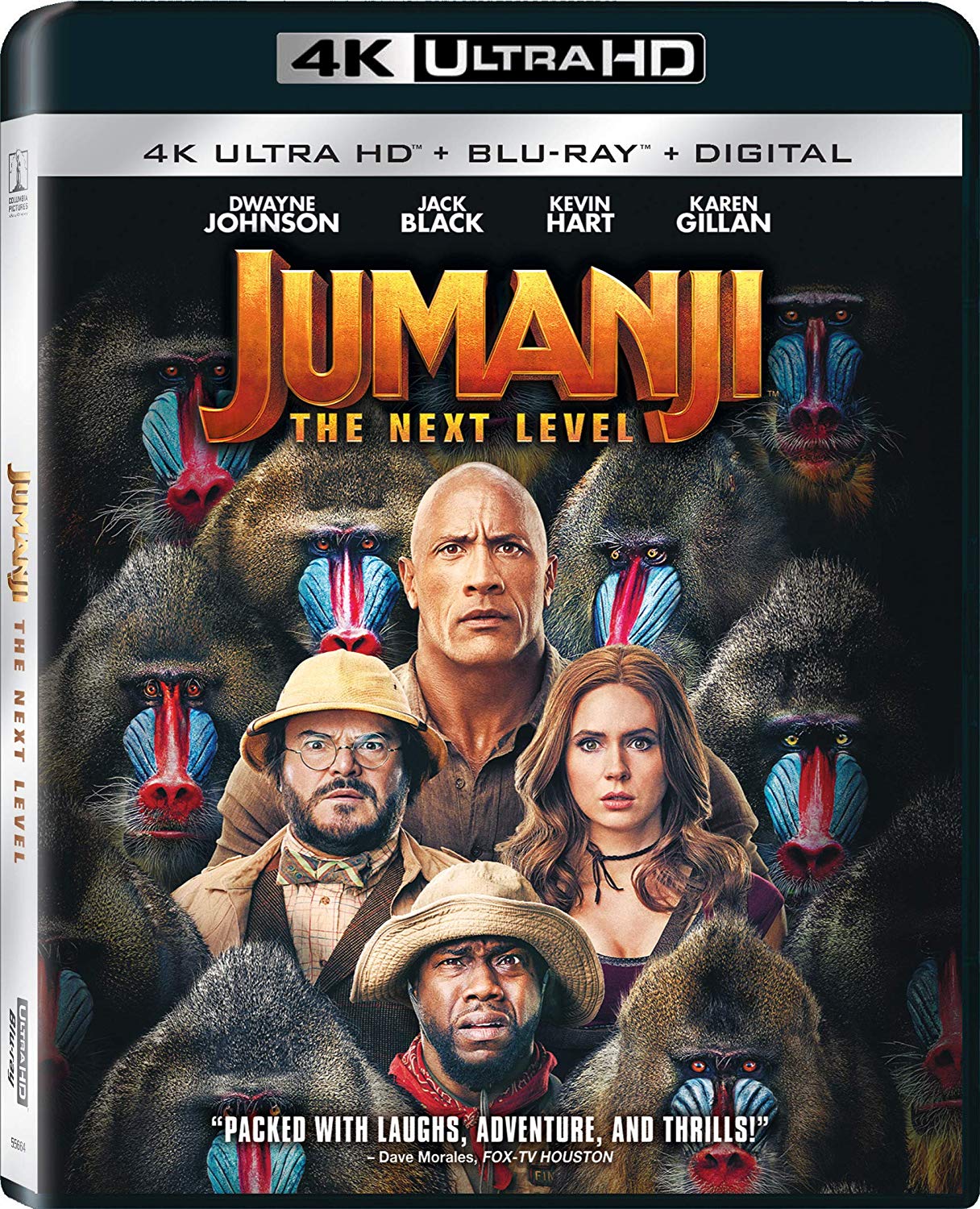 March 17, 2020 | Leave a Comment
Jumanji: The Next Level, starring Dwayne Johnson and Kevin Hart, is here to entertain. The adventure-packed movie promises ton of action and laughs for all.
---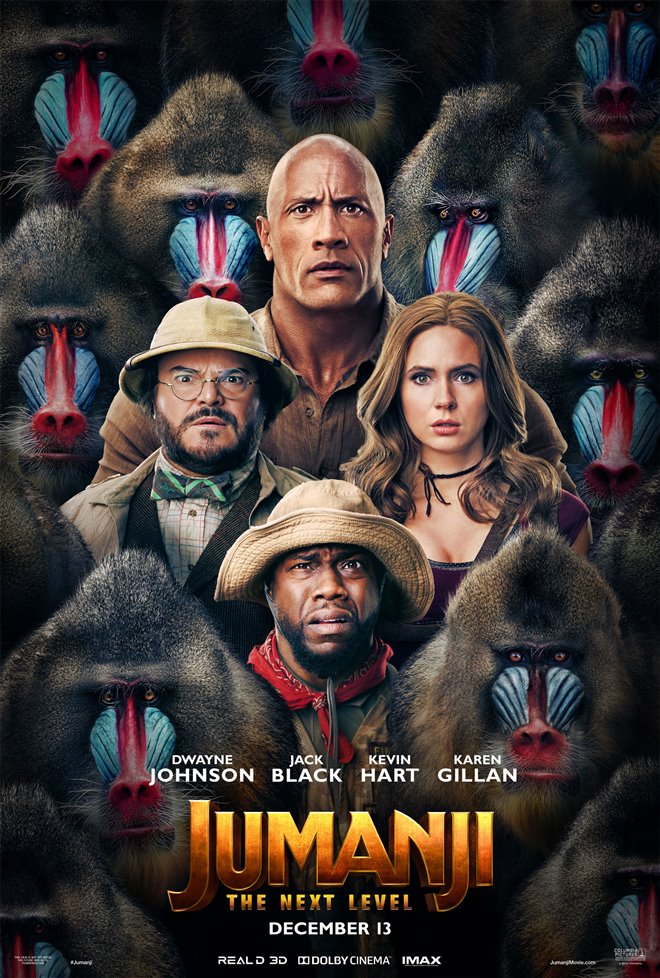 December 13, 2019 | Leave a Comment
Jumanji: The Next Level returns for another round of adventure with Dwayne Johnson, Jack Black, Kevin Hart and Karen Gillan. There's action, laughs and fun!
---
---