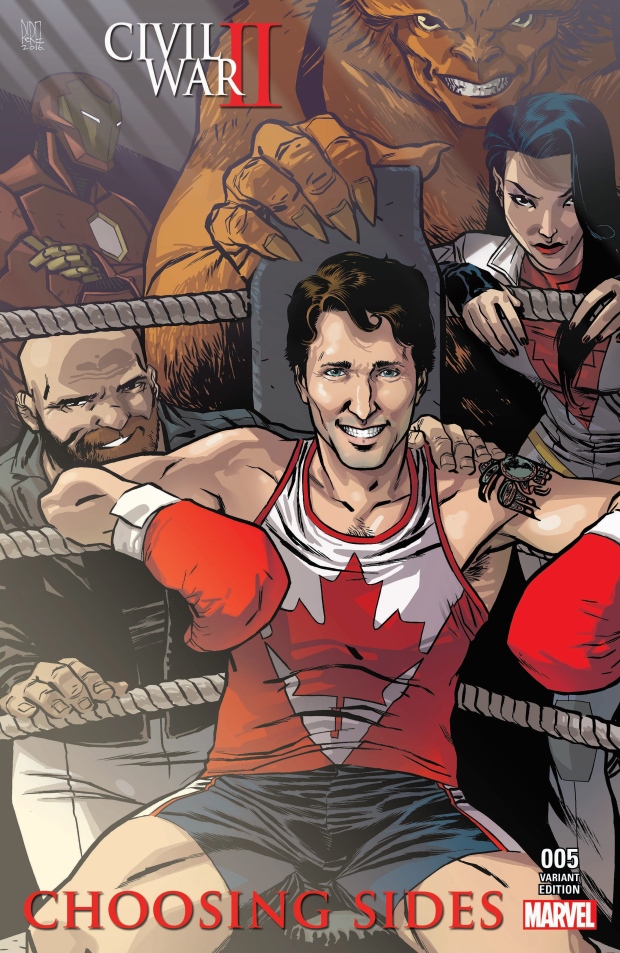 Canadian Prime Minister Justin Trudeau is officially a member of the Marvel universe.
Trudeau will appear on the cover of issue No. 5 of Marvel's Civil War II: Choosing Sides, which comes out Aug. 31. The cover art was released today.
Trudeau is depicted as a boxer, with Iron Man in his corner. Also in his corner are Puck, Sasquatch and Aurora, all of whom belong to Alpha Flight – Canada's answer to the Avengers.
Trudeau is wearing a maple leaf tank top with red boxing gloves, as well his signature smile.
The comic will center around an ethical dilemma. A new hero named Ulysses is introduced. Ulysses has the power to predict the future with a high degree of accuracy. Alpha Flight wants to use Ulysses to stop crimes before they happen, but Iron Man thinks a punishment should come after the crime. Remember, Ulysses isn't 100 percent accurate all the time.
The members of Alpha Flight decide to go Trudeau for advice.
This isn't the first time a Canadian Prime Minister, or a Trudeau, has appeared in Marvel. Trudeau's late father Pierre appeared in Uncanny X-Men in 1979.
How does it feel to have the Prime Minister joining forces with superheroes? Will his wife sing a song about it? Tell us your thoughts. ~ Yanis Khamsi