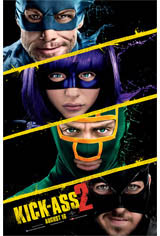 Kick-Ass 2 brings back our favorite characters from the first Kick-Ass – including Chloë' Grace Moretz as Hit Girl/Mindy McCready and Aaron Taylor-Johnson as Kick-Ass/Dave Lizewski. It also introduces several new characters, such as Jim Carrey in the role of Colonel Stars and Stripes and Claudia Lee as Brooke.
The sequel finds Mindy attending high school. Except that every morning, after being dropped off by her guardian Marcus Williams (Morris Chestnut), she hops in a taxi and goes to train in order to keep up her superhero skills. Dave begs her to train him as well, so they can form a team. Mindy very reluctantly agrees, and proceeds to show him just why she considers him to be in the "Pee-Wee" leagues in comparison to her fighting skills. At the same time, Chris D'Amico (Christopher Mintz-Plasse) decides to become a supervillain. His main motivation is to kill Kick-Ass in revenge for his father's death. Now an extremely wealthy teen, he collects a number of real villains to work for him in order to achieve his goal – and it doesn't matter to him how many people have to die in the process.
Dave has a setback when Mindy is reminded by Marcus about her late father's letter to her, asking her to do whatever Marcus asks of her. Marcus finds out she's skipping school and demands that she stops being Hit Girl and try instead to be a normal teen. She agrees to attend school every day and even gets in with the popular kids led by Brooke, until Brooke becomes jealous and gets her friends to bully Mindy. Meanwhile, Chris is gunning for Dave, who has joined forces with Colonel Stars and Stripes and a group of wannabe superheros, but they don't have the streets smarts Hit Girl has. Dave realizes that he needs Mindy to keep evil off the streets and out of his life.
Chloë Grace Moretz is as excellent as she was in the first movie as Hit Girl – she never fails to surprise and delight. There are featurettes, such as "An Ass-Kicking Cast" that shows how much effort she put into learning to do her own stunt fighting and how skilled she is, much like her film counterpart. Aaron Taylor-Johnson, at 22, believably portrays a high school senior and Jim Carrey is appropriately subdued as Colonel Stars and Stripes – no mugging or stealing scenes – he does his job effectively, playing an ex-mafia enforcer who leads the team on raids to take down evil.
Other special features on the DVD include: extended scenes, feature commentary with Taylor-Johnson, Moretz, Mintz-Plasse and writer/director Jeff Wadlow, as well as the special features "Creating a Badass World," "Upping the Game" and "Going Ballistic: Weapons and Stunts." The Blu-ray also has an alternate opening and the featurettes "Big Daddy Returns: The Unshot Scene," "Street Rules: Showdown at the Evil Lair"  and "Hit Girl Attacks: Creating the Van Sequence." Other DVDs releasing today include: Cottage Country, Elysium, The Lone Ranger, One Direction: This is Us and Percy Jackson: Sea of Monsters.