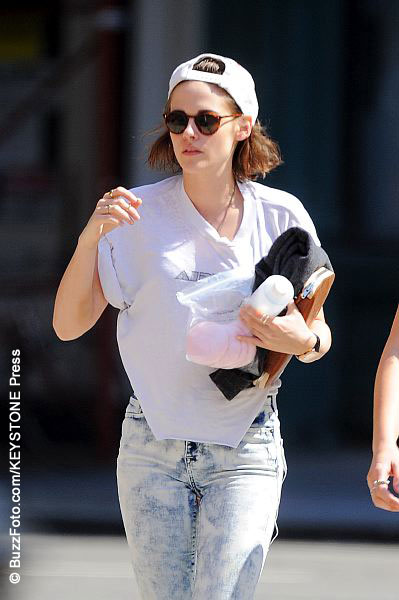 Kristen Stewart turned up the heat in chilly Paris Tuesday as she was caught stealing a kiss from her rumored new girlfriend, French singer Stephanie Sokolinski.
Appearing smitten with one another, the pair were strolling the streets hand-in-hand when they paused for a peck, Entertainment Tonight reports.
The 25-year-old Twilight actress landed in the City of Lights over the weekend. She was greeted with flowers by 30-year-old Stephanie, who is better known by her stage name SoKo.
Murmurings of a romance between the women began circulating when they were spotted looking affectionate with each other during an early March lunch date in Los Angeles. Neither woman has confirmed or denied the rumors, but a tweet and Instagram post by SoKo point to there being more than a spark between the two.
SoKo, who has opened for Foster the People and M.I.A., instagrammed a photo of herself engaging with her phone last week with the caption, "Facetime romance." For added effect, she included heart, phone and rose emojis.
On Twitter days later, she linked to the Instagram photo and inserted the caption, "Spending every minute of my days and nights loving her from afar."
In a summer 2015 interview with Nylon Magazine, Kristen addressed her sexuality and said, "I am an actress, man. I live in the f**king ambiguity of this life and I love it. I don't feel like it would be true for me to be like, 'I'm coming out!' Until I decide that I'm starting a foundation or that I have some perspective or opinion that other people should be receiving… I don't. I'm just a kid making movies."
She added, "Google me, I'm not hiding. I think in three or four years, there are going to be a whole lot more people who don't think it's necessary to figure out if you're gay or straight. It's like, just do your thing."
Kristen can be seen next in a currently untitled Woody Allen romantic project in October 2016. Blake Lively and Jesse Eisenberg co-star.
~Matthew Pariselli