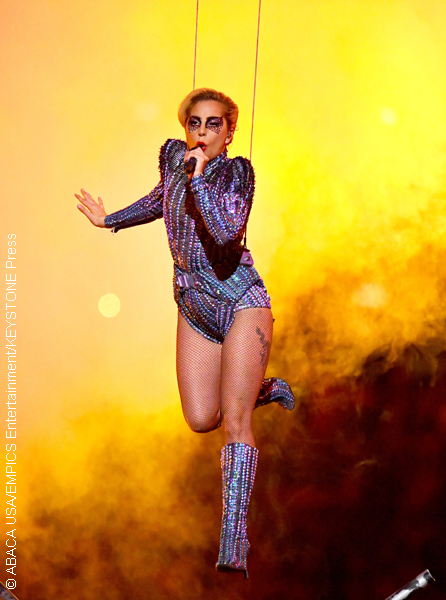 Lady Gaga lives for the applause and her thrilling halftime show at the Super Bowl elicited some of the loudest praise she's ever received.
The 30-year-old pop star took the stage — and roof — of the NRG Stadium in Houston, Texas by storm last night (Sunday, Feb. 5) during a medley of her biggest hits. She performed portions of "Edge of Glory," "Bad Romance," "Poker Face," "Million Reasons," "Born This Way," "Telephone" and "Just Dance."
But in typical Gaga style, the show was about much more than vocals. She incorporated fierce choreography, a diverse crew of skilled backup dancers, dazzling fireworks and, naturally, loads of glitter.
She also took the opportunity to subtly make a statement about the current political climate by opening her performance with "God Bless America" and seguing into the Americana classic "This Land Is Your Land."
Her stirring delivery generated swift and favorable reaction from many celebrities including Katy Perry, Ellen DeGeneres, Neil Patrick Harris, Zac Efron and Mindy Kaling.
Below, check out what was said about her halftime show on Twitter, and be sure to let us know what you thought of her performance as well. ~Matthew Pariselli
— KATY PERRY (@katyperry) February 6, 2017
We loved it, @LadyGaga! @RyanSeacrest @PortiadeRossi pic.twitter.com/fqbkgwbwqt

— Ellen DeGeneres (@TheEllenShow) February 6, 2017
I'm gagging over @ladygaga and her halftime show. She was everything. Creative and fearless and inclusive. Loved. — Neil Patrick Harris (@ActuallyNPH) February 6, 2017
.@ladygaga was awesome! Like how she said hi mom hi dad #SB51

— Zac Efron (@ZacEfron) February 6, 2017
This performance is like 4000 awesome gifs strung together — Mindy Kaling (@mindykaling) February 6, 2017
I'm one of 100 million #SuperBowl fans that just went #Gaga for the Lady, & her message to all of us. https://t.co/8AoNqjwr1b

— Hillary Clinton (@HillaryClinton) February 6, 2017
#ladygaga killed🌈 my hero — James Franco (@JamesFrancoTV) February 6, 2017
YES @LadyGaga just DID THAT!! #SuperBowl ❤❤👑👑

— Fergie (@Fergie) February 6, 2017
#LadyGaga is the modern day #BarbraStreisand Just a FABULOUS CLASS ACT!! 😎😆😘 — Vivica A. Fox (@MsVivicaFox) February 6, 2017
@ladygaga The mic drop said it all ! Incredible! 💥

— Reese Witherspoon (@RWitherspoon) February 6, 2017
YES Gaga!! — christine teigen (@chrissyteigen) February 6, 2017
Dancing hard. Singing live. Ends it catching a football! I always liked #Gaga. Now I love her. Sorry not sorry. That was freakin' awesome.

— chris pratt (@prattprattpratt) February 6, 2017
Congratulations @ladygaga!! That was AMAZING! Slayed my life!! ❤️❤️❤️ — Rita Ora (@RitaOra) February 6, 2017
@ladygaga you killed that!!!!

— Bruno Mars (@BrunoMars) February 6, 2017
#ladygaga has created one of the all time great #SuperBowl performances. The energy is mind boggling — Josh Gad (@joshgad) February 6, 2017
Wow @ladygaga killed the halftime show. Well done #Superbowl

— Nick Jonas (@nickjonas) February 6, 2017
That was the best halftime show I've ever seen @ladygaga . We r freakin out over here!!! 👏👏👏👏👏 — Colton Haynes (@ColtonLHaynes) February 6, 2017
— bob saget (@bobsaget) February 6, 2017
Lady Gaga covered more ground on the field than the Patriots. #SuperBowl — Bryan Cranston (@BryanCranston) February 6, 2017