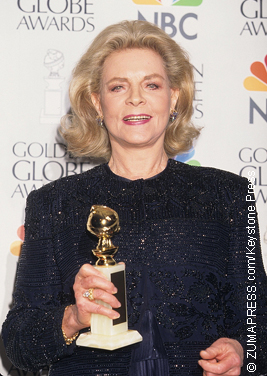 Legendary actress Lauren Bacall died this morning of a stroke at her New York home. She was 89. The Humphrey Bogart Estate posted on Facebook: "With deep sorrow for the magnitude of our loss, yet with great gratitude for her amazing life, we confirm the passing of Lauren Bacall."
Born Betty Joan Perske in New York City on September 16, 1924, her first passion was dance, but when she chose to pursue acting, Lauren attended the American Academy of Dramatic Arts in New York and worked in off-Broadway productions.
Upon graduating from the Academy, Lauren modeled for Harper's Bazaar, which led to her movie debut at age 19 in To Have and Have Not (1944), when director Howard Hawks' wife convinced her husband to give Lauren a screen test. The film was notable because she met Humphrey Bogart, who was her co-star. They married the next year, despite the age difference (Bogart was 44). The two often worked together in movies, until Bogart died January 14, 1957 from throat cancer.
Lauren's first comedic role was a hit with audiences and saw her co-star with Marilyn Monroe and Betty Grable in How to Marry a Millionaire (1953). Her last role was providing a voice for a 2014 episode of the television series Family Guy, as character Evelyn.
Lauren's life was full of professional achievements, including the Cecil B. DeMille Award in 1993, a Golden Globe in 1997 for Best Performance by an Actress in a Supporting Role in a Motion Picture for The Mirror Has Two Faces (1996) and an honorary Academy Award in 2010. Lauren leaves behind three children – a son and a daughter from her marriage to Bogart and a son (actor Sam Robards) from her second marriage (to actor Jason Robards), as well as six grandchildren.  ~Andrea Hodgins