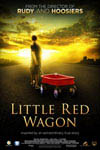 When Hurricane Charley hit Florida in 2004, even though Zach Bonner was just six years old, he wanted to help. The hurricane bypassed his neighborhood, sparing his family and their home, but he went door to door asking for donations of food, clothing and other essentials for the families who'd lost everything. Afterwards, he wanted to continue to help those less fortunate than himself, so he founded the Little Red Wagon Foundation to help homeless children. Through donations from a variety of sources, including corporations, over the years he has put together thousands of backpacks filled with food, clothing and toys to give out so each homeless child would have something of their own.
At the age of nine, Zach (pictured below right with his movie counterpart) walked from Tampa to Tallahassee, raising $25,000 for his foundation. Since then he's completed several longer walks, including one to the White House in Washington, D.C., and one across America from Tampa to Los Angeles. Even though he just turned 15 in November, there's already a movie about Zach, called Little Red Wagon, starring Chandler Canterbury as a young Zach. It not only shows how Zach got started on his journey, but tells the story of a woman and her son who fall upon hard times, giving an inside look at how easily someone can wind up homeless and/or destitute.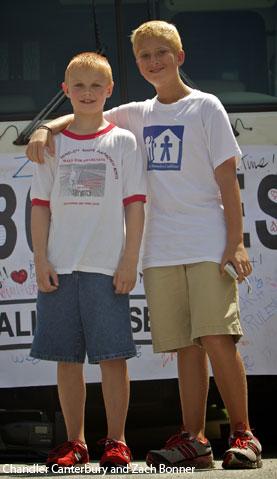 Tribute had the opportunity to talk to Zach about the release of Little Red Wagon, now available on DVD, digital download and on demand January 8, 2013.
What does it feel like to be 15 and already have a movie about your life?
It's pretty crazy but at the same time it's really cool. Usually movies are made about really famous people – presidents or government leaders or people with lots of money – that have movies made about them, it's not especially common for a normal person to have a movie made about them, but what we're trying to do with the movie is show that you don't have to be anything really special. You can just be a normal person with a desire to do something and great things can happen.

What tips would you give to others who want to do something to help people? How can they get started?
When we get older we start to look at all the things that could possibly go wrong with a project and all the red tape but as kids, we look at a problem and think that we can solve it. My advice would be just go with an idea. Whether it's animals or homelessness, just do it. If we get stopped, we begin to question ourselves, whether or not we can do it but if we really just step up to the plate and jump on it, we can accomplish what we want to.
Most people look at the news of a hurricane and they may give something to the cause, but you decided to get involved to the point of forming your own foundation. What motivated you to want to donate so much time and energy to the plight of other people?
I think as humans, in general, we have an innate desire to want to help other people and I think when given the opportunity, people are really eager to jump on board. With me I'm not really sure how it happened. We were supposed to get hit by the hurricane and in the last hour it veered off course and hit just south of us and we had all these extra supplies that we really didn't need. There were thousands of people who were in desperate need and from there it just happened, it kept growing and growing.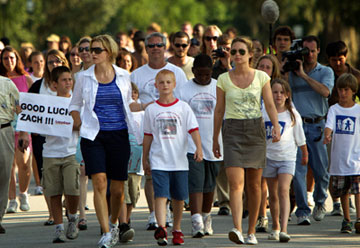 Your mom walks with you on your first long distance walk in the film – has she walked with you on all your subsequent walks to raise money?
Yeah, she's been there for all of them. Have you seen the entire movie?
Yes, I did, it's a really good film.
Thank you! I'm glad that you liked it. They kind of show my sister (played in the film by Daveigh Chase) as the villain in the movie, which was dramatized but she was supportive as well. There was some tension, but at the end of the day she was there for us.
So she was more supportive than she was portrayed in the film?
Well, we experienced that same kind of stuff but they definitely made her more mean in the movie than she actually is.
I actually felt so much empathy for her because it's not her calling, but she has to come along anyway. I just hope she eventually got to take that cooking class.
It's actually really funny because in the movie she talks about photography for fun but it's the cooking thing she really wants to pursue, but in real life she's terrible at cooking. Absolutely horrible. I mean, she burns everything. I'm pretty sure she could burn water if it was possible. But actually, she does photography for a living. She's a professional photographer. So it's really funny how they flipped the two in the movie.
So she didn't really want to take a cooking class in real life?
Well, she might have needed it. But I'm not sure she actually wanted it.

That's funny! So getting back to the walks you've done, do you really enjoy walking? Most of the kids I know complain if they have to walk more than a block.
I do, it's kind of relaxing in a way, if that makes sense. You clear your mind and of course it's exercise and that's great. But at the same time, after doing all these walks, we'll drive around the parking lot for five minutes trying to find the closest parking spot (laughs). But I do enjoy walking and I had so much time to think on those walks about all kinds of things and you go through these really small towns and you find these hole-in-the-wall restaurants and you meet these incredible people with incredible stories that if you were just driving through, you'd never hear or you'd never see.
You're often called upon to speak publicly – was that difficult at first?
I first started public speaking when I was six years old and my first real talk was in front of about 4,000 people. Like I said earlier, as kids, I don't think we have as much fear and we don't think about all the things that could go wrong, as opposed to when we get older, we start to think about that, so because I grew up with it a little bit I think it was a bit easier for me. There was a while where I kind of got nervous before every talk but I got over it because I love what I'm doing and I think it's what I'm supposed to be doing and so it makes it easier.
Did you go on the set and meet the actors or watch any of the filming?
When they were shooting the film, it was in 2010 and it was in South Carolina and I was on my March Across America so it was a little bit harder to be on set for much of it but we were on set for about a week and it was a lot of fun, not just because it was about our life but because it was just really interesting to go behind the scenes of a movie and see all the props.
What do you see yourself doing in the future, career-wise? Do you see yourself continuing with the foundation or is there something else you'd like to pursue?
Yeah, definitely with the foundation, but I've always wanted to go into law. Whether I go into family law or prosecution, I think the knowledge I would acquire by going through law school would allow me to be able to help even more people and be able to tie it into the foundation. I've always been interested in law and I love the foundation and I love what I'm doing so I think it would be the perfect mesh. ~Alexandra Heilbron