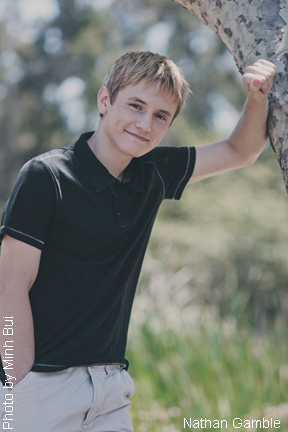 Nathan Gamble starred in the hit movie Dolphin Tale when he was just 12 years old. Already a showbiz veteran, he'd starred as a regular in two TV series and appeared with Brad Pitt in the major motion picture Babel. He's reprising his role as Sawyer Nelson in Dolphin Tale 2. ~Alexandra Heilbron
What was your reaction when you heard you'd be doing another Dolphin Tale movie?
I was skeptical at first because David Yates, he's the one who really got this movie going—he's the CEO of the Clearwater Marine Aquarium—and during the premiere of Dolphin Tale, he said, "There's going to be a sequel, Nathan!" Then a couple of months later, he said, "There's going to be a sequel," and I'm thinking to myself, "Yeah, right." Then after a couple of years, Warner Bros., Alcon Entertainment and Charles Martin Smith [director of the first movie] got on board and I told David afterwards, "I'm sorry, I'll never be skeptical of you again." So I'm sure he's going to have 11 more planned and I promise you they will happen (laughs).
What was the difference between working on the first movie and the new one?
I think with the new one I was a little more relaxed. The first one was a very new experience for me. It was my first lead role in a movie, new surroundings, new people to get to know, and for the second one, I was very comfortable. Everyone came back – all the cast, the crew – and it felt like a family reunion because we all loved each other so much and loved working together on the first one that it became like second nature on the second one.
You swam with Winter in the first one, right? Do you get to swim with Hope in the new one?
Yes, I actually swam with the real Winter, which is pretty cool to say. I do actually get to swim with Hope as well. Winter is older, she's more experienced and knows what she's doing but Hope is younger, very energetic and a lot stronger than Winter because she has her tail. So you really have to brace yourself when you're doing stuff with Hope because she is so powerful. I had to hang on tight when she was pulling me around, almost like hanging onto the rope attached to a water ski. She's so strong.
You got to spend a lot of time with Winter in the first one, right?
I did. But I think I actually spent more time with her on the second one. With the first one, it's hard introducing new people to Winter, who has to work with them for a very long period of time. So we just did it in very small intervals, but now that she already knew me, we worked longer, we worked on more intricate things, and not just doing tricks, but more hang-out time, more rubbing her belly, talking to her and having a good time. I think they were comfortable with me being with her.
What's the coolest thing that you can tell us about dolphins or about Winter specifically?
I have a farm at my house with dogs, cats, and chickens, but with Winter, and dolphins in general, you can appreciate just how intelligent they are. They do all kinds of wild tricks that take a long time for other animals to learn but they learn them in just days because their brains are just as complex as ours, if not more. I would also say they're very human-like, in a way, because you can almost sense their emotions each day. Sometimes Winter did have a bad day and she did not want to do anything. So we respected that and we would just leave her alone, and some days she would love doing what she was doing, just like a human, which is cool.
Did shooting have to be arranged to accommodate them? People come from a long way to see them so they get a lot of visitors – did Clearwater close while you guys were shooting?
We film at the actual aquarium in Clearwater, Florida. During shooting for both movies, we closed it down for the duration of the filming but they would keep it open on weekends because that's when we didn't shoot, which I thought was pretty cool because so many people from all over the world save up to visit this aquarium because they're inspired by this dolphin and want to see her.
Bethany Hamilton appears in this one, what was it like to meet her?
I had no idea we were going to have the real Bethany Hamilton so when I met her I was completely stunned. She's such a sweet girl and it's hard to tell that she's missing an arm because she's so happy, so energetic and just loves life and loves people.
Did you dye your hair for this role?
I'm naturally blond, which freaks people out when I see them. I was actually at a convention promoting Dolphin Tale 2 and some kid who didn't put two and two together that my hair was originally blond and dyed it dark for both the movies was wondering, "So when is the real Sawyer going to be here?" Anyways, yes, I did dye it blond for Dolphin Tale 1 and 2 to make myself look more like my mom (played by Ashley Judd).
How has your life changed since working on the first Dolphin Tale?
I would say a lot. Personally, I have been so inspired by Winter. It's so incredible that a dolphin can change millions and millions of lives. There are army veterans, kids who are born without limbs or have lost limbs and are so inspired when they see this dolphin, this dolphin who is missing a tail and still living life to the fullest, and they see themselves and say, "Wow. If this dolphin named Winter can do it, I can do it as well." That's so incredible and I see that and I will never have as rough a time as Winter has every day.
How did you become a spokesperson for the Clearwater Marine Aquarium and what does that position entail?
I go and visit kids and fans of Winter and Dolphin Tale. I talk with them, take pictures with them, and answer their questions. I get to know each one of the kids, which is really fun. I really enjoy doing that a lot.
So what's your favorite animal? You mentioned you live on a farm, right?
Pretty much. We have chickens and pets and turkeys but it's not really like a farm-farm. But I say it's a farm because it has farm-like animals. Dolphins are pretty cool but I actually have a dog, named Nick. He's a Puggle, half-breed between a Beagle and a Pug. Without a doubt, he's the cutest thing you will ever see. And he's my boy. He's my only dog, the first dog I've ever had, and I've had him for almost seven years now. So we're pretty close. He's my partner in crime.
Does he come on set with you?
No, I wish. He's not like an energetic dog, because he's a fat dog so he can't get around much. But he's so big, he'd probably take up a lot of space.
Is acting something you would like to do forever?
I really enjoy acting. I love doing it. I would also love to write and direct. That's another one of my passions that I love to do. I love the idea of storytelling and telling people new stories.
You have sisters – are they actors as well?
It's pretty funny: my younger sister doesn't want anything to do with acting. She wants to be a veterinarian and she says, "Nathan, you do the whole acting thing and I'm going to save animals." But that's cool. My older sister has done a lot of theater around our community, at our church, at our local theaters in Tacoma, Washington, so that's pretty cool.
How did you get started in acting?
I went to a drama camp my parents used to run at my church almost eight years ago now. They just started doing it again and some other people are running it but they asked my dad and me to write the script for a play.
What was the name of your most recent play?
The one that we wrote we're writing right now actually. We just finished today. My dad and my uncle, who used to write all the drama camp plays, would take a traditional story like Peter Pan or Alice In Wonderland and fill it with a bunch of silly jokes and make it more fun and entertaining. So that's what we're doing to Little Red Riding Hood.
How did you get your first movie role? Did you audition in Tacoma or did you travel to Los Angeles to audition?
My very first role was for a movie called Babel, where I played Brad Pitt's son. I was seven years old. I had an agent in Belleview, which is a city out of Seattle, and they had a nationwide search to play Brad Pitt's son. I got deeper and deeper into the auditioning process and the last audition was in L.A. so I flew down there and I happened to get it. During the shooting, one of the producers went up to me and said, "Nathan, what are you going to be doing after this?" and we had no ideas. We were rookies at the time. And he introduced me to be would-be manager, Beverly Strong, and she had all the connections in L.A. and that's how it all started.
What are you working on next?
I'm working on getting my GED and passing the California High School Proficiency Exam (CHSP), which allows me to work longer hours on set, which is better for the production, I wouldn't have to have a studio teacher on set… So now that that's finished, I am, as they say, "legal eighteen." I was working on that for almost half-a-year to a year. I was working on it during Dolphin Tale 2 and throughout the rest of this year.
I heard you're rumored to appear in Skate God. Are you signed for that?
That's definitely a rumor. It's funny you mention that because I haven't heard the Skate God rumor in months. But maybe I should talk to someone about that.
It's on IMDB. Do you ever look at your IMDB page?
Not very often. Sometimes I go on there. I think it's funny that some of my pictures that they have on my profile are pictures that were taken six, seven years ago.
I cannot wait to see the second movie because I loved the first one.
Oh good. I'm glad. I think you're really going to enjoy it because I've seen some footage and it's going to look very good. I guarantee it.