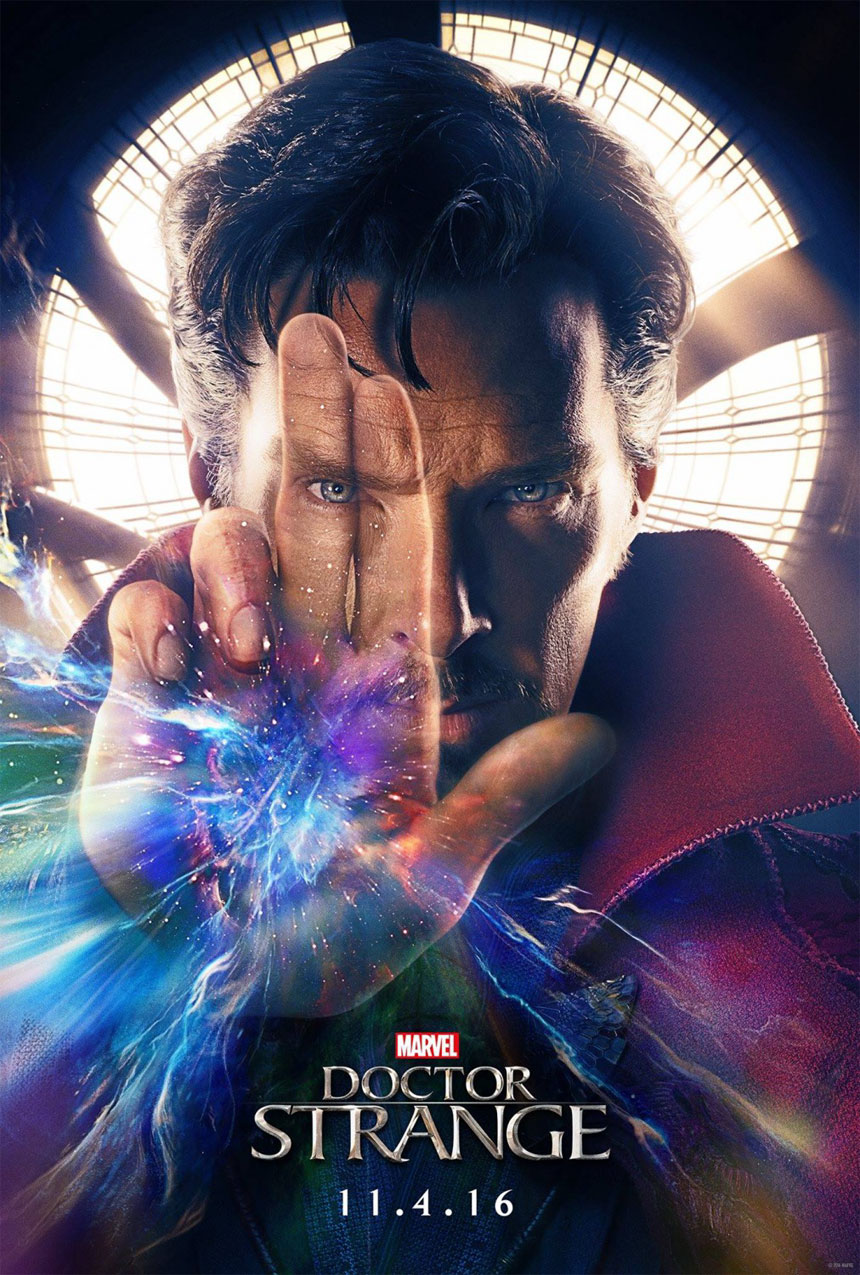 If you're experiencing a wicked case of the post-Halloween blues, know that there's comfort in movie theaters this weekend.
Shake off the cobwebs with an arrogant neurosurgeon-turned-superhero in Doctor Strange, or join forces with a mismatched pair of trolls (Anna Kendrick and Justin Timberlake) in the appropriately titled Trolls.
If you're on the market for something a little heavier, check out the true story of the first conscientious objector to be awarded the U.S. Congressional Medal of Honor in Hacksaw Ridge. Or, if you're really not ready to bid farewell to the spooks and scares of Halloween, get your ticket to the Abbie Cornish thriller Lavender.
Doctor Strange- A brilliant but arrogant neurosurgeon named Doctor Strange (Benedict Cumberbatch) has a horrific car accident when he pays attention to texting rather than concentrate on the winding road. He crashes and although his life is saved, when he wakes up in the hospital, he finds he has serious nerve damage to his hands and can no longer work as a doctor. When Strange is given a tip from someone who survived a similar accident, he goes on a quest for a miracle cure and finds a mystical and mysterious sorcerer called the Ancient One (Tilda Swinton). Opening nationwide. Click here for showtimes.
Trailer: Doctor Strange
Trolls- The overly optimistic Trolls live in a colorful, wondrous world full of song and dance. But their lives of rainbows and happiness are changed forever when the Troll-hungry Bergens invade their colorful Troll Village. Poppy (Anna Kendrick), the bright and sunny leader of the Trolls, must set off on a journey to save the town along with her polar opposite, the overly pessimistic Branch (Justin Timberlake). The mismatched duo are taken far beyond the only world they've ever known, and must tolerate each other long enough to get their job done. Releasing wide. Click here for showtimes.
Trailer: Trolls
Hacksaw Ridge- During WWII, American Desmond T. Doss (Andrew Garfield) was an Army medic who refused to bear arms. In Okinawa, during the bloodiest battle of WWII, Desmond somehow single-handedly evacuated 75 men from behind enemy lines without firing or even carrying a gun. He was the only American soldier in WWII to fight on the front lines without a weapon, and also became the first conscientious objector in American history to be awarded the Congressional Medal of Honor. Opening nationwide. Click here for showtimes.
Trailer: Hacksaw Ridge
Lavender- Following a horrific accident, Jane (Abbie Cornish), a photographer who frequently snaps shots of abandoned homes, suffers severe memory loss. When her psychiatrist (Justin Long) suggests she visit her cornfield-enclosed, eerie-looking childhood home to help fill in the gaps, she begins finding clues that may implicate her in the murder of a family she never knew she had. Throughout her journey, her relationships with her husband Alan (Diego Klattenhoff) and daughter Alice are strained, and she discovers that her uncle (Dermot Mulroney) has been caring for her childhood home for the past 25 years. Releasing in select cities. Click here for showtimes.
Trailer: Lavender
The Eagle Huntress- The film follows the epic journey of Aisholpan, a 13-year-old girl who has a fascination with her father's and grandfather's practice of hunting with a golden eagle. She wants to follow in their footsteps, but the role has predominantly been given to men. One day, her father allows her to capture a golden eagle chick, which she trains in order to compete against 70 much more experienced men in an annual competition, and become the first female in 12 generations of her Kazakh family to become a master eagle hunter. Opening in select cities. Click here for showtimes.
Trailer: The Eagle Huntress
Gimme Danger- Emerging from Ann Arbor, Michigan amidst a countercultural revolution, The Stooges' powerful and aggressive style of rock-n-roll blew a crater in the musical landscape of the late 1960s. Assaulting audiences with a blend of rock, blues, R&B, and free jazz, the band planted the seeds for what would be called punk and alternative rock in the decades that followed. Gimme Danger presents the context of the Stooges emergence musically, culturally, politically, historically, and relates their adventures and misadventures while charting their inspirations and the reasons behind their initial commercial challenges, as well as their long-lasting legacy. Opening in Toronto, Vancouver, Victoria, Ottawa, London and Montreal. Click here for showtimes.
Trailer: Gimme Danger
What Happened Last Night- Danny Barker (Clayton Snyder) and Sarah Dawson (Alix Kermes) are two college students who are dealing with very similar breakups. To aid in their heartbreak, their respective roommates and best friends, Joe Crosby and Mindy Martz, convince them to attend the party for the annual Gamma Bash. After a night of hard partying, Danny and Sarah wake up next to each other in bed. With no recollection of what happened the night before, it's up to them to figure it out. Opening in Toronto. Click here for showtimes.
Trailer: What Happened Last Night