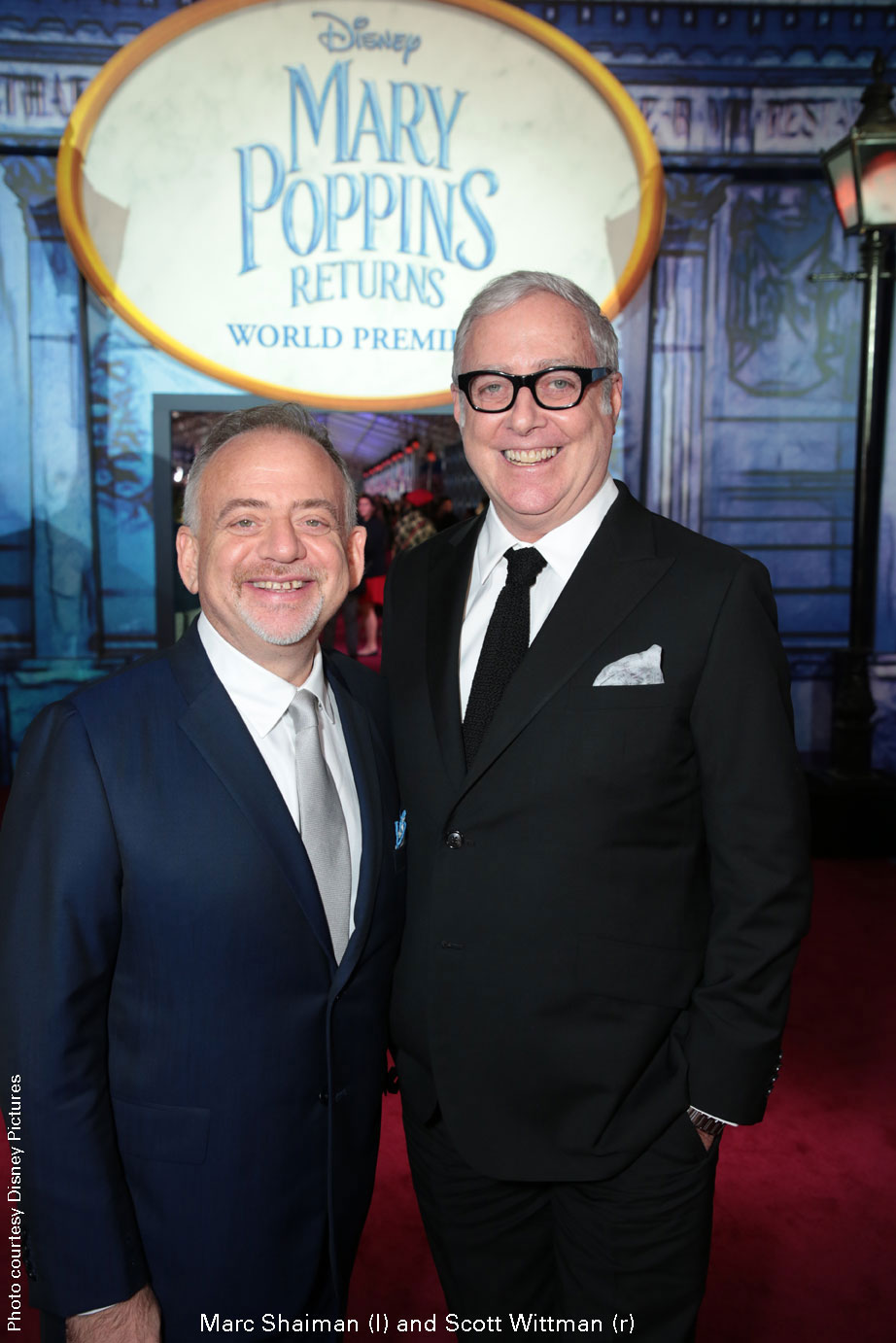 Award-winning lyricist Scott Wittman co-wrote the lyrics for the Oscar-nominated movie musical sequel, Mary Poppins Returns, along with his partner, Marc Shaiman.
Wittman began his career directing concerts for some of music's biggest stars, including Bette Midler and Raquel Welch. In 2002, along with Shaiman, he wrote the songs for the Broadway hit Hairspray, which went on to win the prestigious Drama Desk Award for Outstanding Lyrics. More Broadway musicals followed and in 2015, the two were chosen to write the songs for their first movie, Mary Poppins Returns.
We had the opportunity to talk to Scott Wittman by phone about the ups and downs of taking on this enormous responsibility, which led to Oscar nominations for them both for the song "The Place Where Lost Things Go" and Best Original Score for Marc Shaiman.
We chatted about the differences between the original Mary Poppins movie and the sequel, about which actors from the original returned for the second movie and what it was like to meet Richard M. Sherman, the composer of the original movie, who co-wrote the songs with his older brother, Robert B. Sherman. ~Alexandra Heilbron
First let me begin by saying congratulations on your Oscar nomination!
Oh thank you, it was a very lovely treat — the whole experience was quite pleasant as well.
The original Mary Poppins is such a beloved musical and for me, Mary Poppins Returns felt as if it had been done in the 1960s as well. Everything about it, from the script to the scenery to the songs you and Marc Shaiman wrote, went perfectly with the style of the original.
Thank you, we tried to do that. They needed to live on the same street together and our movie rhymes with the first movie. So it was nice, I'm proud of that.
The Sherman brothers, who wrote the songs for the original and for so many other Disney films, are icons. How were you two chosen for this opportunity and did you feel any pressure to measure up to their legacy?
Oh god yes, the pressure was immense. We had a relationship with Rob Marshall from Broadway, for many years we've been friends so when the opportunity arose that he was going to direct the movie, we met with him and his partner John, and we met a couple of times over summer and then they called and said, "Which Sherman brother would you like to be?" (laughs) So, of course, I think the prerequisite for working on the movie for everybody on our side — Rob, John, David, all of us — was this love and respect for the first movie that we wanted to honor. And so in a way, our movie is almost a love letter to the first movie. And we've become very good friends with Richard Sherman during the process so I'm grateful for that friendship.
Did you write at the Disney studios like the Shermans did?
No, wouldn't that have been fun? We wrote in New York in the dead of winter. Because we were all here, we all live here (NYC). Emily [Blunt] was here making The Girl on the Train, so she had been cast, and I don't think the movie would have been done if she had said no, but she came to us during the writing process almost every week and we would try out these songs on her. Lin-Manuel [Miranda] as well was on Broadway at the time in Hamilton and he would come over, so it was all done in New York.
I heard that the Sherman brothers took notes from Julie Andrews, and there was one song that was cut from Mary Poppins because she didn't like it, so they wrote a different song. Did the actors have that kind of input?
No, I mean, they were certainly part of the collaboration, but no, Lin was very happy that we were writing the songs. He said, "You build the boat, and I'll sail it." And Emily had a fearlessness and a courage about tackling the part and that was almost contagious for us. Whatever fear there was, evaporated because we had them in front of us and we got to tailor things for them. There was no one saying, "I'm not singing that." (laughs)
I loved how bits from the original songs, such as "Let's Go Fly a Kite" in "Nowhere to Go But Up" were included. Whose idea was that, because it really added a wonderful nostalgic feeling to the movie.
That's Marc Shaiman, that's his genius. Marc writes the music and Marc and I write the lyrics together. We sit in a room together and do that from nine to five every day, almost.
Did you meet anyone who was involved with the original movie and get any input?
Well, obviously Richard, he certainly heard the songs during the process and he signed off on things. I did meet Karen Dotrice, who was the original Jane and she's in the movie, and of course, Dick Van Dyke.
The Shermans' process was, "Idea first. Then the music and lyrics follow." What is your process for writing a song?
It's the same process. We talked about that with Richard [Sherman]. People always say, what comes first, the words or the music? No, it's the idea. And once you settle on the idea together, then it sort of flows.
How did you become a lyricist, was it something you always wanted to do?
No, I stumbled upon it. I grew up in New York and I had a crazy little club in the East Village and I wanted to put shows on so Marc and I started writing together. It sort of fell into my lap.
The original movie was filmed in California, but this one was shot in London. Did the two of you spend any time on the set?
No, but we were part of the rehearsal process — we rehearsed for almost nine weeks prior to any film being shot. So we were there during that whole process and we wrote a lot during that time.
Will you be working with Disney on more musicals?
If asked. (laughs) They're a very lovely group to work for. It's just as you imagine it would be. They've taken very, very good care of us for the past six months of publicizing the movie, the Oscars, all of that.
What are you working on next?
Marc and I are writing a musical for Broadway based on the movie Some Like it Hot. We're about to have a workshop in another week and a half.
That sounds great! Thank you so much for talking to me and again, congratulations on the movie.
Thank you so much!