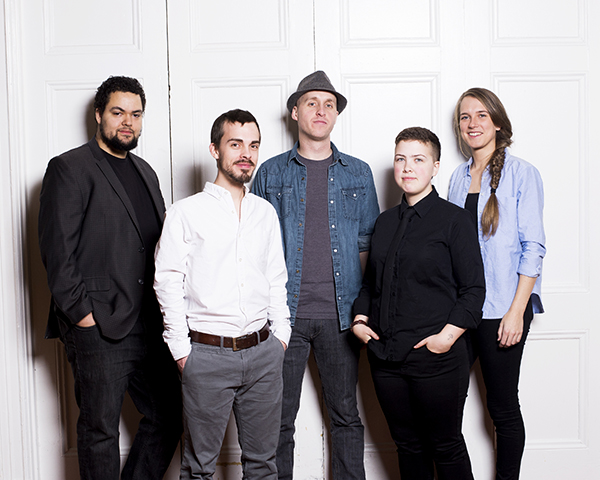 Tribute was offered the opportunity to chat with Paul Aarntzen, Hillsburn's chief songwriter and multi-instrumentalist, ahead their cross-Canada tour about music, movies and the ups and downs of being in a band.
Hillsburn plays Hugh's Room in Toronto on Monday, Aug. 29, 2016. Scroll all the way to the bottom to see the complete tour dates. ~Yanis Khamsi
Paul, you write the songs. What's your musical background? Did you study music or are you self-taught? What about the other band members?
I have no training whatsoever, but I'm fortunate enough to be in a band with people who are highly trained. I write the songs but they [other members of Hillsburn] always have suggestions for how to make them better. Rosanna Burrill, who sings and plays violin, studied classical violin at Dalhousie University. Jackson Fairfax-Perry, who plays keyboards and a bunch of other stuff, studied composition and saxophone at Dalhousie University. Clare Macdonald, who now plays drums for us, studied drums [at Dalhousie]. It's pretty nice to have such great musicians around you.
Your producer Jon Landry said to keep the songs 90 percent ready to go and leave 10 percent for studio magic. Is that something you'll continue doing, and is it something you'd recommend other bands try?
The thing with us is we over-analyze everything. We're constantly reworking all of our songs, so when we started working with Jon on this record he came in with a notepad. He didn't really have too many suggestions because we had meticulously gone through everything. We always rework everything again and again to make the arrangements as tight as possible. Jon said you can do that but you never know what's going to happen when you get into the studio, so don't set your mind to a place where you have no room for pushing a little bit when you get into the studio and that was really helpful for us.
So that's something you'll continue doing in the future?
I think so, I think it's a good mindset from which to attack going into the studio. You can really pigeonhole yourself into trying to do a, b and c rather than leaving yourself open to do d, e and f.
Is there an artist, an album or a sound that you've ever wanted to emulate or are you all about doing your own thing?
That's a tough one. I mean there are a lot of records that I think sound really great, the thing with us is that we sort of keep evolving. The records we thought a year ago had a sound that we want to emulate, now don't fit anymore. Jackson, who plays keyboards, is always introducing a bunch of different new wild pedals and he's got synths and we have weird stuff going on that we never even would have considered a year ago. So while there are lots of records I love the sound of it's tough for us to say this is the carrot record that we're chasing.
What's each members' favorite song on the album?
For me it's tough to pick because I wrote them all and so I can't really get that distance from them. I know that Rosanna really likes track 10, "Like The Winter," as she often says when we play it live that that's her favorite song. I think Clayton might be track number one, "Bury My Heart." But we tour and play so much now that a lot of the songs sound different than they even did on the record when we put it out five months ago, so it'd be tough to say.
Clayton and Rosanna are siblings. Does sibling bickering ever occur, or is it always professional?
(Laughs) Publicly they're always very professional but like any relationship everyone bickers every once in a while, but no they get along quite well.
What was it like working with a producer, were there any moments of disagreement between the band and Jon?
No not really, we were all hesitant to work with a producer generally just because we have very strong opinions and we know what we want to do. But no, it went really well in the studio. Jon is a good producer. He knows when to push and when to lay off, when to interject and when to not interject. We got along fine.
A lot of people in the music industry tell young bands to get more experience. However, your band recorded with very little experience as a band in 2015 and made it to the top 10 of the CBC Searchlight competition and now your single "When We Were Young" is getting a lot of praise. 
The reception has been really nice, we work really hard.  It seems fast to other people but you know we're putting in 30 to 40 hours a week on the band each apart from our regular jobs. It feels fast for other people but we put so many hours into it that it doesn't necessarily seem like a quick thing for us.
Bands get a torrential downpour of advice. One guy says record an EP, another says make a video, another says play live constantly, another says do a photo shoot. What should musicians listen to?
I think we've gotten all of those pieces of advice and if I knew what the secret was I would definitely tell everyone. It's a hard fog trying to figure out what to do. I don't know, I mean we're still working really hard and we haven't found the success that's necessary to keep five people alive yet. I think it depends entirely on the song and on what type of artist you are. What works for a rapper is likely going to be very different than what works for a five piece indie rock band from Nova Scotia. I don't think there's a perfect solution.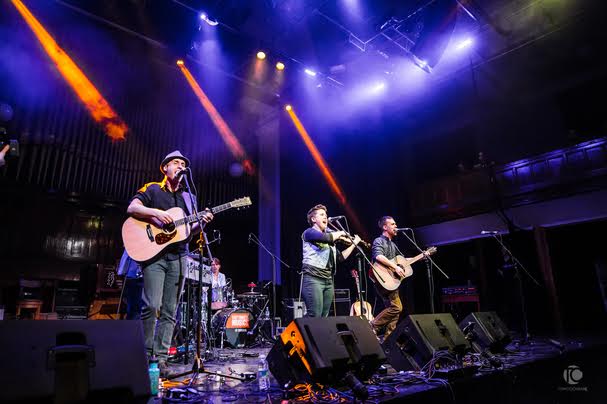 You're playing Hugh's Room on Monday. What can people expect and where does the rest of the tour take you?
They can expect a variety of different things. We like to show people a bunch of different looks. We have lots of soft stuff, we have some really loud stuff but it all has a sort undercurrent of indie rock and folk. We have lots of three part harmony on every song and so we try to do as many things as we can.
We're starting on August 24 in Montreal, and then we're playing nine dates in Ontario. Then we're going to Winnipeg, Saskatoon, Edmonton and Calgary. Our final stop is the Jasper Folk Festival on September 10th and then we make the crazy drive back from Jasper to Halifax. We're playing some shows with the Mayhemingways who are from Peterborough and they're really great. Brock Zeman is playing with us at Hugh's Room and we're excited to play with him. Most of our other shows are just us, but we're playing with Raine Hamilton in Winnipeg. She's a great artist that we've played with a couple times. We're excited about that, but generally it's just Hillsburn from coast to coast. And hopefully no broken down vans.
I had a van break down on me once in Saskatchewan and I stood with my thumb out by the side of the road for like two hours in the blistering heat, so I've got some good stories.
We're a movie site, so who would you want to have play Hillsburn and producer Jon Landry, or anyone else in your lives in a movie?
That's a really hard question. I think Paul Rudd would probably play Clayton, they are similar stature and generally seem like friendly guys. I'm sure Clayton will be happy to hear that because everyone likes Paul Rudd. Apart from that, I don't know. We always joke that Jackson kind of looks like Laurence Fishburne and Ice Cube combined, so maybe Laurence Fishburne and Ice Cube could work together and they could play Jackson in a movie.
Laurence Fishcube…
Yeah! Yeah exactly. (Laughs). That's a good one, I'm gonna tell him that one.
I'll tweet about it! #laurencefishcube
Yeah, let's see if we can get that trending. Our music is often described as the music that you would hear in films, very sonic and dramatic and it has lots of lows and highs. I like Game of Thrones and Breaking Bad so we've got a bunch of seasons that we plan to watch while driving.
Any favorite movies?
The only movie that can reliably make me cry every time is that old Charlie Chaplin movie City Lights. It's a good one, check that one out. I don't know if it'd be my favorite movie, but if a movie can make a 30-year-old man cry every time has got something going on.
Great, we'll use that on our site as the tagline.
(Laughs) We have a couple of new videos that are out on YouTube and we're constantly churning out new content and video and audio so Hillsburn.com is a good place to check out.
Thanks for the chat Paul, it's been a blast.
HILLSBURN TOUR DATES 2016
08.4-7 – Lunenburg, NS Lunenburg Folk Harbour Festival
08.08 – Parrsboro, NS @ Ship's Company Theatre
08.10 – Truro, NS @ The Marigold Theatre
08.12 – Halifax, NS @ The Carleton
08.13 – Berwick, NS @ Union St. Café
08.17 – Iona, NS @ Folk & Frolic
08.24 – Montreal, QC @ La Vitrola (Presented by The Montreal Folk Festival on The Canal)
08.25 – Kingston, ON @ The Mansion*
08.26 – Guelph, ON @ Fionn MacCool's**
08.27 – Peterborough, ON @ The Garnet
08.28 – Ottawa, ON @ LIVE! on Elgin
08.29 – Toronto, ON @ Hugh's Room
08.30 – Sudbury, ON
 @ Fromagerie
08.31 – Thunder Bay, ON @ The Foundry
09.01 – Kingston, ON @ The Mansion
09.04 – Saskatoon, SK @ Village Guitar & Amp Co.
09.06 – Edmonton, AB
 @ Bohemia
09.08 – Calgary, AB
 @ Mikey's Juke Joint
09.10 – Jasper, AB @ Jasper Folk Music Festival
09.17 – Charlottetown, PEI @ PEI International Shellfish Festival
09.23 – Saint John, NB @ Contact East Conference
09.24 – Wolfville, NS @ Deep Roots Music Festival
10.01 – Middle Musquodoboit, NS @ Bicentennial Theatre
* = w/ Jona Lewis-Anthony
** = w/ Mayhemingways
^ = w/Brock Zeman and Mayhemingways