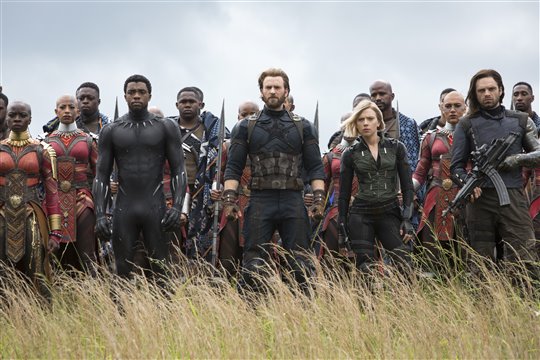 Avengers: Infinity War boasts a multitude of worlds — from Black Panther's Wakanda to Thanos' homeworld of Titan. Creating these environments was not a new task for production designer Charles Wood, who previously worked on Avengers: Age of Ultron, Doctor Strange and more.
We chatted with Charles about working on the latest Avengers movie. He talks about creating the different worlds, including Wakanda and what goes into deciding between a virtual world and an actual landscape. ~Marriska Fernandes
When a world already exists as seen in the other films, how creative can you get when designing new environments?
These films are very far-reaching. In the past I've done a few films with Marvel, but it's never really the same thing because they're always looking to change it up for the audience.
So how was Avengers: Infinity War different from the other films you've done?
Just in its scale and complexity I would say. The sheer volume of worlds and sets and the environments that we have to make was a great task in its own right. The film was highly, highly complex and you have to deal with a lot of different characters because many characters exist within these worlds and you have to accommodate all of that on a far bigger scale.
What factors go into deciding whether it'll be virtual vs a physical environment?
It's probably the script. Very early on in the film we produce a concept and work alongside the visual effects supervisor and from the very early days we would decide what we wanted to build. Generally the rule these days is you want to try and build as much as you feasibly can and it's always better if the actors can be in a physical environment. If it's an earth-based environment, something that you can create, something that an actor has to touch or feel, you want to always try and build those worlds. If something's so far reaching, or in the middle of space, completely ethereal, then it's usually a virtual environment.
Which were some of the landscapes you helped create?
One of the big worlds we had to do was Titan. That falls into what you were asking before. We have to build a big landscape as opposed to one that the actors performed on. That also had huge amounts of set extensions built on for that environment. What we had to do was create the landscape as a physical set but way, way back in pre-production we built all the virtual 3D models so you can move through the landscape virtually and understand it. So when we were filming it, even though you're just looking at the green screen, the actors actually understood what was around them. So that's what we do as well. We make the whole environment, whether it exists or not.
I liked the Wakanda landscape. Can you talk about that?
That was in Georgia. We never went to Africa. We found these beautiful fields and hills. Because we were planning so many months in advance, we actually grew the crop and we actually built that river. We built the trees and the vegetation.
That's interesting. Thank you for the chat!
Thank you!
Avengers: Infinity War is now available on Blu-ray, DVD and Digital HD. Click here to buy the Avengers: Infinity War poster at Amazon.