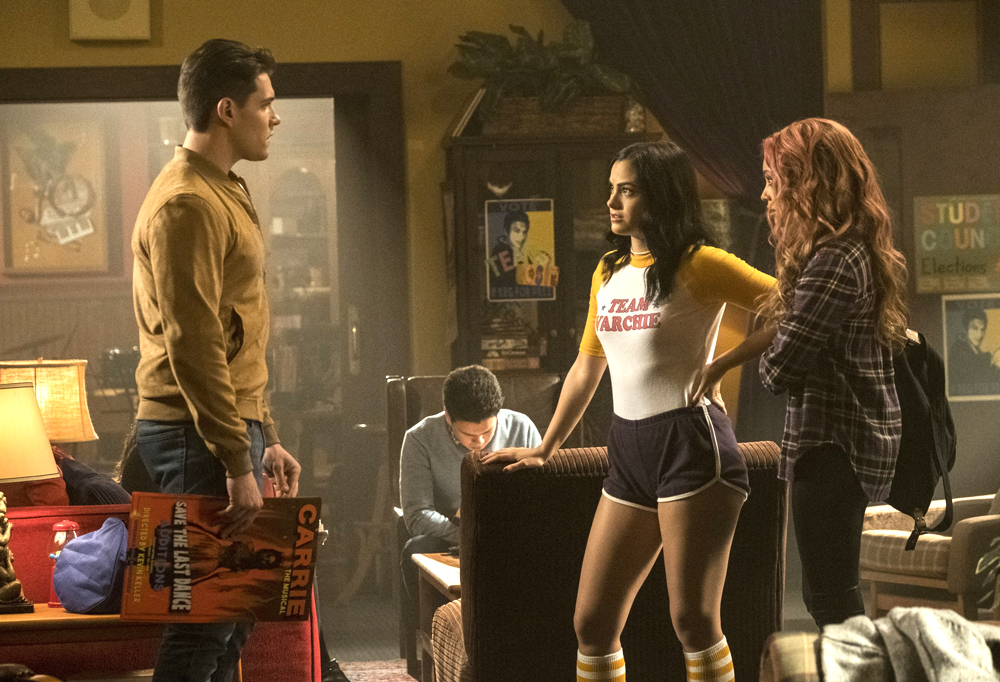 Welcome back fam!
This episode is really going to drive the fans wild (inside joke for those who've seen this week's episode).
This week's installment of Riverdale is aptly titled "The Noose Tightens." The season finale is only three short episodes away, and things are getting tense.
Our core four are literally split down the middle. This is personified in the opening sequence — a Riverdale High presidential debate. Veronica (Camila Mendes) and Archie (KJ Apa) on one team, and Betty (Lili Reinhart) and Jughead (Cole Sprouse) on the other. And don't forget Reggie and Josie!
My take on Riverdale is that it's following the classic three act narrative structure, but rather than doing so with episodes (which it is doing to a certain extent), Riverdale's using entire seasons.
Act one introduces us to the characters and their central conflict. "But wait, the central conflict of season one was resolved when we found out who Jason's killer was!" Look deeper.
Betty and Veronica both fell hard for Archie, but Betty repressed her feelings and projected them onto Jughead. Archie and Betty have dormant feelings for one another, and when the, ugh, maple syrup, hits the fan, it'll be catastrophic.
Act two takes characters to their darkest places. Season two is undoubtedly trying to make Riverdale as dark as possible, so that the emotional climaxes of season three will be that much grander.
All of this Hiram Lodge (Mark Consuelos) business; all of this Black Hood (my money's on Chic) business; is just a means for emotional stakes. At its core, Riverdale is simply a sexually charged love triangle between Archie, Betty and Veronica. The murder mystery is just a distraction #woke #truthbomb.
Act three is where our characters meet their greatest obstacles and work to overcome them. It'll be interesting to see if and how Riverdale can get any bigger, and so my money is on the interpersonal drama between the characters taking the reins in season three.
Our young leads are getting stronger as actors every week, and I can't wait to see them express their range once the "great mystery" of the Black Hood is solved.
Why am I so convinced it's Chic? It's simple. Archie has never met Chic. If and when this happens, Archie will immediately have a PTSD-style flashback to the Black Hood's green eyes.
Does anyone else find it curious that Archie and Chic have never met?
Is anyone thinking, "What if it's Hal?!" Archie has met Hal. Archie would have recognized his eyes.
A lot of the "plot" in this week's episode was contrived. Cheryl, Archie and Betty's storylines strayed too from far the realm of plausible reality. It just felt like forced conflict for the sake of creating drama or tying up loose ends.
I still maintain that what we fell in love with was the core four working together towards a greater goal, not a soap opera that returns to the status quo with deus ex machina (the writers shoehorning good luck in certain character's favors).
I'm holding out for our core four working together to defeat Chic in the season finale. What are your thoughts on this week's episode and the show as a whole? Let me know in the comments. ~Yanis Khamsi