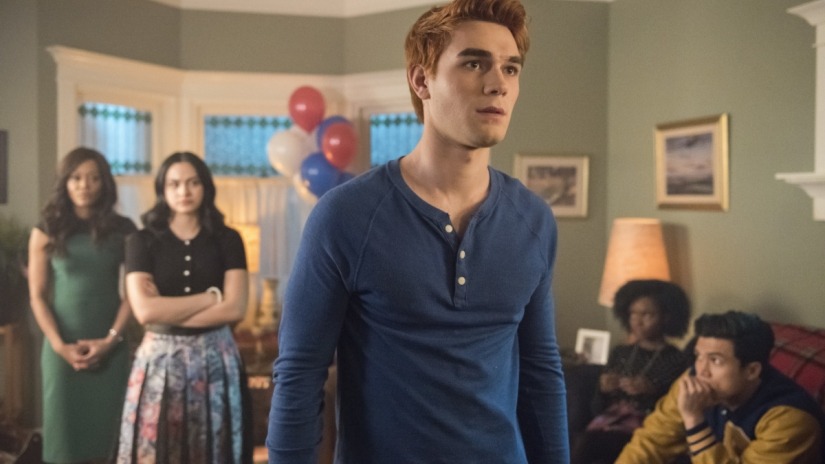 Soap operas have to walk a tight rope.
If the drama is too mundane, the stakes don't feel high enough and the show loses emotional impact. If the show moves too quickly and the drama is too intense, the viewer become numb to the revolving door of plot lines.
My feelings on Riverdale's season two finale "Brave New World" can be summed up with how I felt when Veronica (Camila Mendes) told her father (Mark Consuelos) how much Pop's Chock'lit Shoppe means to her and her friends.
I was like "Girl, you ain't been to Pop's more than a handful of times this season."
I've gone on and on about how Archie (KJ Apa), Veronica, Betty (Lili Reinhart) and Jughead (Cole Sprouse) need to be close friends rather than plot devices.
Season one did a much better job of this, and with only 13 episodes. Contrast that with the 22 meandering episodes of season 2.
I don't feel like I got to know these kids any better than I did last season. Season two should have dived deeper into the internal conflicts of our leads, so they could more strongly contrast one another.
Cheryl Blossom's (Madelaine Petsch) suicide attempt last season is the most powerful and memorable image this show has ever produced. The contrast of Sweetwater River during winter (her brother died at Sweetwater River on the 4th of July), and Archie and his friends literally pulling Cheryl out from under the ice — it stays with you.
The reason that moment is significant is because the rest of the season was relatively understated. This allowed moments like "Dark Betty," Ms. Grundy's murder, musical performances and Jughead's birthday to stand out.
Season two tried to make every single episode feel huge. In doing so, most of the season felt like a blur. I don't want to say Riverdale has jumped the shark, but the show has raised audience expectations too high. The quaintness of football, music and running a school paper would feel regressive if reintroduced.
Season three will have to be even bigger, and will likely burn the show out. The show's budget and scope will undoubtedly increase, but will the audience?
My advice to the writers would be this: make the show smaller. Everything will have greater significance. I can't be the only person whose only thoughts during the finale were "don't care… don't care… so don't care."
I wish the cast and crew the very best of luck for season three.
What were some of your favorite moments this season? Mine were the fun times at the Lodge Lodge.
Any predictions for season three? I predict an Archie, Betty and Veronica love triangle. Leave yours in the comments. ~Yanis Khamsi