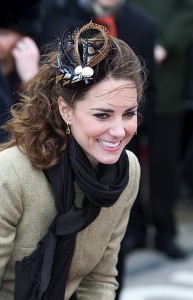 Princess to be, Kate Middleton, is fast becoming a style icon. Her outfits sell out sometimes days and hours after she's been photographed wearing them, but it's with her accessories that she's gaining attention. Kate is making a statement with her hat collection, which shows her love of the traditional British accessory.
The hat-loving future princess recently wore a distinctive headpiece to her Anglesey appearance with Prince William—the first of many as an engaged couple.
Custom made for Kate, the velvet and feather beret was designed by Vivien Sheriff Millinery (seen on the left), a small company based in rural Wiltshire, which makes all of their hats by hand.
Middleton often wears hats by designers Philip Treacy and Whiteley Fischer. She has chosen Treacy to design her wedding headpiece upon the recommendation of her future mother-in-law, Camilla, Duchess of Cornwall.
The royal wedding of Prince William and Kate is set to take place on Friday, April 29, 2011 at Westminster Abbey in London.