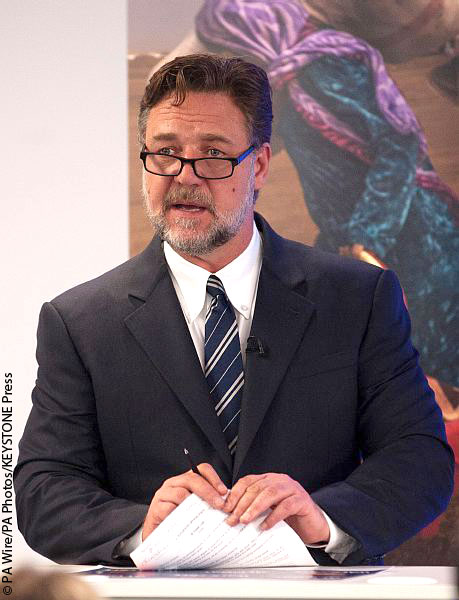 Ask Azealia Banks about Russell Crowe and she just may say that the actor has hung onto his Gladiator-fighting ways.
According to a Sunday, October 16 Facebook post written by the 25-year-old rapper, Russell attacked her in a Beverly Hills Hotel suite that evening.
She wrote, "To recap my night, I went to a [party] at Russell crowes suite, at which he called me a n****r, choked me, threw me out and spat at me. Last night was one of the hardest nights of sleep I've had in a long time."
She added, "The men in the room allowed it to happen. I feel terrible today."
A few hours after her post, she updated it with the following comment: "I have receipts. Stay tuned."
Azealia has since deleted the posts.
But according to a TMZ report, the events of the night unfolded quite differently than Azealia described on Facebook.
The TMZ story indicates that the 52-year-old Australian actor invited roughly 10 people to his suite for a dinner party, including rapper RZA, who directed Russell in The Man with the Iron Fists. RZA then invited Azealia as his guest.
Throughout the evening, it's stated that Azealia laughed at Russell's music selection and called him and another guest "boring, white men." After one attendee defended the actor, Azealia said, "You would love it if I broke my glass, stabbed you guys in the throat, and blood would squirt everywhere like some real Tarantino s**t." She also reportedly lashed out with a few racial slurs.
Following her rant, the "212" singer took her glass and cocked it back, a gesture that the Oscar winner was uncomfortable with. He then gripped her in a "bear hug" and carried her out of the suite, calling security guards to remove her from the vicinity.
The TMZ report also states that four guests provided statements during the investigation and that they each called Azealia's behavior "erratic." Additionally, RZA reportedly said it was Azealia who hurled out the n-word, not Russell.
Which version of this wild story do you believe? Share your thoughts with us! ~Matthew Pariselli