Toronto's historic Elgin and Winter Garden theatre was a buzz last night for the Canadian premiere of the new science fiction thriller Splice. The film's stars — Oscar-winner Adrien Brody, Sarah Polley, Delphine Chanéac — and writer-director Vincenzo Natali were all on hand to chat with the media and present the film in front of a packed house.
Splice explores a worst-case scenario involving genetic engineering. In it, research scientists Clive and Elsa (Brody and Polley) succeed in taking questionable judgement to new extremes. And creating a creature from a smorgasbord of DNA is only the start of it. 
Tribute's Bonnie Laufer was there to chat with the stars and filmmaker about working on this complex and entertaining film.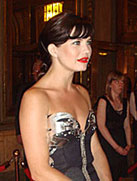 Adrien Brody loved exploring the scientific world for his role, but when it came to watching the movie with his mom — things got a little uncomfortable for when it came to his sex scenes.
Natali was thrilled to premiere the film in Toronto mainly because he shot most of the movie in the city.