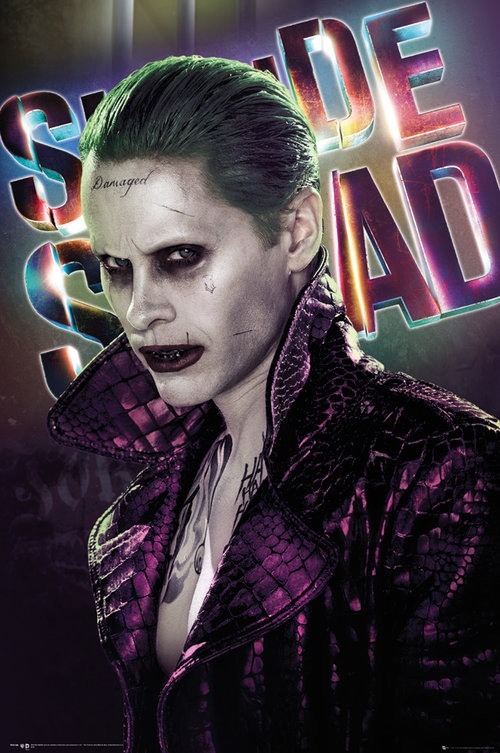 With the upcoming release of Suicide Squad, a new toy was revealed at the San Diego Comic-Con, the four day comic and film event that is expected to welcome 130,000 people.
There have been plenty of clips, posters, and pictures giving us sneak peaks of the movie, but who would have known that a toy would become a possible huge spoiler for the film?
The Hot Toys action figure of The Joker (played by Jared Leto) at San Diego Comic-Con's Sideshow Collectibles booth has revealed a rather unexpected outfit for Batman's archenemy — his own version of Batman's suit.
Standing next to Margot Robbie's Harley Quinn was the villain, with a label reading "Batman Imposter Version." The suit is a green and purple version of Batman's, complete with the bat logo on his chest, but defiled with the Joker's name sprawled across it.
While it is not necessarily confirmed that we'll see The Joker dressed in the suit in Suicide Squad, Hot Toys is known for creating almost exact replicas of film characters.
If there's anything the Joker can do to irritate Batman further, it would be donning his renowned suit. But if he wears it in the movie, how did The Joker create it, and for what reason?
We'll find out when the movie in released on August 5, 2016. For now, check out the Twitter pic below to see the suit for yourself! ~ Natalia Makarski
Looks like The Joker might put on his own Batman Suit in Suicide Squad!! pic.twitter.com/7eJZ6XUjrG

— Say Word To The Nerd (@SayWord2TheNerd) July 21, 2016