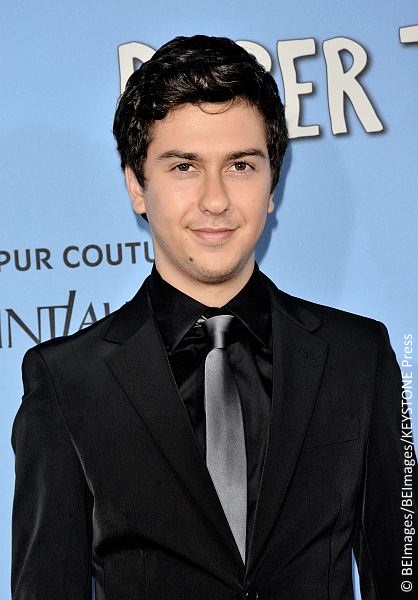 Charming. Talented. Charismatic. These three words perfectly sum up heartthrob Nat Wolff whose maturity seems beyond his years. At just 20, Nat has a roster of films under his belt including the blockbuster The Fault in Our Stars. While that film brought his comedic chops to the forefront, Paper Towns shows us a different side of the actor. And his next film, In a Dubious Battle, will continue to surprise us as he takes on a very different role. We spoke to Nat about his role in Paper Towns and working alongside Cara Delevingne and author John Green.
How similar was your high school experience to Quentin's?
Not too similar. I felt like doing the movie was almost like going back in a time machine when I was in seventh or eighth grade. So a lot of the process was checking out the music and looking at pictures that got me feeling like I was actually a little younger. Because I grew up in New York and I was an actor and my brother and I were in a band, I felt I grew up more quickly than Quentin did. But in seventh or eighth grade I felt a lot like them.
While some people will admire Margo's free spirit, others might not empathize with her. What's your stand on this? Did you identify with her or Quentin?
I identified with both Quentin and Margo. What I thought about both of them was I think they both needed to grow up in opposite directions. They both needed to come towards the middle. They are both on opposite sides of the spectrum. Quentin needed to come out of his shell and Margo needed to become more reliable. I think that's hopefully what they get from each other and that's why they're drawn to each other.
If you were really in Quentin's shoes, would you go on a road trip across cities to find your Margo?
I mean, yeah, if it was Cara Delevingne for sure! She is as magical in real life as Margo is in the movie.

Margo and Quentin go on this wild adventure at night and do some pretty crazy stuff. What's the craziest thing you ever did that made you feel fully alive in the moment?
(Laughs) Honestly, doing the film was such an immersive, intense joyous experience. I felt like that was a similar adventure especially with the other two guys. The three of us became so close and we went on our own road trip before doing the movie and the experience of making the movie. We shot the prom scene where I walk towards them at the end of shooting. By the time we shot that I felt that I had kind of gone through what Quentin had gone through. I was realizing how important those people were to me.
The movie deals with the idea of preconceived notions about people. Who surprised you the most while working on this film?
I actually think that Cara did because I didn't really know who she was prior to the chemistry read but as soon as she walked in she was Margo. She was wild, kind of crazy and really talented. I feel if Margo was an actress, she would be a great actress.
How did John Green help you get into the skin of Quentin?
John and I are really close friends but he doesn't tend to make anyone feel like they're not living up to the book's expectations or feel too confined by the book. But what I got from him is mostly from reading the book. I'm so lucky because the book is narrated from Quentin's point of view. Also, just having John's spirit and positivity, was almost – and I mean that in the most complimentary way – like a cheerleader. You really need that because sometimes you forget what you're doing is special. And having John there, you don't forget.
Tell us about your song on the soundtrack for the movie!
I was really lucky to have a song on the soundtrack. My brother and I have a song called "Look Outside" with our band, it plays in the credits. I wrote it on my grandma's piano two days after we finished filming and I sent it to [Paper Towns director] Jake [Schreier] because I was inspired by the movie and he put it in the movie. And I love the rest of the songs on the track.
What's your favorite scene in the film?
One of my favorite scenes is when I walk up to the guys at the end of prom just because it was the end of filming and it really felt real. And my second favorite scene is when I'm outside with Cara and when we're saying goodbye after the end of the night together.
What can you tell us about your next film by James Franco?
It's called In a Dubious Battle and it's about these two migrant workers who start a strike. It's got pretty much a dream cast and some of the greatest actors like Vincent D'Onofrio, Robert Duvall and Ed Harris. I haven't seen the movie, just a few scenes and it looks really great. It was fun because I got to play somebody pretty polar opposite to Quentin right after I finished Paper Towns. That's what I want to keep doing, trying to walk in different people's shoes.
Thank you so much for chatting with us and wishing you all the best!
Thank you for talking to me!
Paper Towns is now available on Blu-ray, DVD and Digital HD.
~Marriska Fernandes