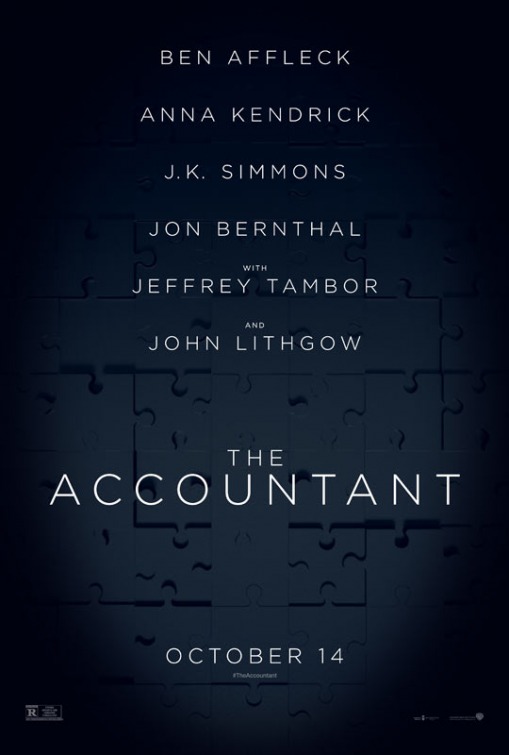 Not only did The Accountant dominate the box office over the weekend, but the action-packed thriller emerged victorious on Tribute.ca, offering it as this week's most-watched trailer. But, in order to land on top, it had to knock Miss Peregrine and her Peculiar Children down to second spot from last week's first position. The fantasy flick's second trailer was no match for the number-cruncher starring Ben Affleck.
The second trailers for The Girl on the Train and Deepwater Horizon, which respectively feature a disheveled Emily Blunt and a sweaty Mark Wahlberg, both succumbed to the The Accountant's domino effect and fell down one spot each, while Kevin Hart: What Now? and its hilarious trailer were just happy to have made it into the top five. ~Shelby Morton
All the top trailers are below for your viewing pleasure:
1. The Accountant
2. Miss Peregrine's Home for Peculiar Children
3. The Girl on the Train
4. Deepwater Horizon
5. Kevin Hart: What Now?
The Accountant: Christian Wolff (Ben Affleck) is a math genius with an obsessive personality who works in a small town office as a cover for his real job as a freelance accountant who "cooks the books" for dangerous criminal organizations. When Ray King (J.K. Simmons), the head of the Treasury Department's Crime Enforcement Division, takes an interest in his activities, Christian takes on a legitimate client to throw them off. Dana (Anna Kendrick), an accounting clerk who works for the company, has discovered a discrepancy involving millions of dollars. Before going public, they hire Christian to find the missing money. As Christian digs into the books and gets closer to the truth, bodies begin to pile up.
Miss Peregrine's Home for Peculiar Children: Jacob (Asa Butterfield) goes to find the home where his grandfather spent time as a young boy during WWII in Wales. Once there, Jacob meets Emma (Ella Purnell), a resident of the home who takes him back in time to 1940 to meet the rest of the "peculiar children." He also meets Miss Peregrine (Eva Green), who takes care of the children and protects them from Hollows – creatures who kill them for their eyes. As Jacob gets to know the children, he realizes he has more in common with them than he thought.
The Girl on the Train: After her divorce, a woman named Rachel Watson (Emily Blunt) experiences severe depression. While commuting daily by train to the city, Rachel finds some comfort when she sees what she believes to be the "perfect" couple, Scott (Luke Evans) and Megan (Haley Bennett), and creates an imaginary fantasy life for them. However, when she later witnesses Megan kissing another man, it angers her, even though she doesn't actually know the people involved. The next day, when she wakes up with no memory of the night before and finds out that Megan has gone missing, Rachel can't help but get involved in the mystery.
Deepwater Horizon: In the Gulf of Mexico on April 20, 2010, the Deepwater Horizon oil rig exploded, creating the worst oil spill in American history. Starring Mark Wahlberg, Kate Hudson, Kurt Russell, and John Malkovich, this biographical drama recounts the extreme moments of bravery and survival in the face of what would become one of the biggest man-made disasters in world history.
Kevin Hart: What Now?: In the follow-up to 2013's Let Me Explain — the third highest-grossing live stand-up comedy movie of all time— Kevin Hart once again takes center stage, only this time in front of 50,000 people at Philadelphia's Lincoln Financial Field, making it the first time a comedian has performed to a sold-out football stadium. Some of his jokes range from topics such as iPhone's program Siri, kids these days having no edge, and airport washroom problems.