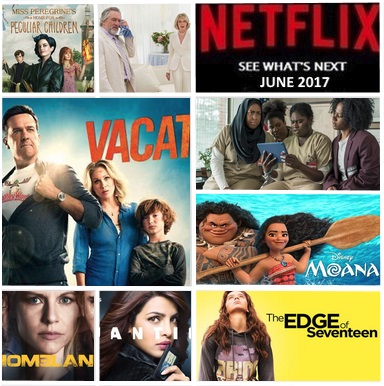 This month is all about girl power. With Wonder Woman taking over the big screen this week, other female-driven movies and series are making their way to Netflix. Summer might be around the corner, but we've got the Netflix fever so here are your options for your next binge-watching session.
Netflix Originals
The Litchfield ladies are back for season five of Orange is the New Black (June 9). And if you enjoyed OITNB, you might enjoy GLOW (June 23), a new Netflix original about actresses in the 1980s who become female wrestlers. Another entertaining original picked up by Netflix is the drama Okja (June 28), starring Jake Gyllenhaal.
Kick-Ass Thrillers
Two leading ladies bring their A-game this month as new seasons are dished out and the drama doubles. Claire Danes returns for revenge with season 5 of Homeland (June 1) while Baywatch star Priyanka Chopra heads to the CIA in season 2 of Quantico (June 14).
Craving Comedy
Ed Helms takes his family on a cross-country trip to Walley World in Vacation (June 13). The Edge of Seventeen (June 7), TIFF's closing night film, was a buzzed-about movie last year. Hailee Steinfeld leads this witty high school comedy and takes you on a trip down memory lane, whether you're 22 or 62. Click here to watch our interview with Hailee and the filmmakers.

Family Friendly Finds
Be warned, with this next one, you might fight the urge to sing along as Auli'i Cravalho and Dwayne Johnson sing their hearts out in the lovable Disney film Moana (June 20). Click here to watch our interview with Auli'i. At the opposite end of the spectrum is the dark fantasy film Miss Peregrine's Home for Peculiar Children (June 1).
Girls' Night In
If you plan to have a girls' night in with your squad, Netflix will be streaming a slew of romance and comedy flicks that are too good to pass up. A cute film we recommend is 13 Going on 30 (June 1) starring Jennifer Garner and Mark Ruffalo. When a one-night stand turns into obsession, what do you do? Fatal Attraction (June 1) may or may not have the answers, so watch to find out. Also, there are two Katherine Heigl comedies to binge on: Knocked Up (June 8) and The Big Wedding (June 12).
Till next month's Piña Colada time, happy streaming!
~Marriska Fernandes