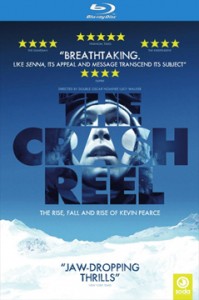 This fascinating documentary directed by two time Oscar-nominated filmmaker Lucy Walker follows the life and career of elite snowboarder Kevin Pearce, who was at the top of the sport when he had a tragic accident. Kevin moved to Utah in his early teens so he could practice and compete full time. He did his high school studies online, then hit the slopes every day for hours on end.
Just prior to the 2010 Olympics, Kevin was routinely winning against Shaun White (who went on to win Olympic Gold) at top level competitions. However, during a practice run at Park City, Utah, on December 31, 2009, the tip of Kevin's snowboard caught the ice and he hit the ground hard, head first. He was unconscious as paramedics were called and he arrived at the hospital in critical condition. Kevin spent almost at month in critical care before being transferred to a rehab center that specializes in traumatic brain injuries.
Despite having to learn to talk and walk again, Kevin was determined to return to the sport he loved. He was warned by doctors that another blow to his head, even a relatively light one, could kill him. His family was terrified that Kevin would try to compete, for fear of losing him altogether. Especially touching is the concern of his younger brother David, who has Down syndrome. David, full of emotion, tells Kevin he doesn't want him to have another serious injury, or even die, while snowboarding. It's a plea that's hard to ignore.
The movie also shows the tragedy of what happened to Canadian freestyle skier Sarah Burke a little over two years later, while training at Park City on the same superpipe where Kevin was injured. She fell on her head and went into cardiac arrest. Although she was resuscitated, she died nine days later in a Salt Lake City hospital.
With the 2014 Winter Olympics approaching, the film raises obvious questions. Are these sports asking too much of the athletes? Is the risk level too high? When talented athletes are killed in pursuit of a higher or trickier jump, should changes be made?
For his part, Kevin has spoken up about the importance of wearing a helmet, saying that if he hadn't been wearing one, he would not have survived the crash. The Crash Reel is a fascinating behind-the-scenes glimpse at a beautiful but dangerous sport, as well as an inspirational look at how Kevin learns to live with the aftermath of a traumatic brain injury.
Special features include deleted and extended scenes as well as the trailer.
Other home releases this week include: About Time, Baggage Claim, Romeo & Juliet, The Right Kind of Wrong, Escape Plan, Free Birds, Winnie and Dallas Buyers Club. ~Alexandra Heilbron