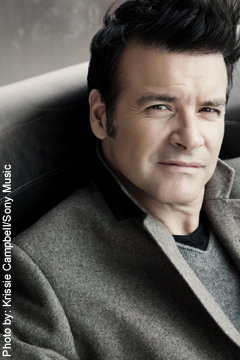 Singer/Songwriter Roch Voisine spoke with Tribute today about his new single, Living Out My Dreams, which is the official anthem for the 2014 Canadian Olympic Team competing in Sochi. He recently returned from Sochi, where he performed at Canada House for the athletes and had the chance to watch some Olympic hockey games. The song is available in both English and French (titled Pour l'honneur) versions  on his new album, My Very Best, which is a compilation of his biggest hits in English plus two brand new songs: One Day and Under the Bridge (with Carlos Santana). Watch the interview below.
My Very Best Track Listing:
1 LIVING OUT MY DREAMS (English version)*
2 KISSING RAIN
3 STE-ANNIE OF THE WILD BLUE EYES
4 SHED A LIGHT
5 WITH THESE EYES
6 DON'T GIVE UP
7 DELIVER ME
8 HIGHER
9 LIFE'S A BEACH
10 AM I WRONG
11 BY MYSELF
12 SHOUT OUT LOUD
13 ONE DAY*
14 I'LL ALWAYS BE THERE
15 UNDER THE BRIDGE (with Carlos Santana)*
16 POUR L'HONNEUR (LIVING OUT MY DREAMS French version)*
*denotes new songs
Interview conducted by Alexandra Heilbron of Tribute Entertainment Media Group.