The Darkness a mysterious flick – Blu-ray review
By Tribute on September 6, 2016 | 3 Comments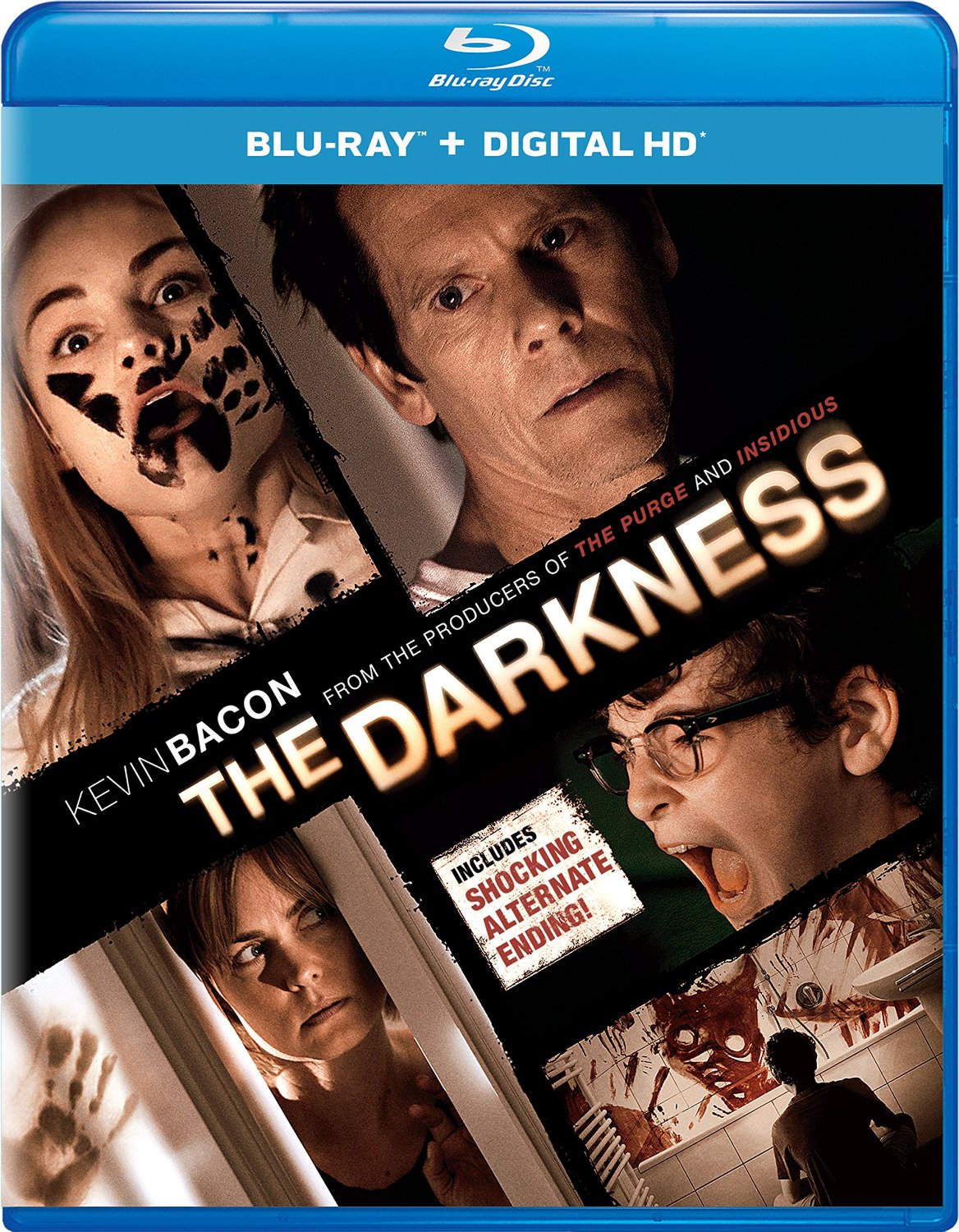 Horror films that open (or are partially set) in sun-baked, barren locales tap into the audience's fear of isolation and the unknown. The Hills Have Eyes (1977) is a deeply unsettling film, and the unforgiving, seemingly uninhabited desert where it's set is central to its success as a menacing movie.
Wolf Creek (2005) director Greg McLean's The Darkness begins in a similarly ominous way, and initially unnerves as a result, but that fear-inducing factor fades over the course of the film as it falls victim to clichés.
The Darkness follows the Taylor family from their vacation destination to their permanent residence. While soaking up the desert heat and exploring the expansive terrain of the Grand Canyon, young Michael (David Mazouz) falls into a crevice and happens upon five unique stones that he packs into his knapsack and discreetly brings home to Los Angeles. Of course, he — and his older sister Stephanie, and parents Peter (Kevin Bacon) and Bronny (Radha Mitchell) — are unaware of the grave transgression he committed by removing the rocks.
As mysterious happenings begin to plague the Taylor household — such as faucets running, doors and windows opening, and dogs incessantly barking, all without apparent reason — the family grows concerned. Soon enough, the attention turns towards Michael, who is revealed to be autistic and prone to quirky behavior. But it isn't until he lights a section of his bedroom wall on fire that Peter and Bronny seriously start to worry and wonder if Michael's autism makes him a magnet for paranormal activity.
After a bit of research, they accept that their son is in contact with supernatural forces that leave a putrid stench in the house and dirty handprints on the linens. Eventually, Peter and Bronny learn that the demons they're facing are the same ones that tormented the ancient Anasazi people. Legend has it that to cease the misery, the Anasazi trapped the spiteful spirits in five distinct stones. Each stone represented an animal that the demon manifested itself through, namely a snake, wolf, coyote, buffalo and crow.
If it wasn't obvious, these are the stones Michael snagged from the Grand Canyon. To banish the demons back to the realm they were originally cast, two specialists are introduced and an epic — or intended to be epic — showdown ensues.
The Darkness loses its way by hanging itself on clichés (isn't it clear by now that when someone fetches a drink or snack from the fridge at night, something will startlingly pop up when the door is closed?), but manages to redeem itself on the depth it affords its characters. Peter, Bronny and Stephanie are all battling their own demons aside from the treacherous ones unleashed in their home, and this adds a layer not all horror films can claim.
Although typical tropes are relied upon, there are some authentically disturbing scenes, and most of these draw on David Mazouz's skillfully subtle touch. He wordlessly gazes at things the audience isn't granted access to, almost as though he's frozen and entranced. But as chilling as this may be, director Greg straddles the line between crafting an eerie moment and exploiting Michael's autism to the point that it becomes something alien. Unfortunately, stereotypes do creep their way into the narrative.
The music by Johnny Klimek is intense and assists in building the scenes that are successfully scary. Toby Oliver's cinematography deserves mention for this reason as well.
The Darkness dredges up traces of Poltergeist (1982) and Insidious (2011), but also inserts disturbing imagery all its own that some fans of horror will find (un)pleasantly appetizing.
Special features include several deleted scenes and an alternate, morbid ending.
Have you ventured into The Darkness? If you have, and you care to write your own review, click here.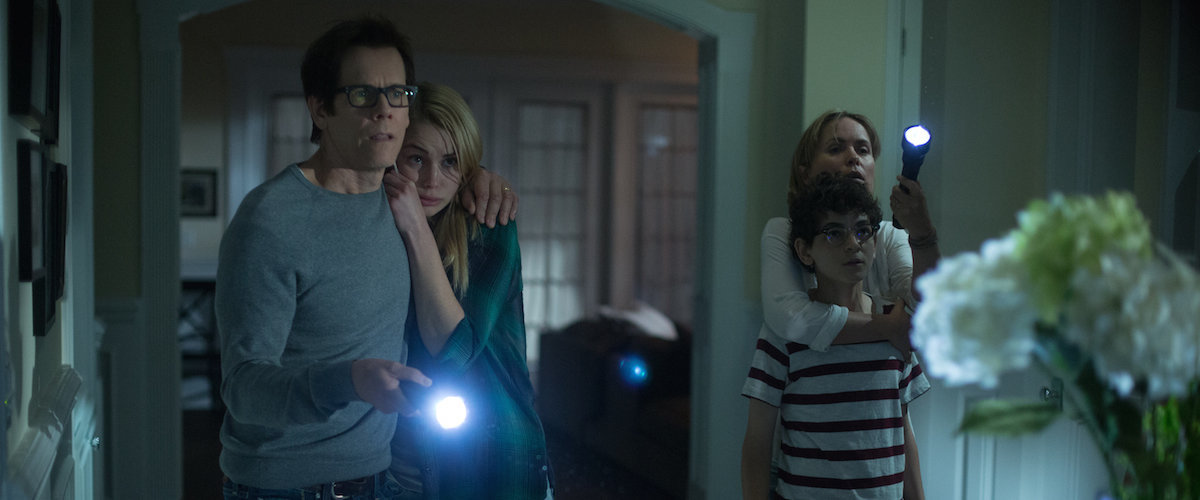 ---
---
---
---
Similar Articles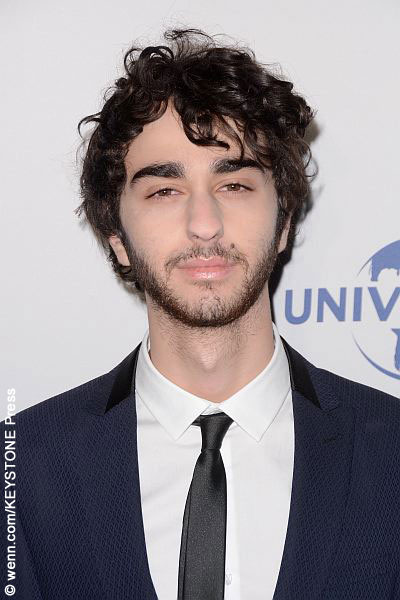 April 5, 2016 | Leave a Comment
The upcoming drama about the 2013 Boston bombings Patriots' Day has officially announced its cast, with My Big Fat Greek Wedding 2 star Alex Wolff to play the younger Boston bomber.
---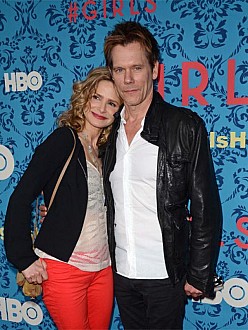 June 11, 2015 | Leave a Comment
Kevin Bacon and wife Kyra Sedgwick were victims of Benie Madoff's 2008 fraudulent Ponzi scheme but insists seeing their fortune disappear never had a damaging impact on their marriage.H…
---
April 28, 2014 | Leave a Comment
Kevin Bacon thinks his "obsession" with fame could have left him in "rehab" or "dead".The 'Footloose' star admits the idea of becoming famous was "seductive" throughout his early career but it wasn't until he had two children, Travis and Sosie…
---