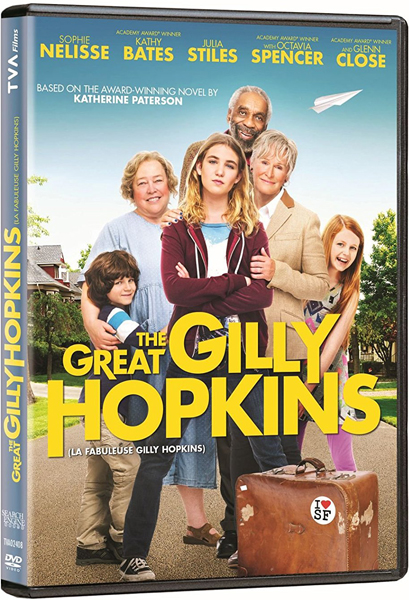 Based on author Katherine Paterson's 1978 children's novel, which won the U.S. National Book Award, The Great Gilly Hopkins stars young Canadian actress Sophie Nélisse in the title role.
The movie reminds me of Afterschool Specials from the late 1970s and 1980s, and given the year the book was written, it fits right into that genre of children's storytelling. It's about Gilly Hopkins, a foster girl who has become jaded after being shuffled from home to home. She respects no one and is openly rude to everyone — not just adults — but her peers as well.
When she's dropped off at the home of Maime Trotter, a big-hearted woman with a younger foster boy, W.E., who's terrified of everyone, Gilly is as abrasive as can be. In school, she thinks up ways to upset her teacher and takes on six boys in a tussle.
The movie follows the book closely, but it has a few extra scenes that improve upon the original story. For instance, when older boys bully W.E. and steal his lunch, fearless Gilly steps in and protects her younger foster brother. Since we don't have the benefit of the whole book to see Gilly and W.E.'s relationship develop, it's a great way to show the audience that W.E., who was initially frightened of Gilly, comes to view her as an ally.
Gilly has a mother who lives on the other side of the country and the girl dreams of finding her and being wanted by her, but that hope keeps Gilly from being able to bond with anyone else. She sees people as standing between her ability to be with her mother, and that's why Gilly does something that at first seems small, but sets the ball rolling for something to happen that she didn't foresee (and didn't want).
A scene at the very end of the film that wasn't in the book provides a satisfying ending without changing the original intent of the book — which kind of left things in the air. Sophie Nélisse, whom I've seen give amazing performances in so many movies since she made her award-winning debut in the critically acclaimed French Canadian film Monsieur Lazhar, puts just the right amount of oomph into her role as Gilly.
On the surface, Gilly cares about nothing, but Sophie manages to show that under the surface, Gilly, in spite of herself, cares very much. Sophie displayed the right amount of toughness when needed (the scene in which she takes on the bullies should be shown for inspiration to timid kids everywhere) and the right amount of tenderness as the movie moves along.
She's complemented by Academy Award-winning actresses such as Kathy Bates and Octavia Spencer, as well as six-time Oscar-nominated actress Glenn Close. All three actresses turn in beautiful performances, but Kathy Bates especially steps right out of her skin to portray the unkempt but loving foster mother with a heart of gold — but also the heart of a lioness — when it comes to defending her foster kids.
The Great Gilly Hopkins is an entertaining movie for children because it presents a headstrong young girl with a lot of problems — it's fascinating to see what she does and what effect her schemes have — not just on other people — but especially when they backfire on her.
The DVD, which releases today, does not come with special features.
If you have seen The Great Gilly Hopkins and would like to rate and/or review it yourself, please click here.