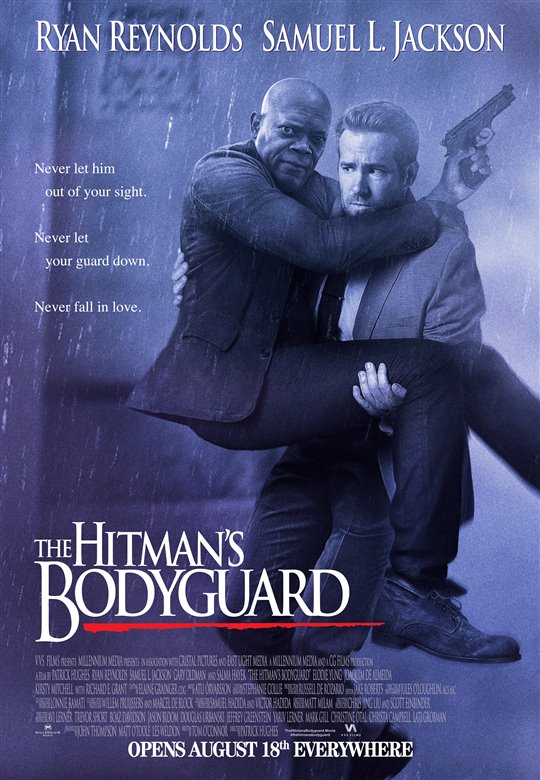 Often when you go to a movie with high expectations, you realize with dismay they used all the funny bits for the trailer. That's not the case with The Hitman's Bodyguard. It's hilarious from beginning to end.
Ryan Reynolds is priceless as "Triple-A protection agent" a.k.a. high-end bodyguard Michael Bryce, whose motto is: "Boring is best." He pays attention to every detail — he's calm and organized, taking out bad guys left and right without the client even knowing.
However, he loses everything — his expensive house, car, watch and even his girlfriend — when a client is assassinated in front of his very eyes. Two years later, he's living in his wreck of a car and taking on any client he can get.
His ex-girlfriend, Interpol agent Amelia (Elodie Yung), asks for his help when the team she's with is decimated while transporting a witness to The Hague for an important trial to testify against cold-blooded dictator Vladislav Dukhovich (Gary Oldman).
She and the witness escape the onslaught of assassins sent by Dukhovich, but she can't complete the task alone. That's when she bribes a very resistant Michael to come to the safe house and take over the transport.
When Michael arrives, he finds the witness is a hitman he's very familiar with — Darius Kincaid (Samuel L. Jackson). The two don't like each other — Darius has tried to kill Michael 28 times. Darius also doesn't think much of Michael's ability to do his job correctly and ribs him about it at every opportunity. It's a sore point for Michael, who, despite his current poor reputation, is still the best of the best.
Michael reluctantly takes on the job of getting Darius from London to The Hague by 5 p.m., so Dukhovich doesn't walk free. As we join them on the way, the banter between Michael and Darius is constant — and side-splitting.
At first, Darius is somewhat unlikable, but as the audience gets to know him and his backstory, he grows on you. Darius is a foul-mouthed escape artist and cold-blooded killer who has only agreed to testify against Dukhovich because if he does, his beloved wife Sonia (Salma Hayek) will be freed from prison. Sonia also is no angel — she's as feisty as a wildcat and has the same foul mouth as her husband.
The chemistry between Michael and Darius builds throughout the movie, as Reynolds' deadpan humor and Jackson's antics, facial expressions and gags make this a very enjoyable buddy action comedy. ~Alexandra Heilbron
The Hitman's Bodyguard opens Friday, August 18, 2017 nationwide. If you've seen the movie and would like to rate/review it, please click here.