The Host is a sci-fi movie about aliens who don't have bodies, but travel from world to world, inhabiting the bodies of other species. It's based on the bestselling book by Twilight author Stephenie Meyer. Irish actress Saoirse Ronan plays the starring role as Melanie, a human teenager who is captured by aliens and has another soul inserted into her body. Usually when that happens, the original soul dies but in this case, Melanie remains inside and the new soul, Wanderer, can hear Melanie's thoughts and has access to her memories. At first, she uses the information to give to the Seekers, who search for humans who have escaped capture. But as she gets to know Melanie, and feels Melanie's emotions regarding her loved ones who are in hiding, she begins to have second thoughts about what she's doing.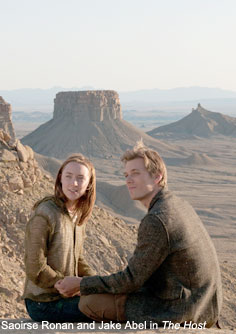 You see, the souls are a kind species. They don't have violence or war; they provide free health care, free supplies and food and they all get along in harmony. They chose Earth not only because it's beautiful, but because it was filled with violent, selfish humans who were destroying it. They decided that taking over the humans' bodies would rid the world of evil and would save it from being ruined.
However, Wanderer begins to see that not all humans are evil and/or selfish and that robbing them of their lives and bodies isn't right. Saoirse does a fantastic job at playing the conflicted Wanderer and the angry Melanie at the same time. William Hurt brings a quiet strength to his role as Melanie's uncle Jeb. Even more of a standout than the spectacular cast is the set design. Everything was exactly as it was described in the novel. How often can you say that about a book that's been adapted into a movie? The film followed the novel's plot very closely and hit all the key points without losing any of the details. Screenwriter/director Andrew Niccol did a wonderful job on the adaptation.
Whether you've read the book or not, and whether you're a sci-fi fan or not, I recommend this film. Stephenie Meyer is an extraordinary storyteller and The Host does not disappoint. Special extras included on the DVD are deleted scenes, a behind-the-scenes look called Bringing The Host to Life and an audio commentary with Meyer, Niccol and producer Nick Wechsler. There are also several featurettes that take a look at each character and the actors who play them. ~Alexandra Heilbron
Also releasing this week on DVD: Admission, Dead Man Down, The Paperboy, Spring Breakers and Tyler Perry's Temptation: Confessions of a Marriage Counselor.