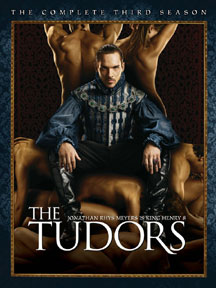 Heads are still rolling…and we're glad.
Honestly, what is more exciting than a show filled with love, sex, wrapped within a kingdom full of treachery and deceit? When it comes to The Tudors, there's nothing better, and its third season, starring Jonathan Rhys Meyers as King Henry VIII, is nothing short of brilliant.
Old wounds reopen, and this time it's not just Henry's leg. The people of Northern England, who are of the old faith, have amassed an army of rebels, who are plotting a civil war against King Henry. You'd think King Henry would be happy being King of England and the official supreme ruler of the Church of England and settle the matter, which could have been easily resolved easily by getting rid of that menacing Lord Cromwell guy (played beautifully by James Frain), but his ego and paranoia has gotten the better of him. According to Henry, "the rebellion is against God's will" and all must obey their King who becomes more tyrannical and unstable in this third season.
With the rebels amassing huge numbers for their holy war, Henry entrusts his childhood best friend the Duke of Suffolk, Charles Brandon (Henry Cavill), as Commander of the Royal forces, who, in this season, has changed and matured into a man of conscience. But having a conscience in Henry's world proves to be a downfall for Brandon, who struggles with his allegiance to his King, and to his family.
But with all the political strife in Henry's kingdom, Henry bounces back this season with wife number three, Jane Seymour (Anita Briem), who finally gives Henry what he's always wanted, a son. But with her untimely death, we get treated to some magnificent scenes in which the King goes mad, further proving that this role really may be Rhys Meyers' best role of his career.
In true form, King Henry recovers quickly and re-marries. Lord Cromwell, who is struggling to keep his Lutheran cause alive for his own selfish reasons, manipulates the king in choosing Anne of Cleves, played by singer Joss Stone, who is not exactly the "Ugly Duckling" that history reports his fourth wife as being. But Stone's small part, that had little dialogue, proved lucky for the singer/actress, who may not have pulled off a bigger role using that fake German accent. Stone's virgin queen is the perfect segue to Henry's fifth wife, the coquettish and silly Catherine Howard (Tamzin Merchant).
With each season of The Tudors, the drama continues to escalate and each moment you visit with those unfortunate souls heading for the chopping block, you can't help but get emotional.
And as for those critics who bash The Tudors for not being historically correct, when you have a King that's as hot as Jonathan Rhys Meyers, who cares?
[Five stars]
By Toni-Marie Ippolito