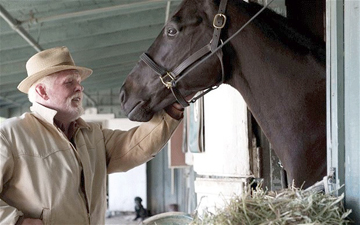 A third horse died Tuesday during the filming of the HBO series Luck, which stars Dustin Hoffman and Nick Nolte (pictured at left). The horse reportedly broke her neck after rearing up and falling backwards onto the ground at the Santa Anita Park race track. She survived the fall but suffered excruciating pain and was euthanized as soon as a veterinarian arrived. Horse deaths have become so common on the show that after the accident, production immediately moved to Marina del Rey to continue filming, unlike the previous two horse deaths, when production was stopped.
TMZ broke the news, saying HBO scrambled to delay publication of the story after the entertainment site called for information on the fatal incident. The American Humane Association, which had a safety representative at the track when the accident occurred, has ordered HBO to stop using horses for now, saying: "We are also insisting that this stoppage remain in full effect pending a complete, thorough, and comprehensive investigation."
Update: HBO has announced that it has cancelled the series.