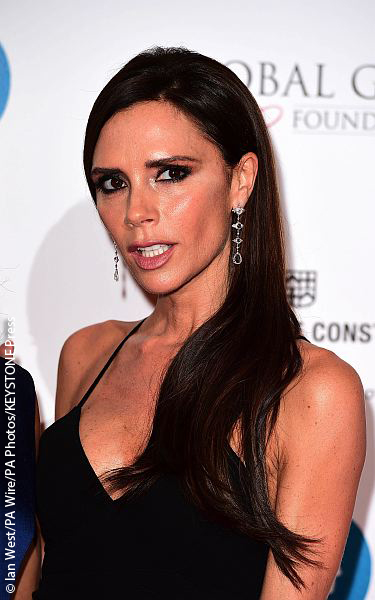 No stranger to the tabloids, Victoria Beckham has decided to take control of her story and open up about some very personal topics, including "messing" with her boobs.
In a lengthy and honest letter written to her younger self, published in British Vogue, the former Spice Girl admitted she regrets getting breast implants and advised her 20-something-year-old self to avoid the procedure.
"Learn to embrace your imperfections," she wrote. After touching on hair (tone down the hairspray) and skincare ("let your skin breathe, wear less makeup"), Victoria warned, "Don't mess with your boobs. All those years I denied it — stupid. A sign of insecurity. Just celebrate what you've got."
The designer also revealed that she was bullied on her first day of high school for wearing her school uniform, unlike the other kids who wore "their own coats and had the latest cool bags."
"You stood in the freezing playground while other teenagers walking past threw soggy tissues and old Coke cans that they plucked from the puddles," she recalled. "But the thick skin that you developed then is already standing you in good stead, and it will do so for the rest of your life."
On top of reminiscing about falling in "love at first sight" with David Beckham — her husband of 17 years — in the Manchester United players' lounge and dealing with her early years of being "very, very famous," the mother of four offered some sound advice to herself pre-and post-Posh Spice.
"If you don't join the Spice Girls, you might always be that insecure person in that little shell, and you will never become who you truly are. With this in mind, be kind, be polite, be considerate of others' feelings, because I know that every one of us would sit here now and say they're not the main culprit, but we didn't fully appreciate each other a lot of the time," she wrote. "So practise what you preach when you sing 'friendship never ends,' and celebrate everyone's uniqueness." ~Shelby Morton
What do you think about Victoria's letter? TMI or a great message of empowerment? Tell us in the comments below!