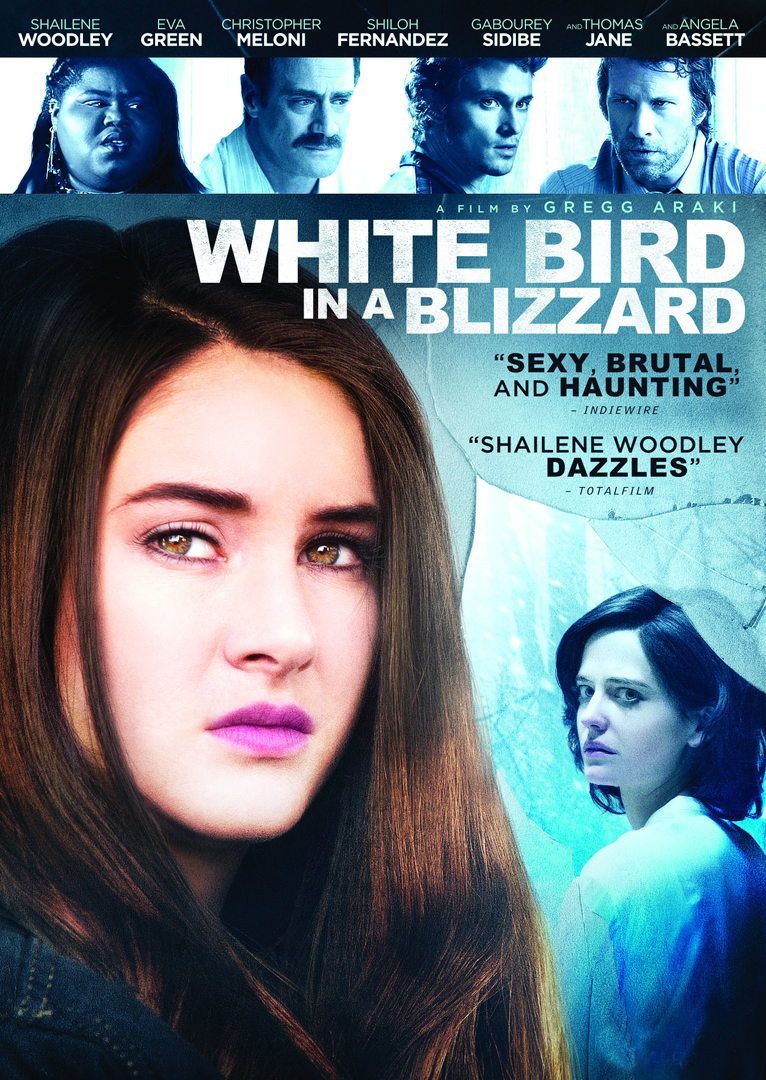 In White Bird in a Blizzard, Shailene Woodley plays Kat, a 17-year-old girl who doesn't seem to care much when her mother (Eva Green) mysteriously disappears. In flashbacks, we see her mother was an unhappy woman who wasn't always easy to live with. She fell out of love with her husband early in the marriage and like all parents, she's not perfect. She's not good at hiding her unhappiness from her daughter, and this earns her disrespect from Kat.
The movie starts out as a drama, as Kat struggles with her newborn feelings of sexual desire. She has two best friends who are clichés – an overweight black female (Gabourey Sidibe, who seems at least 10 years too old to play a teen) and a gay male, both of whom seem to serve no other purpose than to envy Kat's success in the bedroom and tell her how cool she is. It's strange a girl this beautiful and cool doesn't have friends who are equally beautiful and cool.
When Kat's mother disappears, her father (Christopher Meloni) is upset, but doesn't want to call the police because the neighbors will talk. So he and Kat go the next morning to the police station to file a missing person's report. Because her boyfriend has suddenly stopped having sex with her, Kat considers having an affair with the 40-year-old police detective. It's shortly after this point that the film, up to now a drama, turns into a murder mystery and a thriller and gets exciting.
The best part about the movie is Shailene, who does a fantastic job – she's the only realistic person in the movie. Her co-stars seem to be hampered either by bad writing or bad direction or both. Shailene's ability to pull off an excellent performance is all the more incredible in light of the fact that Kat is incredibly unlikeable. In fact, no one in the movie is sympathetic, which makes it difficult for the audience to care what happens to them.
Special extras on the DVD include a commentary with director Gregg Araki and Shailene; deleted and extended scenes; interviews with Araki and Shailene; AXS TV: A Look at White Bird in a Blizzard and the theatrical trailer.
White Bird in a Blizzard releases today in Canada. Also releasing on DVD/Blu-ray today:  The Judge, Fury, The Book of Life, The Color of Time, You're Sleeping Nicole and the thrillers The Remaining, Open Windows and Love is the Perfect Crime. For a full list of home releases, click here.