Zoey Deutch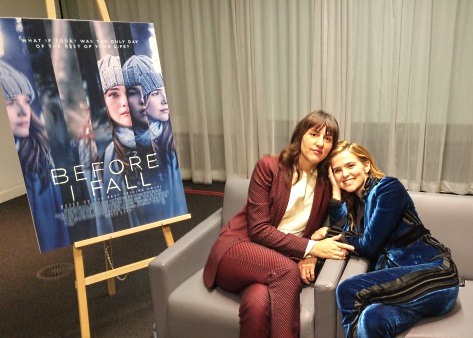 stars in the powerful and inspiring movie Before I Fall, based on the young adult novel by Lauren Oliver. Samantha, played by Zoey, is stuck reliving the day of her death over and over.
She realizes she has to do things differently, not just to move forward and change the outcome of the day, but also for herself.
On their visit to Toronto last month, Zoey and director Ry Russo-Young sat down with Marriska Fernandes. There was a palpable energy in the room as the two were in perfect sync, making them a commendable actor-director duo. Zoey and Ry discussed making the film and how it helped them reflect on their own lives and their own high school experiences. Zoey also revealed she has been the victim of bullying.

This is such an inspiring and entertaining film. What drew you to this project?
Zoey: Thank you for your kind words. When I read the script initially, my first takeaway was that this movie could be both moving and entertaining. It has the ability to spread a beautiful positive message and be entertaining.
Ry: I think it surprised me. I read the first 30 pages of the script and I wasn't sure I was into the movie. I thought this is a lot like other teenage films. But then I remembered the moment when she grabbed her sister's hand. I was truly surprised. I didn't see it coming. As the film continued and I read more I felt like it had this unexpected emotion and gravitas and humanity that you don't often see in teen films. It's rare.
Zoey, what was your high school experience like?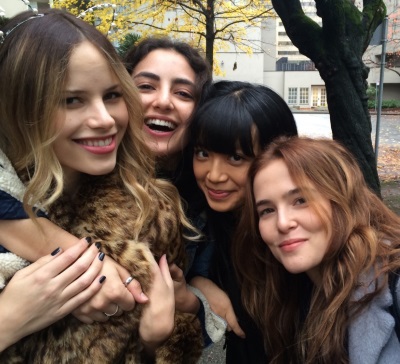 Zoey: I went to a really wonderful arts high school where people were there for a specific reason. They kind of had an idea of what their purpose was. In that way they weren't meandering or taking out their stuff on other people as much as I think the normal high school experience is. But my middle school experience was pretty hellish. There was a lot of negativity, a lot of bullying and a lot of insecurity. It was the reason I ended up going to my arts high school because I was pretty bullied.
Ry, how challenging was it staying true to the spirit of the book?
Ry: It was actually not that challenging to be honest. I really like working from source material because the book was so strong in giving you a sense of Sam's emotions and what she goes through each day psychologically and emotionally. That's what I connected to in the story and the script and the book. When I did some research I found that's what audiences were connecting to — Sam's journey. So the nuggets of what I think viewers loved about the book is the same as what I loved about the book. So it was only natural that it would make it into the movie.
Zoey: I liked the way you phrased the question: the "spirit" of the book. The spirit of the book is in the movie entirely so that's actually a really good way of explaining it.
Zoey, this film obviously makes everyone reflect on their own life and how we should make each day count so it's fulfilling. How did the film help you reflect on your life?
Zoey: I think it would have been impossible to do this movie and play this beautiful character without doing some serious self-reflecting. I'm extremely blessed with a really supportive, loving family. It just reiterated that I can never appreciate or love my family too much. It's very easy to take it for granted. That just brought it right back in front of me. You can never say "I love you" or hug them or say "thank you" too many times.
Did you question any of the choices you ever made after this film?
Ry: When I beat this kid up…nah I'm just kidding. (Laughs) I try personally not to regret too much. I don't think it's productive so I try not to beat myself about it. I would say no, to be completely honest.
Zoey: One of the beautiful things about this movie is that Sam is not a hero or a villain. It shines a light on the fact that she's a bully and she is bullied. She exists in the world between those things and she isn't the stereotypical figure and that she's a walking contradiction of herself. And that people are really capable of really good and really bad and there's something really beautiful about embracing that. And an understanding that just because somebody does something "bad" doesn't make them bad. Their flaws don't define them. Or they shouldn't. As long they embrace that and they acknowledge it and learn from it. No matter how cool or famous or rich or popular you are, you still feel [you're] on the outside.
Well said! Let's talk about filming. Was the same take used a couple of times, or did you shoot the same scene 20 different times?
Zoey: We shot every scene at least six times.
Ry: With multiple takes for each day. So for instance, we shot all the classroom scenes on one day. We couldn't necessarily, because of costume changes and what not, shoot them in consecutive order. So we would shoot day 1, day 2, day 3, then day 6 and then day 5 and then go back and do day 4. So it's challenging for an actor.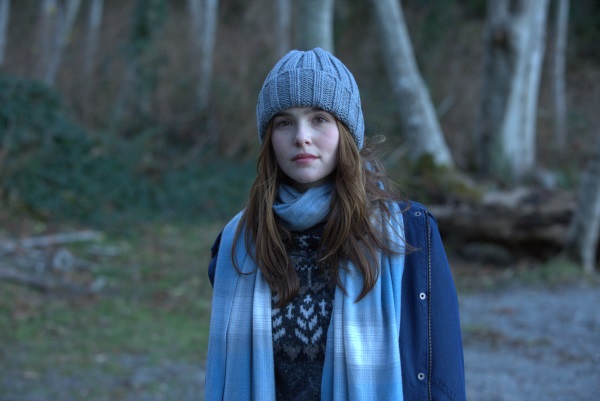 Zoey, how did you prepare for the emotional process that we see Sam go through?
Zoey: It would be so boring for you if I went through the logistics of my preparation and would probably sound pretentious as well. The short answer is that Ry and I worked together to create short hands and names and colors and specific props that changed each day so we could communicate quickly on set.
Ry: I enjoyed the math problem-ness of it. The movie was a little bit like a math problem of understanding. So the first thing I did really early on was a visual map of the movie by day. All six days and all the scenes that happened vertically in each day and then I color coded the different scenes based on locations. All the school scenes were orange. All Sam's house scenes were blue. So I could look at the whole movie visually. It was very technical and fun. It enabled us to be able to work together and have a shorthand.

The locations were amazing. Where was the film shot?
Ry: Vancouver!
Zoey: Squamish in Vancouver.
Ry: More than half of our crew was Canadian.
If you had only one day to make the most of it, how you would spend it?
Zoey: Sam did not get to choose her day so in this hypothetical scenario, I don't think I should either.
Ry: For me it would be with the people that I love, which is my husband and son…
Zoey: And me, of course. So your two children…
Ry: Yes, my two children (laughs) and watching a bunch of movies because that is what I love. On my birthday literally, my husband and I go to the movies and we just watch three movies in a row in a theater and that brings me great happiness.
Zoey: I think the way you feel about my movies is the way I feel about food. My family, of course, but food. I really deeply love food so [my day] would probably involve so much food!
Ry: When I'm in a bad mood, my husband says why don't you just go watch a movie?
Zoey: It's how they tell me about food! (Laughs)
Fantastic! Lastly, what's next for you?
Ry: I don't like to talk about projects until I'm on set shooting them because I'm skeptical. But definitely making another a movie. I want to work with Zoey again.
Zoey: Me too! That's why we can't say anything. Top secret, but it's happening. I want to be the Michael Shannon to her Jeff Nichols.
Ry: Jennifer Lawrence to my David O. Russell.
Zoey: I've said it before, I'm happy to be an extra in one of her films. I don't need to be the star of the movie. I just need to be in it.
Ry: Yeah, she does. She needs to be the star…for me.
~Marriska Fernandes