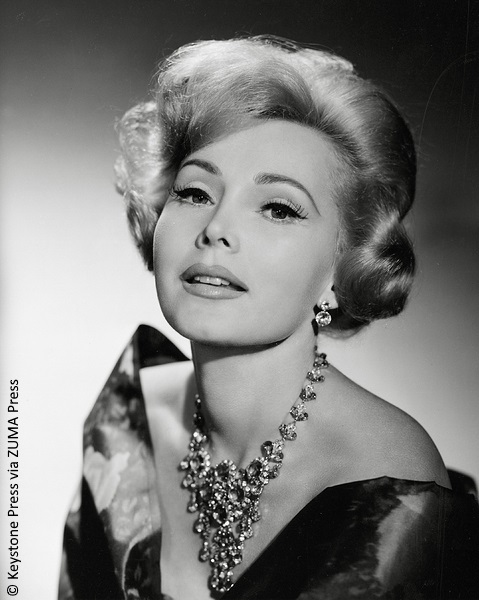 Hungarian actress and socialite Zsa Zsa Gabor has died at the age of 99.
News of her passing was confirmed by her publicist, Ed Lozzi, who told CBSLA that she died at her Bel Air home on Sunday, December 18, two months shy of her 100th birthday. She had reportedly been ailing for a number of years.
Born Sári Gábor in Budapest, Zsa Zsa followed in the footsteps of her older sister Eva when she moved to the U.S. in 1941 and pursued a career in acting.
Although Zsa Zsa has plenty of film credits to her name — including her breakout role in Moulin Rouge (1952), Lili (1953), Death of a Scoundrel (1956) and Touch of Evil (1958) — she was primarily famous for being famous. Many argue that her celebrity power paved the way for other socialite stars, such as the Kardashians.
Her storied romantic endeavors also earned her a name for herself. She was married a whopping nine times, and once said, "A girl must marry for love and keep on marrying until she finds it."
Zsa Zsa's final partner was Frédéric Prinz von Anhalt, whom she married in 1986 and remained with until her passing.
Another one of her signature quotes was "dahling," which she often used when referring to people.
During the '50s and '60s, Zsa Zsa was seen as a sex symbol and a woman who was proud of her glamorous, flashy lifestyle. She put her expensive jewelry on display whenever possible and welcomed publicity whenever the opportunity arose, even in 1990 when she spent three days in jail after slapping a police officer.
In 2002, she was left partially paralyzed and reliant on a wheelchair as a result of a devastating car accident. She made frequent visits to the hospital and in 2011, had one of her legs amputated after it contracted an infection.
Zsa Zsa had one daughter, Constance Francesca Hilton, who passed away of a stroke in 2015.
In the wake of her death, many stars have taken to Twitter to express their sympathies and pay her legacy tribute. Paris Hilton, Larry King and Miley Cyrus are a few.
Check out a collection of celebrity tweets below.
What are your favorite memories of Zsa Zsa Gabor? Share them with us. ~Matthew Pariselli
Sad to hear the news of Zsa Zsa Gabor's passing. My great grandfather and her made such a beautiful couple. May she rest in peace. 🙏🏻 pic.twitter.com/sVPk6P7KaV

— Paris Hilton (@ParisHilton) December 19, 2016
There will only be one Zsa Zsa Gabor. And, I liked her a lot. Rest In Peace, my dear.

— Larry King (@kingsthings) December 18, 2016
Zsa Zsa!!!!! What a LONG & beautiful life! I have been beyond inspired by your style & grace! 💖🌸🍧👅 We LOVE & MISS YOU! #99 #ZsaZsa pic.twitter.com/TfTAAy7S3v

— Miley Ray Cyrus (@MileyCyrus) December 19, 2016
RIP Zsa Zsa Gabor.
99 years old, 9 husbands, Miss Hungary & Hollywood star. What a life! pic.twitter.com/wt759OWCvu

— Piers Morgan (@piersmorgan) December 18, 2016
RIP Zsa Zsa wow wtf with this yr?

— Diane Warren (@Diane_Warren) December 18, 2016
— Andy Cohen (@Andy) December 18, 2016
Goodbye Zsa Zsa 💘🙌💎💄💋 https://t.co/jcFFWO43ME via @youtube

— Gwendoline Christie (@lovegwendoline) December 18, 2016