Justin Timberlake Biography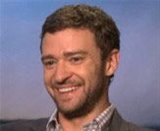 Born: January 31, 1981

Date of Birth: January 31, 1981
Two-time Grammy Award-winner Justin Timberlake was born in Memphis, Tennessee and at the age of 10, performed at the Grand Ole Opry. At 11, he was a contestant on the TV show Star Search, and though he didn't win, he persevered and at 12, joined the cast of MMC (aka The All New Mickey Mouse Club) a popular variety series for kids. Other newcomers to the series were Britney Spears, also 12, and 13-year-old Christina Aguilera.
At 14, Timberlake and fellow Mouseketeer J.C. Chasez became members of the boy band *NSYNC. Their self-titled debut album, released in 1998, was a huge hit and launched the group into superstardom, with pre-teen girls as their main fan base.
In 2002, Timberlake decided to try his hand at a solo career. His debut solo album, "Justified," sold more than seven million copies worldwide. The same year, he and longtime girlfriend Britney Spears ended their much publicized relationship.
Though he'd made cameo appearances in Longshot (2000) and On the Line (2001, starring fellow *NSYNC band members Joey Fatone and Lance Bass), Timberlake made his starring film debut with Edison, playing a rookie reporter opposite Kevin Spacey and Morgan Freeman. Filmed in 2004, the movie wound up going straight to DVD in 2005, despite the obvious star power and the publicity it received due to Timberlake's involvement.
Later in 2004, Timberlake filmed a starring role in the crime drama Alpha Dog (2007), opposite Bruce Willis and Sharon Stone, which premiered at the Sundance Film Festival in 2006 and received wide release the following year.
Timberlake's acting career finally took off in 2007, with starring roles in Southland Tales and Black Snake Moan. He also provided the voice of Prince Artie in Shrek the Third (2007), which stars Cameron Diaz, his girlfriend from 2003 to 2006, as the voice of Princess Fiona. In 2007 Justin won his first Emmy, for "Outstanding Original Music and Lyrics" on Saturday Night Live. In 2009 he won a second Emmy for his work on Saturday Night Live, this time for his appearance as a guest host. His film career has also continued to flourish, having starred in films like the Oscar-winning The Social Network (2010), the role of a high school teacher in Bad Teacher (2011), opposite Mila Kunis in Friends with Benefits (2011) and alongside Amy Adams and Clint Eastwood in Trouble with the Curve (2012). He then went on to star in Runner Runner (2013) alongside Ben Affleck.

He then lended his voice talents to character Branch for the animated films Trolls (2016) and Trolls World Tour (2020), and played a role in the Woody Allen-directed film Wonder Wheel (2017).
In 2001, he founded The Justin Timberlake Foundation, supporting music education and the arts in public schools. His hobbies include collecting sports jerseys, riding motorcycles, skiing and snowboarding. In 2011, his four-year relationship with Jessica Biel sputtered, but in the fall of that same year, they reunited and announced their engagement in December. They were married October 19, 2012.