Rhys Ifans Biography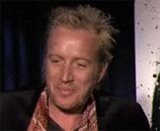 Born: July 22, 1967

Date of Birth: July 22, 1967
Birth Name: Rhys Evans
A native of Clwyd, Wales, Rhys Ifans (pronounced Reese Ee-vans), to whom Welsh is his first language, studied at the Guildhall School. Ifans left Wales at 18 to study acting in London and got his start in a number of Welsh and English dramas and comedies, which include Shakespeare Shorts, The Two Franks, Judas and the Gimp and Spatz. He was also a series regular on both Night Shift and Review.
Ifans' has worked extensively in theater. He has starred in productions of The Government Inspector and Hamlet at Theatre Clwyd in his hometown, A Midsummer Night's Dream in Regent's Park, Poison Pen and Smoke at the Royal Exchange, Thyestes at the Royal Court, Beautiful Thing at the Duke of York's, Under Milk Wood and Volpone at the Royal National and Bad Finger at Donmar Warehouse.
In 1996 he made his feature film debut in Anthony Hopkins' August, which he quickly followed with one of the most successful films in Great Britain in 1997, Twin Town. He starred in the film as a twin (the other was played by his real-life brother, Ilyr Ifans). He played what was undoubtedly one of the most riveting and revolting characters film audiences had encountered in years.
The film's success opened the way for more work, and a role in Dancing at Lughnasa.
Ifans rejected grooming and general communication skills to play the character that gave him international recognition, starring as Hugh Grant's hygienically-challenged roommate in the romantic comedy Notting Hill. Many critics agreed that Ifans virtually stole the show from his better-known co-stars.
The actor appeared in five films in 2000, including The Replacementswith Keanu Reeves, and Gene Hackman, and Little Nicky starring Adam Sandler. He has worked non-stop since, appearing in major motion pictures such as The 51st State (2001) starring Samuel L. Jackson, Vanity Fair (2004) starring Reese Witherspoon, Pirate Radio (2009) starring Phillip Seymour Hoffman and Harry Potter and the Deathly Hallows: Part I (2010).
In recent years, Ifans kept himself incredibly busy with a string of big movies including Anonymous (2011), The Five-Year Engagement (2012), The Amazing Spider-Man (2012), Serena (2014), Len & Company (2015), Alice Through the Looking Glass (2016), Snowden (2016), and Dominion (2016).
On TV, he played Mycroft Holmes in several episodes of the series Elementary starring Jonny Lee Miller and Lucy Liu, before he landed a starring role as Hector DeJean on the drama/thriller series Berlin Station in 2016, which is currently still in production.
In 2008, he was linked to actress Sienna Miller. It was reported that Miller ended the relationship just months after the two became engaged.