Russell Crowe Biography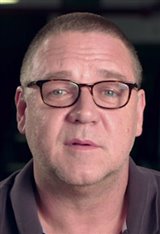 Born: April 07, 1964

Date of Birth: April 7, 1964
Born in New Zealand, Russell has made his home in Australia since he was a small child. But he's also familiar with Canada, having stayed here while filming For The Moment in 1992. "I quite like Canada," he says. "There are some very exciting things going on up there. I really enjoyed myself."
He started out as a child star on Australian TV. As an adult he first gained some notoriety from the rather grim and violent Aussie film Romper Stomper for which he won his second Australian Film Institute award (the first was for Proof (1991). He followed that up a couple years later with a juicy role as a gay son in The Sum of Us.
The son of movie set caterers, Crowe's first American film was The Quick and the Dead (1995) which, if you believe the rumors, Sharon Stone held up shooting on until Crowe was available. Not a great film, and neither was his follow-up, Virtuosity (1995). But the same can not be said of his third U.S. film—L.A. Confidential (1997).
In 1998 he had to lace up a pair of hockey skates as he played hockey player John Biebe in Mystery, Alaska. For the role he not only had to wear skates, but he had to learn how to skate, and skate well. The next year, he gained 30 pounds for the role of tobacco industry tattle-tale, Jeffrey Wigand. Not only did he gain the weight for his role in The Insider (1999), but an Oscar nomination for Best Actor. He would quickly have to shed those love handles and replace them with rippling muscle for his next role as the heroic Roman general Maximus in Ridley Scott's Gladiator (2000). He would also need to resort back to his dance training to help him memorize some of the fight sequences which could take up to 200 moves.
As for the heat he's generated in Hollywood, Crowe says, "The saying where I come from is 'Reviews are fish-n-chip paper.' You've got to be totally used to rejection in the film business. I only get a job in America, it would seem, when everyone else is distracted. People in this town will 'nice' you to death—say what the feel you need to hear. I've watched young Australians come over and simply implode because they believe everything they hear. I'm not anticipating anything. I'm just too used to being a member of the circus."
Crowe won the 2000 Oscar Award for Best Actor for his role in Gladiator, and earned his third Academy Award nomination the following year for his starring role in A Beautiful Mind (2001). He continues to collect awards, including two Australian Film Institute awards for State of Play (2009) and Cinderella Man (2005), as well as a 2001 Global Achievement Award. In 2009 he received an Empire Award for "Actor of our Lifetime." He continues to land prominent roles in big-budget films, such as the role of Javert in the big screen adaptation of Les Miserables (2012) and the corrupt mayor of New York City in Broken City (2013).
More recently, Russell starred in Noah (2014) alongside Jennifer Connelly, The Water Diviner (2015) with Jai Courtney, Fathers & Daughters (2015) opposite Amanda Seyfried, the comedy The Nice Guys (2016) with Ryan Gosling, and The Mummy (2017) with Tom Cruise, in which he plays Dr. Henry Jekyll. In 2018, he starred in Boy Erased followed by the miniseries The Loudest Voice, playing Fox News founder Roger Ailes. This role earned him a Golden Globe award.
On April 7, 2003, he married longtime girlfriend Danielle Spencer and they went on to have two sons named Charles and Tenyson. Unfortunately, the couple separated in October 2012.
* 2000 Actor in a Leading Role Oscar winner for Gladiator.