Batman Begins - User Reviews
Thank you for rating this movie!
Read your review below. Ratings will be added after 24 hours.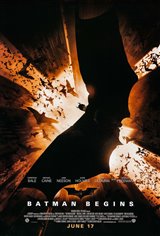 4.09 / 5
User Rating
Based on 12033 votes and 421 reviews
---
Please rate movie 1 to 5 stars
Showing 1 to 50 of 421
February 02, 2018
I´ve never liked that former comic version of Batman but this more realistic one is my cup of tea.
January 29, 2011
breathtaking batman movie!!!
June 25, 2010
what a stupid movie compared to dark knight this is complete garbage
July 13, 2008
i loved it!!! BEST BATMAN MOVIE EVER!!!!!
February 22, 2008
The best batman movie.
June 08, 2007
definately one of the best super hero movies EVER!
May 31, 2007
Finally the batman we have all been waiting for!!
May 15, 2007
Top 10 movies of all time
November 01, 2006
AMAZING
October 20, 2006
It was better than I thought it would be, but then again Sidney Freeman and Micheal Cane are both in this movie, making it to me one of the best movies that I have seen this year. Oh ya BATMAN was also really good...CUTE OR WHAT
October 11, 2006
I was very excited to see the latest installment of the Batman series. At first I wasn`t sure that Christian would be able to deliver but he is, in my opinion the best Batman yet. The supporting cast like Cillian Murphy, Morgan Freeman, and Liam Neeson are great. The only weak link is Katie Holmes. I was never a fan of Katie Holmes in general, but she actually kept me away from this movie until it came out on DVD.
September 25, 2006
BATMAN BEGINS is a GREAT movie and the kind we have needed for long time. P G
August 29, 2006
Hello Batman Begins to me is easily 2005s best film. It is deep, exploring Bruce Wayne`s motivations for doing what he does, it is very explenatory, telling us where the gadgets, weapons, costume and Batmobile (Thumbler) come from, it stars great acters in convincing roles, Batman`s fighting skills are explained. There are 3 layers of villains that cover an interesting, deep yet easy to understand story set in different times and i could go on and on and on bragging that brilliant film , Christopher Nolan, Christian Bale and the rest who made a deep, emotional and inspirational film. Two fists up as far as i`m concerned! Films like that sh
August 11, 2006
The graphics were great and my kids enjoy watching it..
August 04, 2006
I didn`t really like this movie.Cillian Murphy was a great villan but I didn`t like the movie.
August 01, 2006
I loved this movie
July 13, 2006
kwl graphic and stunts...
June 29, 2006
Nolan has brough back the Bat !!!! Can`t wait till the next one!
June 28, 2006
Excellent, Far better than the other ones which were way too cheesy. This one is darker, and more to the point. I would love to see a sequel.
June 17, 2006
Why didn`t they do this movie first in the series-seems to make sense to make them in order! I think it was the best of the bunch too!
June 09, 2006
The best batman movie of the bunch..very good. Would definitely recommend it.
May 24, 2006
the best batman movie yet, with any luck they will continue to make more batman movies this spectacular
March 19, 2006
It would have been good, but then there was Katie Holmes and it became bad.
January 25, 2006
God thank you! Finally some one gets the Dark Knight right. A must see for anyonoe of the good people out there who won`t stand by and watch society crumble A warning for anyone out there who will...
January 06, 2006
wow,its really a good movie watch it u will like it.
November 28, 2005
In my humble opinion, "Batman Begins," is the BEST in the Batman franchise of films and TV. Christopher Nolan`s version is the most believable! Christian Bale is perfect for the role and he easily outclassed Michael Keeton, Val Kilmer and George Clooney in his portrayal of the Dark Knight. Morgan Freeman and Michael Caine were excellent in their roles and my only complaint is the non-acting Katie Holmes, no doubt way out of her league with surrounding castmates. Hopefully, Ms Holmes` involvement with Tom Cruise will prevent her from being available for another Christopher Nolan Batman...and yes...based on the ending, there`s certainly r
November 21, 2005
Batman Begins is one of my favourist sexiest show ever!!!!!!!!!!!!!! Go Christopher Nolan
November 21, 2005
intense one!
November 15, 2005
Best movie ever, based on a comic!
November 12, 2005
Absolutely fabulous...I loved it. Finally, I understand where Batman came from. Totally believable and plausable. Really liked Christian Bale.
October 21, 2005
Although the costuming from Batman: Dead End was better, this is by far the best Batman movie to date. The cast and crew finally bring justice to the Batman mythos.
October 19, 2005
The only DC comic to get it right
October 18, 2005
Finally one made true to the comic book.
October 15, 2005
I thought this was the greatest Batman movie ever. All the other ones are filled with fake and cheasy nonsence. For Example,where on earth would a guy get a plane that is faster than an army fighter jet if hes not even in the military. Thats what i mean when i say that the old movies are filled with nonsence. I geuss they were more for the youth and more kid friendly.In this new Batman movie it is way more realistic and way better action. Christian Bale replaces all the previous actors that have played the role of batman. Christian shines in this movie and i feel has taken a permanent role as the new batman.
October 15, 2005
It`s dark and realistic. Almost real with gadgets and a car that is elievable. No longer a super-hero, a real hero in the realm of possibility if you have the cash!
October 15, 2005
I am totally fall in love with Batman begins!!! It`s more than a great movie ,it is a miracle!! Bravo Christopher Nolen!!!!!!!!! BRAVO CHRISTIAN BALE !!!!!!!!!!!!
October 14, 2005
Much better than expected. Everyone is perfectly cast, and Bale delivers.
October 01, 2005
cool darker version of batman
September 30, 2005
A great rendition of the Dark Knight Saga, with a little bit of the Warner Brother`s animated series, and some of the new Animated Series (The Batman on the 20th century fox TV network) stitched into the seams. Really, quite well done, and a great film for the fans of the graphic novels and those who fear the campy 60`s stuff that made the Dark Knight into a wussy mama`s boy.
September 27, 2005
this was not a batman movie. the other four were batman movies. this was a movie that happened to have batman in it. which is exactly why it was great.
September 18, 2005
Awesome movie, Bale was great as batman, a definite must see
September 12, 2005
best movie i`ve seen all summer. however, the movies out this summer really aren`t that great. still, this was entirely enjoyable. good action scenes, great effects.
September 06, 2005
Excellent!!! Worth your time.
September 05, 2005
i loved it!! it is by far the best of them all!!!
September 05, 2005
The best yet,dark,exciting,action packed and fun!More than you can say about the previous flix.
September 04, 2005
I have seen this movie 3 times in the theatre and love it more and more each time I do. Two inconsistancies that I did notice on today`s third viewing. #1. Young Master Bruce is grieving in the mansion, and waves good-bye to his friend and her mother, who are getting into a Newer Oldsmobile Aurora. This car would not`ve been available at the time of the Wayne`s murder or their subsequent funerals. #2. Bruce Wayne returns home from college, to testify at the parole hearing of the man who murdered his parents. Katie Holmes` character is already an Assistant District Attorney. Doesn`t it take at least 6 or 7 years to become a lawyer, let
September 04, 2005
This batman movie was a bad movie, boring and to long. Nooooo one can beat out Micheal Keaton in a batman movie.
September 02, 2005
i loved this movie. GREAT movie. the scarecorw is my favorite vilan! even tho cillian murphy didnt realli show his face alot. I LOVE CILLIAN MURPHY
August 26, 2005
this movie is the best batman movie i saw but it is a little bit confusing