Knight and Day
Thank you for rating this movie!
Read your review below. Ratings will be added after 24 hours.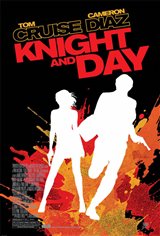 3.82 / 5
User Rating
Based on 1105 votes and 300 reviews
---
Please rate between 1 to 5 stars
Showing 51 to 100 of 300
August 28, 2010
A renter at best, bless Tom Cruise for trying to make action movies again. Sadly there wasn't much meat to the story.
August 28, 2010
Way better than I expected. Cruise's character is awesome
August 27, 2010
Although eveybody knocked this movie, I found it enjoyable to watch and quite funny in places
August 26, 2010
I thought it was interesting and pretty action-filled which is always great. The only thing I didn't like about it was it got slow at parts and it was pretty predictable at parts.
August 26, 2010
I thought it was awesome, very fast moving, great acting I really enjoyed it
August 23, 2010
good movie
August 20, 2010
The Trailer made it look like fun, but the more I thought about it, the less I wanted to actually see it, what if they showed all the fun things in said trailer? I gave it the benefit of the doubt and went to the theater to see it anyway. I surpried even myself when I walked out of the theater two hours later feeling light, with a smile on my face. Cute, fun flick, with a little cheese, that won't leave you with too much to think about in the end.
August 20, 2010
Critics panned this one, but I enjoyed it and so will anyone who is a Cameron Diaz and/or Tom Cruise fan.
August 19, 2010
nice light entertainment
August 18, 2010
This film was fast-paced, hilarious, drizzled with the right amount of romance, and best of all it had a wonderful, intricate plot. It left you at the edge of your seat and didn't stop until the credits rolled. An amazing film I would recommend to everyone.
August 16, 2010
More action than i expected. The amount of comedy was definitely unexpected, Cruise did a great job.
August 16, 2010
really enjoyed this movie.
August 15, 2010
Good fun spy movie. Lots of twists and very entertaining.
August 14, 2010
BIT OF A MISH-MASH. BUT CRUISE AND DIAZ WORK WELL TOGETHER. THERE IS SOME CHEMISTRY. ENJOYABLE IF YOU ARE NOT EXPECTING AN EPIC.
August 14, 2010
great movie lots of action and funny
August 14, 2010
The whole family enjoyed this movie. Acting was good, lots of good fun. Highly recommended
August 14, 2010
I thought it was a pretty good movie. Cute and entertaining.
August 13, 2010
I liked this movie, it was funny,Tom Cruise and Camron Diaz have such good chemistry-they compliment each other.
July 30, 2010
Absolutely loved the action sequences, plot and storyline, and especially the Spanish scenery!
July 30, 2010
it is what it is - a summer fun movie, lots of action, no thinking required.
July 30, 2010
What an incredibly fun movie- a real rollercoaster ride! The chemistry between Cruise and Diaz is excellent, definitely worth checking out.
July 30, 2010
Tom's back!
July 30, 2010
PRETTY FUNNY, GOOD MOVIE
July 30, 2010
Surprisingly good action thriller starring Tom Cruise's ego. Fancy stunts and twisted plot seems to work in Hollywood and this film is no exception. Good chemistry between Cruise and Diaz keeps this one moving forward. Another decent Summer movie, just add popcorn.
July 30, 2010
A very good " Action" film.....full of actions and sometimes funny.
July 30, 2010
Tom Cruise is back again in this amazing joy ride.
July 30, 2010
Tom looks great - it's good to see him back in his old form. A good combination of humour and action.
July 30, 2010
This was a fun "popcorn" movie - lots of action and humour. It was good to see Tom Cruise back in old form and being funny - he looked great! And Cameron Diaz is always enjoyable. Not going to win an oscar for any category, but a good fluff movie.
July 30, 2010
Not a Tom Cruise fan but loved this movie. The character build up was great and the plot development worked for me. Definitely a do not miss movie....Sit back and enjoy the ride.
July 30, 2010
Pleasantly surprised that I loved it; the chemistry/comedy between the characters worked well with a few surprises thrown in. Happy to see it.
July 30, 2010
I was reminded why I don't like either of the actors
July 30, 2010
not one of tom cruise's best films but there is definitely plenty of action to keep you entertained. Tom cruise has a funny streak that is starting to come out in his movies, a touch that keeps him as a bankable star.
July 29, 2010
Good action flick
July 29, 2010
Very entertaining. Action scenes like you would expect from a Tom Cruise movie. Think of it as a Mission Impossible comedy.
July 29, 2010
Its pretty much what you would expect from these two aging stars.
July 29, 2010
Great movie. Full of action and just fun.
July 29, 2010
A fun roller coaster ride that just entertains and doesn't take itself seriously.
July 29, 2010
Surprisingly better than I would have expected, it's like a Cary Grant/Audrey Hepburn movie with a lot more explosions. Oh, and Cameron Diaz (who I've never liked anyways) is no Audrey Hepburn.
July 29, 2010
super movie. go see it
July 28, 2010
I really enjoyed this movie. Tom Cruise was good, funny and action packed. Diaz was a little much at some points but overall the movie was a fun action film. See it.
July 28, 2010
I can't stand Tom Cruise most of the time, but I was surprised how much I liked him in this movie. Diaz was spot on with her character. The thing about this movie, I never looked at my watch once or thought about anything other than what was happening on the screen -- held my attention. Fun, funny, and action packed.
July 28, 2010
Better then expected, did not expect Tom Cruise to be funny, Cameron Diaz was a very cool kat with everything going wrong all the time.
July 28, 2010
Tom Cruise and Cameron Diaz are good together. Fun to watch
July 27, 2010
Great movie. great action scenes.
July 27, 2010
Cruz and Diaz...AMAZING together! this movie is action packed and HILARIOUS!! GREAT movie!!
July 27, 2010
fun to watch,lots of action. tom and cameron make a good team.
July 27, 2010
Much better than I expected. Good action and funny too. Diaz and Cruise actually made a good match.
July 27, 2010
I found this movie a bit of a chore to watch.
July 27, 2010
I don't know why the critics don't like this movie or why it's not doing well at the boxoffice. While I am not a huge fan of Tom Cruise, I did really love this movie. It was funny and full of action and very fast paced. Of course, a little over the top with Cameron Diaz spinning around on a bike and knowing how to shoot 2 guns and reload a'la Lara Croft was a bit much but, hey it's a movie.