X-Men Origins: Wolverine - User Reviews
Thank you for rating this movie!
Read your review below. Ratings will be added after 24 hours.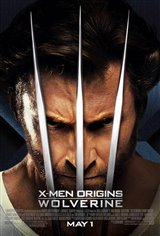 3.32 / 5
User Rating
Based on 4578 votes and 213 reviews
---
Please rate movie 1 to 5 stars
Showing 101 to 150 of 213
May 08, 2009
It is not the best movie I've seen but it is what it is. An action adventure movie and it is just that. If you are looking for something fun and not really worried about a hardcore story line. You'll enjoy it.
May 08, 2009
LOVED LOVED LOVED THIS MOVIEE!! I would honestly go watch it again in theatres. it was definately one of my favourite comic book movies (first was dark knight of course) I definaetely think everyone should see this movie in theatres. Cant wait for the next one!
May 08, 2009
It was a good movie, but not outstanding. Too many throw-away characters. Gambit had the amazing disappearing, reappearing accent, and was totally unnecessary to the plot. If they had kept the focus on Wolverine and skipped what were essentially cameo by other characters, it would have been a much tighter script.
May 08, 2009
Excelllent! Better than expected. I'm going to see it again!
May 07, 2009
2nd BEST MOVIE I'VE EVER SEEN!!!!!(Iron mans the best)
May 07, 2009
For those of you who followed the comic storylines back in the late 70s and early 80s -wasn't weapon x (wolverine) completely Cdn and a member of Alpha Flight who went awol and then joined x-men - just curious. In the comics Alpha Flight came after him.
May 07, 2009
Really enjoyed the movie as Wolverine is my favorite character and looking forward to the next Xmen movie.
May 07, 2009
Good Movie, however didn't stick to the comic storylines. Logan and Victor are not brothers, Deadpool never had the laser eyes. And where was Gambit's accent? I do think that Gavin Hood (the director) should stick to drama's. His action was very choppy and the FX where better in the first X-men (8 years ago)
May 07, 2009
lots of action loved it
May 06, 2009
A FREAKING MAZING
May 06, 2009
TRUE COMIC BOOK CLASSIC THAT DELIVERS THE HIGH ADRENALINE RUSH.WOLVERINE LEAVES YOU WITH DEEP SCRATCHES.YOU WILL THOROUGHLY ENJOY IT.*****
May 06, 2009
watched it, didnt like it, therefore 1 star!
May 06, 2009
Haters are pathetic, and I am one that really hate this movie! Bad CG effects, and boring plots are what made this movie down to the sink!
May 06, 2009
bad movie, dont waste your time and money!
May 06, 2009
not as good as i thought it was going to be. Could have been better
May 06, 2009
Best of the Wolverine movies.
May 06, 2009
The movie is hoooorrrrible. What a disappointment. Poor dialogue. Fake vfx. I wonder if Fox leaked the movie early so they could blame the low box office (falsely) on piracy. Pitiful. This is not what a superhero flick should be like.
May 06, 2009
great movie.
May 05, 2009
I actually really liked this film. It's probably the best of any of the X-Men films that I have seen so far. Really tragic, though. But, you know, that's kind of X-Men for you. :-)
May 05, 2009
I love all of the Marvel comic movies, but this one is NOT one of the best.It's OK, but just average.3.5 stars.
May 05, 2009
One of the worst movies in the last couple years.
May 05, 2009
Amazing Movie!!!Watching it again definately!!!Hugh Jackman is the most amazing actor in the world. The graphics were amazing and it was interesting to learn the origins of the x-men. Definately a "must-watch" ...
May 05, 2009
ARE YOU SERIOUS ! i payed 9.50 to see the garbage !!!
May 05, 2009
TERRIBLE and i mean TERRIBLE CGI. the first 3 had better special affects then this movie ! and what the heck happened to the ending ! like come on !
May 05, 2009
this was just terible ! they did not listen to the comic book at all ! and the ending was just week, like the story line. hugh is the ONLY good actor in the movie, beides him, the other actors need to stick to singing (wil.i.am) or acting BUT in comedys (ryan)
May 05, 2009
Terrible. It was better than Zoolander so it gets 2 stars. Thats the baseline for the Hollywood crap factory.
May 05, 2009
this movie was great, except the small things such as in the comics and the cartoon series wolverine was born in canada not in the united states
May 05, 2009
this was a great movie, just did not like the ending.
May 05, 2009
Excellent, fun movie. Really explains Wolverine's history and why he is the way he is in the trilogy. I will see it again.
May 05, 2009
Following the comic or not this movie is shallow. The acting is week on among most the actors in the movie. The only actors who carry their weight well in this movie allowing it to be passable are Hugh Jackman & Ryan Reynolds. Wolverine and Sabretooth's fight scenes seem to repeat the same choreography at least 3 times throughout the movie with Sabretooth charging at Wolverine. Another issue with the movie is the amount of random charachters inserted in the movie the no real apparent reason other then filling a gap in the story line. In all its a passable x-men movie but not something i recomend spending $10 to watch.
May 04, 2009
I love wolverine
May 04, 2009
Freagin amazing movie... I applaud Hugh Jackman and Liev Schreiber. I would pay to watch this 5 times in theaters if it weren't recession and i wasn't so broke.
May 04, 2009
A very good movie. Some cgi was bad. Especially when he is in the bathroom at the farm house. I still liked this movie enought to give it 5 stars.
May 04, 2009
Despite many plotholes, this is still an overall entertaining summer blockbuster action movie.
May 04, 2009
Awesome movie! this comes from a movie critic specialist!! I enjoy every minute of this movie. You got to see it.
May 04, 2009
What more could you ask for? Action with a good story line. Too bad Ryan Reynolds didn't have a longer part as DeadPool...he was a gas. 5 stars baby.
May 04, 2009
the best film of all time
May 04, 2009
The movie was great, not sure why some say it's terrible and boring. If your going to be that picky and comapre every little detail to the comic, then just don't go because no one wants to hear your complain!
May 04, 2009
This was a great movie and well worth the money. Great way to start the summer block busters!
May 04, 2009
Excellent, !!!!
May 04, 2009
WEll done! Good acting!
May 03, 2009
Great movie, but it was a tad open-ended for my liking.
May 03, 2009
sick ass movie
May 03, 2009
Wow, amazing
May 03, 2009
not a good movie
May 03, 2009
It was a really good movie for me considering the fact that i'm not a huge x-men fan but this movie really WOW'ED me. I was jst expecting a bit more action!
May 03, 2009
It was alright. I expected more. It was interesting to see how Wolverine got his adamantium skeleton. I love X-men, but I can't help think that Iron Man was better! Liev Schreiber - awesome acting!