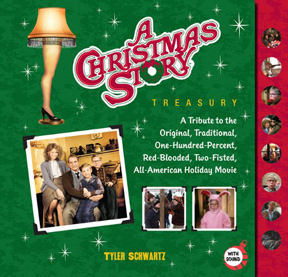 With Christmas movies being produced with growing regularity, the holiday films of the 1980s and 1990s serve as a reminder of the magic that persists in the genre. Bob Clark's 1983 classic A Christmas Story is one such film. Following the story of a boy's attempts to get a BB gun for Christmas, the holiday cult hit has provided some of the most iconic moments in holiday movie history, from leg lamps to pink-bunny costumes. To commemorate the film's 30th anniversary, the hard-cover interactive book A Christmas Story Treasury has been released. In this tribute to the "Original, Traditional, One-Hundred-Percent, Red-Blooded, Two-Fisted, All-American Holiday Movie," Canadian Tyler Schwartz chronicles the journey of A Christmas Story from modest box office success to a modern day Christmas favorite.
The book also offers interesting facts about pre-production, including how director Bob Clark couldn't get the project financed until he directed the successful teen movie Porky's in 1982 and the process of casting the main role of Ralphie – which ultimately went to Peter Billingsley.
Packed with photos and quotes, the interactive book features sound buttons of eight memorable quotes from narrator Jean Shepard. Also revealed are details about the film's production and shooting, which was primarily done in Canada. This serves as the reason writer Tyler Schwartz first got involved in exploring the genesis of A Christmas Story, as he discovered from his wife Jordie that the film's famous tent pole scene was shot in St. Catharines, Ontario. He went on to shoot the documentary film Road Trip for Ralphie, in which he journeys to discover the filmmaking locations of A Christmas Story.
Also included are pull-out mementos such as a copy of Ralphie's "What I want for Christmas" essay; Ralphie's Little Orphan Annie Secret Circle Membership card; a replica of the MidWestern Union telegram notifying the Old Man about his "major award" – the infamous Leg Lamp; a Christmas card from The Parkers; a recipe for Cornbread and Sausage Stuffing from the kitchen of Mrs. Parker; a recipe for Chinese Rice Stuffing from Chop Suey Palace Co. and a 9″ x 12″ mini-poster for the film.
A Christmas Story Treasury is a worthy companion piece to one of the most adored Christmas movies of all time and enhances our understanding of how it came to be. A Christmas Story's legacy is indelible; it serves as an unflinching influence on generations of moviegoers and Christmas lovers. ~Raj-Kabir Birk